Sweet Serenity!
The moment you meet Rukshi Neticumara, believe me, you'd think you met an old friend! Her character and charisma exudes with such sweet spirit that makes her delicious cooking even sweeter. Meeting Rukshi at her antique collector mother's tastefully-designed house in Battaramulla, one would feel like they've stepped inside a time machine. Setting the environment for a historical era, you would be charmed by the warm aroma of cupcakes baking in Rukshi's oven to make you salivate.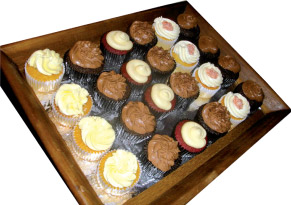 So with my sweet friend Simone Parley, we tried the yummy cupcakes, home-made cookies and caramel popcorn and munchingly asked Rukshi how she started her cooking craze. "I was interested in cooking at a young age because my father was a real food lover. So every Sunday we would go to the kitchen and whip some delectable delights." Eventually, Rukshi got a reputation as a chef and whenever there were parties or trips, Rukshi was always the one who would be sent to the kitchen. And we're not complaining!
The svelte Rukshi also described her love for food, "I was so addicted to food that I was overweight at one point, so I actually made a plan to lose weight," but that hasn't stopped her from loving her food. She added, "In every country I go to, I always head straight to the supermarket to see the great variety of food on offer. It was literally heaven - food tourism!"
At one point in her life, Rukshi was in Australia studying but she knew her passion was food. "So I decided to fly down home and start a food venture of my own after my friends kept bugging me on my birthday this year to do it!" She hasn't looked back ever since opening the doors of Butter Boutique for her signature creations which can be visually googled online.
"I was quite keen in giving Jehan Aloysius my cupcakes because he was doing a research on the best cupcakes in town. I'm glad he liked mine." Rukshi's lovely cupcakes are unique because they are filled with yummy delights inside.
"I have three components to my cupcake - cake, filling and topping. I've even have original creations like crème bruleè, red velvet, passion fruit, double chocolate to even tiramisu!" Carving her own creations makes Rukshi's cupcakes a special delight to have especially when you're having a party or a reunion.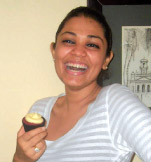 "I also give my customers their own flavours if they like provided it goes with my creations," said Rukshi, who presently does a takeaway and delivery service preferring the personalised service of home-cooking rather than going commercial. However, that's not all, Rukshi also cooks up some delicious chocolate chip cookies and caramel popcorn which is a great treat for those movie buffs who have a sweet desire. Also, Rukshi is always keen on the customer feedback and constructive criticism.
"There are people who complain about the price of the cupcakes but I infuse genuine ingredients in my food. For example, I have a special supplier for vanilla pods and I put this into the cupcakes instead of using artificial ingredients available on the market," said Rukshi, with a sweet smile. "I love to experiment and give the best for my customers plus I feel generous in giving something more than just a cupcake," she said.
Rukshi has meticulously designed her cupcakes intricately with colourful icing to entice any discerning food lover. So make sure you see the surprises in store when you taste a simple cupcake to a yummy cookie. Rukshi's Butter Boutique is simply the best so look out for her!
---
Rukshi's Special Chocolate Cupcake
Makes 24 cupcakes, keeps for two days at room temperature, freezes for 2 months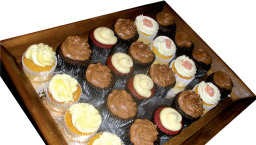 Ingredients:
3 cups plain flour
2 teaspoons bicarbonate of soda
1 teaspoon baking powder
1 teaspoon salt
3 tablespoons instant coffee granules
1 cup hot water
1 cup cold water
1 cup cocoa
200g softened unsalted butter
2 1/2 cup castor sugar
4 eggs
1 tablespoon vanilla extract
Method:
1. Preheat the oven to 170°C. Line two 12-hole muffin trays with chocolate-covered cupcake paper.
2. Sift together the flour, bicarbonate of soda, baking powder and salt. In a separate bowl, whisk together the coffee granules, hot water and cocoa until you have a smooth paste.
3. Add the cold water and whisk the mixture until evenly combined.
4. In a separate bowl, cream the butter for 1-2 minutes. Add the castor sugar, third at a time, beating for two minutes after each castor sugar addition. After the castor sugar addition, beat the mixture into a light and fluffy texture until the sugar has dissolved.
5. Add eggs one at a time, beating one minute after each addition or until mixture is light and fluffy. Add the vanilla extract and beat until combined.
6. Add a quarter of flour together with the creamed mixture and beat on a low speed until combined. Add a third of the cocoa mixture and beat until combined. Repeat this process. Add the remaining quarter of the flour and beat until thoroughly combined; do not over-beat as this will toughen the mixture.
7. Spoon the mixture into a cupcake paper filling each almost 3/4 full. To prevent the cupcake cracking on the top, allow the mixture to sit in the cupcake paper for 20 minutes before baking. Bake for 18-20 minutes or until a fine skewer is inserted and it comes out clean. Remove cupcakes from the trays immediately and cool on a cake rack for 30 minutes before frosting.