Technology
Single hardware, multiple applications

HP launched the IT industry's first mission critical converged infrastructure solution in Colombo last week parallel to its global launch.
Marketing manager, business critical systems HP, Ananth Sharma said that this new product will improve customers' performance and provide up to 100% application availability simplifying mission critical computing for the most demanding workloads.
The new product will end the era that used multiple hardware for multiple applications. Today over 70% of the IT cost of organisations goes for operation and maintenance. Failure of servers or hardware affect business making huge losses especially for companies in financial, health care, manufacturing, distribution and public services, Sharma said.
After the financial crisis companies have slashed IT budget but expect greater efficiency.
HP Integrity Superdome 2 provides up to 450% improvement in infrastructure reliability over previous generations. It has been built on Unified Blade Scale Architecture and delivers over 100 new mission-critical innovations. Its unique Crossbar Fabric increases system resiliency by intelligently routing data between blades and input/out put ports with complete redundancy.
Another advantage of the solution is lower total cost of ownership with new HP integrity server blades. It expands from two sockets to the industry's first eight socket UNIX scale-up server blade.
This blade's architecture allows clients to expand the IT system with the expansion of the business. It is a highly scalable infrastructure and can start with small scale and grow with increasing workload.
The new HP solution significantly reduces electricity consumption and therefore it is a green IT initiative as well.
The new HP integrity rx2800 i2 rack mount server enables clients to use their existing rack-mount environments. With a familiar infrastructure design, the server is ideal for smaller or remote installations such as branch office applications.
HP-UX 11iv3 operating system delivers up to 50 percent in application development time and the fastest failover in the market.
It offers automated management and allows client to shrink and grow virtual servers with the needs of their businesses.
It also delivers instant capacity on demand and built-in software enhancements to improve management and security.
HP mission critical services ensure higher levels of availability by identifying all possible sources of down time.
The services are offered on various levels.
(GW)
---
Pyxle develops Chinese Dragon Cafe website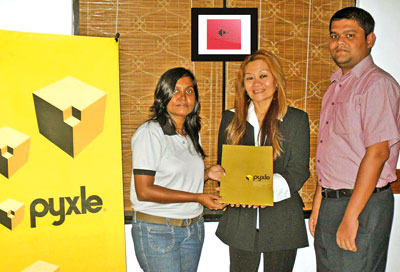 Chinese Dragon Cafe (CDC) recently launched its official website with an online ordering system for the convenience of its customers and to improve sales delivery.
The website was designed and developed by the software solutions Company Pyxle. Initiate the re-branding and expansion program began six months ago.
CDC is one of the oldest Chinese restaurants in Sri Lanka servicing customers for over half a century. This family owned restaurant opened its first branch on Galle Road in 1942. Due to its expansion program CDC has branched off in two other locations in the Colombo Metropolitan area. Two more outlets are be opened in the suburbs of Colombo.
Director CDC Miriam Solomons said, "Our business objective lies in providing the best for the customers taste. With more than 60 years of experience in the Sri Lankan restaurant industry, CDC is well versed with the growing trends of the appetizers/food customers look for. Pyxle has tastefully designed our website to suit the authentic cuisines that we serve.
Managing Director Pyxle Presantha Jayamaha said, "We are pleased to have developed this eCommerce site for CDC within the tight delivery schedule and technology requirement. For CDC we proposed a social media integrated CMS with a sophisticated shopping cart where users could browse the menu, place orders online, pick favourites, suggest menu items to friends or get suggestions, request special orders, manage invoices.
---
PC House now PCH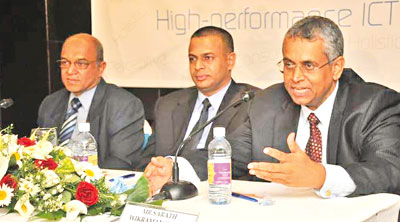 We are set to play a pivotal role in bringing the latest, best and most appropriate IT solutions to the doorsteps of our customers to enable them to face the future with confidence said Founder and Chairman of PC House Limited S.H.M. Rishan at the re-launch of PC House as PCH.
With an outstanding depth of product range, a network of world renowned partners, and a wide distribution capability, enables the company to provide the latest technology on par with the rest of the world.
PC House has an impressive track record of 13 years in the field of IT.
We have laid the foundation and business strategy to always stay a step ahead of the industry. Strenthened by a fresh Board of Directors and by a new identity, PCH will be more focused on providing futuristic products and services said Director PCH Mangala Boyagoda.
As a feature of its new corporate image, PC House Limited will be re-launching its corporate website which will include an e-commerce capability, an advanced customer care module and changes that will make it much more customer friendly.
---
Intel unveils Atom processors
At Computex today, Intel Corporation unveiled new products and features based on its low-power Intel 'Atom' processor family, including plans to further differentiate the popular netbook category and expand into several new market segments beyond its growing PC, laptop and server businesses.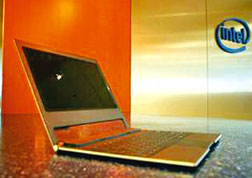 Commenting on Intel's participation at the event in Taipei, Country Business Manager, Intel EM Limited - Sri Lanka Liaison Officer Indika de Zoysa said, "Intel recently unveiled the future Intel Atom processor-based System on Chip (SoC), codenamed "Tunnel Creek" that, for the first time, will allow other companies to connect their own custom silicon to Intel's SoC product.
The Intel Atom processor also powers the Intel Reader, and the company has received more than 3,000 non-PC design inquiries most new-to-Intel potential customers ranging from fish finders to golf carts.
During his address Executive Vice President and Co-General Manager, Intel Architecture Group, David Perlmutter touched on Intel efforts, which included showing off the world's thinnest netbook running on the upcoming mobile dual-core, codenamed "Pine Trail".
At just 14mm, the razor-thin codenamed "Canoe Lake" innovation platform runs cooler and is 50 percent thinner than any other netbook consumers can find on the market today.
In addition, Perlmutter showed a range of other Intel Atom processor-based devices spanning energy efficient blade servers, retailing systems, presentation projectors and multiple tablets.
"Intel believes the strength of the Intel Atom franchise can help consumers realise the true potential for a common experience to enable the compute continuum," said Perlmutter.
"With platforms ranging from compact and portable netbooks, to Smart TV experiences and innovative tablets designs, Intel® architecture is driving innovative products based on a unique 'port of choice' software strategy."
Citing a million PCs sold a day, Perlmutter also highlighted the momentum around the all new 2010 Intel Core processor family, including Intel Wireless Display and an overview of next-generation Intel Core processors using the Intel microarchitecture codenamed "Sandy Bridge," targeted to be in production late 2010.
Senior Vice President and General Manager of the Software and Services Group at Intel, Renee James joined Perlmutter on stage to discuss how software and software choice will help drive Intel's vision for the Intel Atom processor and a cross-device experience.
This provides consumers consistency and accessibility to their content on a choice of computers and PC-like devices.
James also announced that Asus will be the first OEM to ship a pre-installed, customized Intel AppUp client called "asus app store" on netbooks this fall, beginning with Windows and following with MeeGo-based systems.
---
R&G with John Keells to market Samsung laser printers
R&G, the Sri Lankan imaging solutions expert was appointed authorised reseller by John Keells Office Automation to market Samsung laser printers to give customers quality services and maintenance for Samsung laser printers.
R&G Capital (Pvt.) Ltd., is the one and only STMC international quality certified company in Sri Lanka.
Samsung Electronics Co. Ltd. is a leader in semiconductor, telecommunication, digital media and digital convergence technologies with consolidated sales of US$96 billion in 2008, employing approximately 164,600 people in 179 offices across 61 countries.
The company consists of two business units: Digital Media & Communications and Device Solutions.
Samsung Electronics is a leading producer of digital TVs, memory chips, mobile phones and TFT-LCDs.
R&G's growing customer base is compiled of apparel, finance, insurance, hospitality and health sectors.
R&G's printing solutions are reliable and the company assures their customers that, with the availability of their new print management solutions, the cost of printing would be reduced by as much as 25% to 30%.
R&G Capital (Pvt.) Ltd plans to open an authorized Samsung clinic in the heart of Nugegoda town to provide maintenance and warranty based services for existing Samsung users and newly registered users while trade-in offers where old Samsung laser printers are traded for new printers of Samsung. The facilities are also available at the clinic and other showrooms.
---
Samsung opens flagship store
Softlogic, the authorised distributor for Samsung consumer electronics and home appliances in Sri Lanka opened its flagship store recently.
The store carries the entire line up of consumer electronics and home appliances, from LCDs. Plasma TVs, flat screen TVs, audios, home theatre systems, refrigerators, washing machines, microwave ovens, LCD monitors to mobile phones.
Samsung has maintained its position as the leader in the global flat-panel TV market for the third year running, a testimonial to the company's superior technological performance and the strong value proposition it provides to the consumer. The Samsung LED HDTV Series boasts mega contrast ratios, complements of Samsung's ground breaking LED TV Engine.
Energy consumption is reduced by 40% versus traditional LCD HDTVs of similar size. They are mercury free and lead free in keeping with being environmentally friendly.
The Samsung Flagship Store covers an area of nearly 3,000 sq.ft.