Lak Salusala, now a profitable business venture
Lak Salusala Chairman Roshan Maddumage, an energetic entrepreneur has set an example to State sector institutions on how a State venture which ran at a loss was turned into a profitable business venture within a short duration giving a new dimension to President Mahinda Rajapaksa's vision of turning State run business institutions into flagship business ventures as pledged in the Mahinda Chinthana without selling them.
Roshan Maddumage was first appointed as the Chief Executive Officer of Lak Salusala on February 9, 2009 and later appointed as the Chairman of Lak Salusala. He does an honorary service to rebuild the institution without obtaining any Government perks.
The Lak Salusala Chairman told the Sunday Observer that the entire nation should be grateful to the President on his decision to revive Lak Salusala and prevent it from the politicisation by transforming it into a key State enterprise which supplies textiles and other handloom products. He also outlined the significant progress achieved by Lak Salusala in the recent times on the guidelines by the President. Maddumage obtained his Business Management degree from the Open International University and also functions as a Business Development Consultant of the Strategic Enterprise Management Agency (SEMA). He also serves as the Group Finance Director of Plantation Group Hotel (Pvt) Ltd.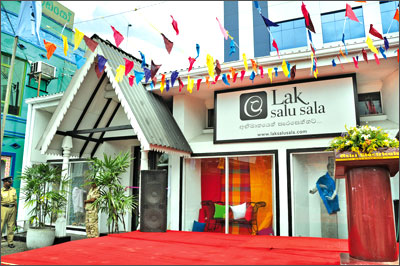 Lak Salusala through its wholesale business had recorded Rs.200,000 income by the end of February last year. At present the Government has increased it to Rs.20 million. Nineteen sales outlets of Lak Salusala through its retail business had secured Rs.250,000 per month by the end of February last year. At present only four sales outlets of Lak Salusala that operate earn nearly Rs.6 million per month. Today Lak Salusala has turned into an emerging business venture which was run at a big loss in the past.
According to Lak Salusala Chairman their target is to increase the turnover up to Rs.80 million per month within the next few months. The sole intention of the President is to turn Lak Salusala into the country's flagship institution which supplies textiles to State institutions and the people at fair prices. Our prime objective is to promote local production and the handloom industry by safeguarding a large number of people who are engaged in the handloom industry sector. Lak Salusala has called upon industrialists countrywide to supply quality handloom products to it. We also call upon the Heads of Government institutions to place their textile orders with Lak Salusala. We are ready to execute their textile orders through Lak Salusala.
Politicisation was one of the major factors for the collapse of Lak Salusala. Earlier, a decision had been taken to sell Salusala. "When I assumed office, the salaries of Lak Salusala employees had not been paid for three months. Ten factories of Lak Salusala had put up its shutters while arrangements had been made to sell the Unawatuna bungalow by public auction due to non payment of money to suppliers. In addition, the properties owned by Lak Salusala at Ratmalana and Kollupitiya had been unredeemed by banks due to non payment of loans.
However, the President was determind to revived Lak Salusala under the Mahinda Chinthana. Therefore, the President instructed the Strategic Enterprise Management Agency (SEMA) to restructure Lak Salusala and turn it into a key State venture to supply textiles.
We should also appreciate the commitment made by the SEMA Chairman and the Secretary of the State Resources and Enterprise Development Ministry Willie Gamage towards the role played to resuscitate.
Key institution
We should also be grateful to the employees of Lak Salusala who acted with a great deal of patience to safeguard this key institution even without wages for three months. A group of employees who really love this institution has rallied round to turn this institution around.
State Resources and Enterprise Development Minister P. Dayaratne and Deputy Minister Sarath Kumara Gunaratne have also placed emphasis to help improve this institution.
Lanka Salusala was changed to Lak Salusala on August 2 last year and its first sales outlet at Jawatta was opened by Economic Development Minister Basil Rajapaksa. This sales outlet now earns Rs.4 million per month. In addition, Lak Salusala has opened sales outlets at Nugegoda, Narahenpita and Ratnapura. Arrangements have been made to open Lak Salusala outlets in Ampara, Kurunegala, Anuradhapura and Badulla within the next few months.
According to the Chairman, a Cabinet paper was also submitted in August last year that when textiles and other textile based products are purchased by State sector institutions, they should purchase them from Lak Salusala. A decision has been taken to recruit employees and provide them special training to promote the Lak Salusala wholesale business. Lak Salusala handloom factories at Galagedara and Kurunegala have resumed operations. Measures have also been taken to further develop these two factories.
Strategies
Commenting on his strategies to develop Lak Salusala, the Chairman said he hopes to establish a Salusala Interior Department. It would cater not only to textile requirements but also landscaping and furniture requirements. Lak Salusala will also conduct study of various institutions and individuals engaged in the handloom sector and provide them handloom thread free and purchase their products. Steps will also be taken to promote handloom shirts, sarongs, sarees and table cloths. Salusala has also plans to introduce a new shirt and a T-shirt to the market under its brand name. Our intention is to provide a more efficient and friendly service to the customers. Lak Salusala outlets will be kept open till 7.00pm daily including Saturdays and Sundays. Our target is to sell our products to customers at cheaper prices rather than those prevailing in the Pettah market.
On a directive by the President, Lak Salusala will also supply textiles seized by the customs to people of cheaper prices. In future, a mobile service will be launched in various parts of the country which would enable the people to purchase these textiles at a cheaper price.
As a relief measure for public servants, Lak Salusala provides them textiles worth Rs.10,000 which could be recovered within six months. Under the leadership of the President, I am confident that we could transform Lak Salusala into the flagship textile manufacture in the country.