Kandyan beat!

Kandyan dancing and drumming is what Sri Lanka is known all over the world for. Choreographed to stunning detail, dressed up in glittering costume and performing acrobatic moves, Kandyan dancers are required to train for years to be perfect.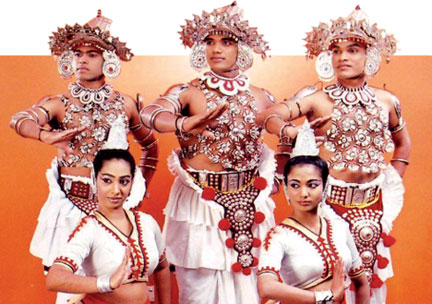 The art form originated as part of a night-long ceremony in honour of the God Kohomba and elaborate rituals featuring over 50 dancers and 10 drummers. This type of dance form flourished under the Kings as a sign of prestige and entertainment and then gave birth to the Kandy Esala Perahera.
Kandyan dancing
There are five main types of Kandyan dance. The four principal genres are the ves, pantheru, udekki and naiyandi, all featuring troupes of flamboyantly attired male dancers clad in metallic chest plates, waistbands and various other neck, arm and leg ornaments which jangle as the dancers move about (each dance calls for a slightly different style of dress).
The most spectacular and famous is the ves dance, which is considered sacred to God Kohomba and for which performers also wear a kind of extravagant metal head dress. Acutely athletic and rather back breaking, a special dance of this nature portrays devilish whirls, mind-bending back-flips and major kicking leaps. In the more subtle pantheru dance, the turbaned performers play small tambourines whilst during the udekki dance they beat tiny hour-glass shaped drums.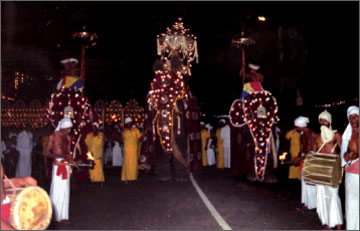 The final dance is the vannam that began as life songs before evolving into rigorous and stylised dances, each of which describes a certain emotion or object of nature, history or legend.
Drumming
All genres of dance are accompanied by drumming, which can reach extraordinary heights of virtuosity. The archetypal Sri Lankan drum is the geta bera or "boss drum", a double headed instrument carried on a strap around the drummers' waist played with the hands. Geta bera are made to a fixed length of 67cm which different types of skins tied at the ends producing contrasting sounds.
The double headed daule drum is shorter but thicker and is played with a stick in one hand and palm of the other. The tammettana bera its tiny drums, a bit like bongos tied together and played with sticks. A horanava is a kind of Sri Lankan oboe also accompanies these musical instruments.