East a potential business hub - Project Director NECCDEP
The East will be the next trade hub and the future of the Sri Lankan economy said Project Director, North East Coastal Community Development Project (NECCDEP), S.M. Croos during a media tour to the East.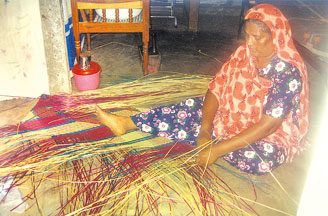 Weaving mats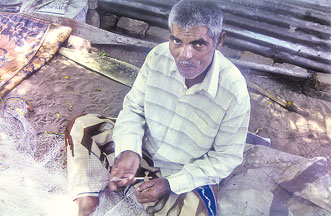 Mending fishing nets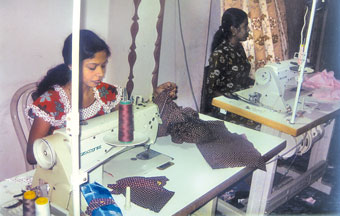 A tailoring shop
He said the East was ravaged by the war but yet with its vast natural resources has enormous potential to be the business centre in the country.
"Shattered dreams of thousands of people have revived and they look towards the future with lot of optimism.Youth who held arms are getting equipped with professional skills", he said.
The number of beneficiaries of the micro credit scheme of NECCDEP is on the rise and the benefits of the scheme are trickling down to grass roots.
The North East Coastal Community Development Project (NECCDEP) funded by the ADB and implemented by the then Ministry of Nation Building and Infrastructure Development is aimed at reducing poverty and meeting the basic needs of coastal communities of the Trincomalee, Batticaloa and Ampara districts.
The five-year project has enormously improved the lifestyle of people, their dress code, consumption patterns and cultural bindings. Many who lived a hand-to-mouth existence now could afford a square meal, educate their children and look into their welfare.
H. Rajakumari, a 40- year old widow from Pumkua in the Trincomalee district had to start life from scratch at the age of 15 to bring up her daughter.
Sheer determination and courage brought dividends to Rajkumari who today is a sought after seamstress with a potential to earn over Rs. 40,000 a month.
"If there is a will there is a way and all one needs to be is enterprising and the sky is the limit for such people. I obtained a loan of Rs. 50,000 a year ago to buy sewing machines and today my business is flourishing", she said.
Rajkumari has two employees and finds time to train girls the craft which she has mastered. Her spare time is spent on creating designs. The enduring spirit of Rajkumari had inspired her daughter who is now a second year student at the Agriculture Faculty of the Eastern University. Her ambition is to be an agriculturist and help the farming community in the area and revive the age old occupation of her ancestors.
The ADB micro credit scheme has a ripple impact on community development.The number of children entering universities have increased and there is a sharp decline in the number of those seeking overseas employment.
The drop in the number of migrant workers in Kaththankudi has helped strengthen family bonds and avert major social problems. Children who have been left under the care of a relative is sexually victimised.
Pakiamohamad Kadijah, a 44-year-old widow who lost her husband during the hight of the war in the mid 1990s left to the Middle East to support her three children.
Prior to being a beneficiary of the micro credit scheme of the Women's Rural Development Society (WRDS) in Kaththankudi she had gone overseas several times but now being able to make ends meet has decided not to go abroad.
"Since 1991 I have been abroad seven times to educate my children.I could now stand on my feet and live a reasonably decent life, thanks to the help given by WRDS", Kadijah said.
WRDS, an organisation to empower rural women provides micro credit for self employment. Dairy, poultry, fishing, sewing, mat weaving, palmyrah products, prawn farms, garments and pottery are lucrative self employment avenues in the East.
Women play an active complementary role in supporting families and are often the breadwinner due the husband's disability.
The number of male victims of the war is high and has led to the rise in the number of women headed households in the East.
Nabisha Baham, is a 45-year old widow with three children and depends on mat weaving for her existence.
She is a beneficiary of the micro credit scheme and has developed her business over the years.
"I could make more mats now since I could afford to buy the raw material.Earlier I weaved one or two a day but now I could make around five", Baham said.
Baham had been working for a businessman who paid Rs. 100 for a mat whereas now doing the business by herself she earns Rs. 350 per mat.
"I am thankful for the training given to me and would always like to impart my knowledge to others", she said.
Skills development, an integral part of the project promotes sustainable livelihood and sound management of natural resources.
The women shopping complex in Batticaloa which comprises products manufactured by women shows the role of women in the economy and their capability to manage and turnaround enterprises.
The number of female headed households in the Batticaloa district is around 25,727 of approximately 153,074 families.The number of widows is around 15,648 of which 2,939 are war widows.
There is an urge among youth to pursue higher studies. The biggest hurdle in their lives has now been cleared and opportunities of loan recipient families have been able to pursue higher education and enhance the income levels of their families.
Adambava Kamsi who supplies stringhoppers to hotels in Kaththankudi is a proud mother as her son is the first student to enter the medical faculty of the Rajarata University.
Kamsi who had no words to express her happiness about the son qualifying to enter university said "I am extremely proud about my son and I will do my utmost to support his education".
"I will not discourage my mother from making stringhoppers. She enjoys her work and I am happy about the progress she has made" Kamsi's son said.
Kamsi who is a recipient of the micro credit scheme has been able increase the number of stringhoppers she makes from 200 to 1000 and as a result her income has grown many folds.
The NECCDEP launched in 2004 with a US$ 28.4 million loan from the ADB will end in November.