Sri Lanka top spot for water sports
For years, Sri Lanka has been promoting its golden beaches, soft sand and amazing waves to tourists but our water sports industry has yet to develop unlike countries that thrive on beach tourism alone, like the neighbouring Maldives. After peace, the good news is that we have the capacity to develop taking an example from developed nations.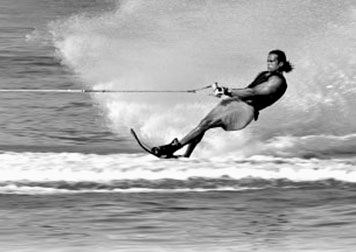 Our beaches are blessed with inland water bodies such as rivers and streams offering a complete and varied water adventure. "We need to promote more water sport activities and develop our water sports industry but it all has to be done through regulations to protect our natural treasures," said, Sri Lanka's former windsurf champion, Thusal Gunawardena.
"As a sports centre, we should be cautious in putting water sports as a benefit to tourism but also train our locals and youth to gain maximum advantages too," he added.
Coastal belt
At present, there are no particular rules to stop any water sports centre from opening in the coastal belt for non-motor sports facilities but for motor sports such as jet skis, water skis and high - powered boats, there are certain rules in place. "Initially these were in place due to the terrorism problem but even after the conflict ended, the government has not lifted these regulations as there could be boats smuggling dangerous goods." Sri Lanka has all the benefits for surfing, diving and a host of water sports.
"We are blessed with good weather all throughout the year, be it down south or the East, we offer a private holiday with no overcrowding and tourists can have a good and cost-effective holiday with our nominal tariff," said Thusal.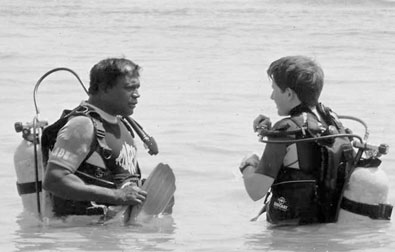 One of the pioneers of water sports in Sri Lanka, Thilak Wijesinghe said, "We have discussed many times with the Tourist Board officials for an adventure academy where different water sports professionals meet at one place and train the next generation of water sports enthusiasts.
We have already trained many here and sent them abroad for further training but emphasis should be made that they give back to their country and promote water sports here."
There are many different water sports that can blend water-based sports with land-based sports, making it a complete Sri Lankan holiday.
"We are also promoting full adventure packages where holiday-makers can swim, surf, dive, go on a boat ride, go white water rafting, canoeing and then move on to land-based activities such as trekking, walking and rock climbing," he said. In fact, Thilak is also developing one of the hotels at Pasekudah where it will be a sustainable and beautiful resort with plenty of water action.
"We should set an example for many in our tourism region but we should also give good support to our local talent. For this, I'm planning to build a swimming pool with Olympic standards to get our youth to compete in international events."
Water sport events like the recently concluded SriLankan Airlines Pro Surf 6 star tournament which has paved the way for many international water-based events for the future.
Cheap destination
Sri Lanka has become a cheap destination for many with hotels and guest houses being overbooked for the whole year but mostly, the sustainability and nature-friendly aspects make it a discerning destination. "We might think that the surfers coming to Arugam Bay might be backpackers but they are high end tourists as they tend to spend good money on just a few water rides.
It might even be that they are rich and prefer to dress like a beach hippie because of the cool culture," said Thilak. He added, "The most important aspect of water based sports is the safety standards and we need to train more professionals in this area."
The high end rich clientele of the yachting sector will eventually come after the water sports tourism develops to a level where there are several five star and six star hotels, he said.
Sri Lanka has one of the cheapest and best dive spots for prestigious PADI certified five star dive courses as our dive sites are unmatched anywhere in the world.
Marine resources
Renowned diver Dharshana Jayawardena said, "We should protect marine resources for diving and protect our reef from illegal fishing practices like dynamite and netting. Also, we need to have regulations to prevent ship wreck salvaging and market these places in a sustainable manner."
"Sri Lanka can easily get 100 divers annually for diving alone and has great potential to display its ship wreck and coral reef dive sites thereby generating employment and giving a boom to the tourism sector," he said.
Moreover, Sri Lankans can discover nature and aquatic life if they do water sports and see what we are blessed with so they realise that it is imperative to protect our environment. "I see more women in Sri Lanka also indulging in water sports where they have the potential to be water champions too.
But first they should forget about their skin becoming brown and take to water sports," said Thilak.