Visharada Neela Wickramasinghe:
Versatile playback singer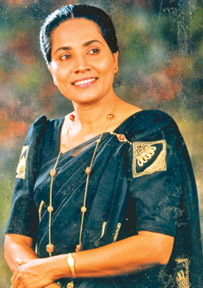 Visharada Neela Wickramasinghe is an accomplished singer, teacher, composer, a super grade artist at Sri Lanka Broadcasting Corporation (SLBC) in both classical and light music and a director of music. She is a versatile playback singer having sung in about 70 films. Her singing career has spanned for over 42 years since she sang her first song for the then Radio Ceylon in 1959 for the program 'Amateur Voice.' She has always sung with an intensity of feeling. She has evolved her own inimitable style of singing.

Neela inherited her musical talents from her parents. Her father was known for his skills in singing and acting while her mother excelled in folk songs. She owes her success to such reputed music teachers as Amara Athukorala, Vincent Somapala, Ananda Jayasinghe, Sarath Dassanayake and Premadasa Mudunkotuwa. After obtaining her Sangeeth Visharada degree in 1974, she became a music teacher. After teaching music in several schools for over 23 years, she retired to concentrate on her musical career.

She possesses characteristics of choosing the proper and ideal lyrics and she is very particular with regard to the meanings, rhythms and echoes of her songs which had always given the listener immense ecstatic delight.

At solo concerts here and abroad fans waited eagerly for the rare aesthetic nourishment which they relished. Her variations are found in abundance and singing a series of songs without a break is unique and remarkable with her melodious voice.

Unlike many vocalists she never sought popularity. She has been acclaimed by a cross section of fans. She believes in not having recitals at frequent intervals. Over the years her voice has grown to a high depth which has given her songs a semblance of maturity. She has won the Sarasaviya Award five times, Presidential Award, Sumathi Tele Awards, Zonta Award and Vanitha Award. To her the acclaim she has received from fans is treasured more than any of these awards. She has made several trips overseas for solo recitals.

She has composed the music for most of her own songs. Among many who have sung her musical compositions are Pandith Amaradeva, Sangeeth Nipun Sanath Nandasiri and Victor Ratnayake.

She said that she had inherited her courage from her mother. She had a difficult time when she was young but due to sheer determination she surmounted the difficulties. She is content with her present position, status and popularity as a singer and musician.

She took part in many a social activity outside the realm of music. She participated in the UNICEF Project to save the children by eradicating polio from our country in 1989. Her efforts helped immensely in the campaign to eradicate polio and by 2000 not a single case of polio has been reported.

Neela has had the unique opportunity to sing for songs composed by Dr. Lionel Algama, Athula Somasiri, Victor Ratnayake, Nimal Mendis, Stanley Peiris, C. de S. Kulatillake and a host of other musicians including young Samantha Perera. She prefers to give talented young musicians their due place.

All of them gauged her potential and predicted a prosperous future for her. To her credit she has immortalised heavily westernised compositions such as "Viyo Gee", "Rantikiri Sina" and "Master Sir." Many of her popular songs have been sung in only about eight cassettes, first of which was released in 1978.

Neela was adjudged the winner in a singing competition during a New Year festival when she was very young. She has won every singing competition she took part in school. She was placed first among 555 contestants in a singing competition held at the Sarasaviya Studio in Kelaniya in 1966.

Neela's career as a playback singer blossomed with time and she became a much sought after singer from 1980 onwards. She received the prestigious Sarasaviya Award for her song "Bodhiye Viharaye" in "Ethin Ethata." In 1985 too she bagged the Sarasaviya Award.

Despite a plenty of bouquets and accolades pouring from all quarters, there were brickbats and missiles too hurled at her by some elements. She is one person who is fully committed and dedicated to her career. She has confessed that she has sufficient strength to stand on her feet. She sets goals for herself and when she reaches then she forges beyond.

After her retirement while making new musical compositions she wanted to launch a project to protect children felicitate veteran artists and look after elderly parents. On her own initiative she formed 'The Mother' organisation in which she is the founder chairperson and collected a sum of Rs. 500,000 from a 'Master Sir' recital and donated it to the late musician Stanley Peiris for medical expenses during his prolonged illness.