Unique opportunities to bloom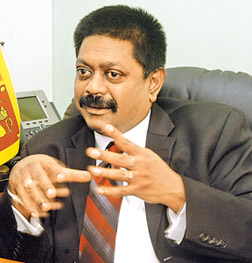 The change in Sri Lanka made the USA to change, said Sri Lankan Ambassador to USA Jaliya Wickramasuriya in an interview with the Sunday Observer during a brief visit to Sri Lanka. Ambassador Wickramasuriya spoke of the hard work Sri Lankans in USA did to save the good name of their motherland.
Excerpts from the interview:
Q: The SL Government is making every effort to eradicate shadow LTTE movements existing internationally. In this backdrop what is the situation in USA?
A: During the last two years we had a lot of pressure from human rights groups and pro LTTE diaspora. Right now there is comparatively nothing. The changes that took place in Sri Lanka changed the mindset of the people in USA as well, especially at decision making levels. Even the image of a Sri Lankan politician changed with what President Mahinda Rajapaksa initiated - not only to eradicate terrorism but in all his efforts to develop the country socially, economically and culturally. But still there are a few groups trying to create problems. According to our statistics, the pro LTTE diaspora who live among Sri Lankan Tamils in USA is less than 2500. The total number of Sri Lankan expatriates in USA is around 250,000. . As the numbers grow less, the pro LTTE diaspora want to amplify their voice in order to maintain their false image. According to information gathered each person fabricates and sends hundreds of e-mails under different names to different groups of people. It is this small number who makes our lives as well as their own lives miserable. Earlier we knew that normal Tamil people were blocked by pro LTTErs preventing them reaching us. Some used to get letters of extortion. But today, any Sri Lankan, irrespective of ethnicity can easily reach us, discuss and solve whatever the problems they face.
Q: So Sri Lankans are living more peacefully with each other?
A: I work very closely with the Tamil diaspora. I meet these different groups in the cities they live, in my outreach program. I always tell them that this is the time to forget differences and unite as Sri Lankans. Actually the normal Tamil diaspora was very supportive of the Government efforts to end terrorism. But it was the extremists who were creating the problems and blocked the other Tamils reaching us.
Q: As a person with long experience in the social, economical and political areas, especially of the USA, how would you explain the present responsibility of foreign missions?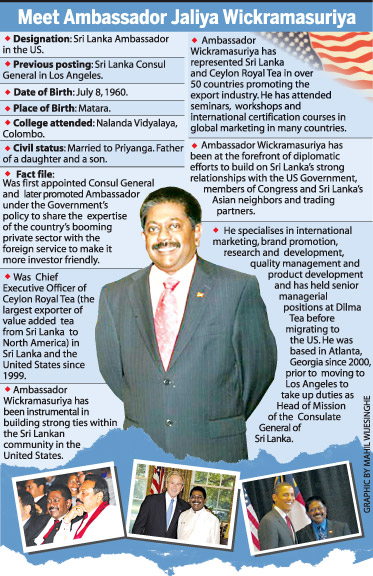 A: Today as Ambassadors, it is our duty to work more progressively in an accelerated pace. We have to work more aggressively to counter pro-LTTE attempts in foreign countries. If ambassadors can get together they can do wonders. I have an excellent team in the embassy. I stress that we need to work as a team. When the war was on security forces personnel had no sleep. Today it is our turn. So we must not relax. Our service to the diaspora is 24x7. I have been living in the USA, and to me, the embassy was the place from which I couldreach my home. It is the same for every Sri Lankan living in USA. The foreign missions must not forget why we are there. We go to those countries because Sri Lankans live there.
Q: Sri Lankan embassies definitely need a strong back-up from the respective Governments. How did you sort this out?
A: We have to be thankful to the US Government for their back up. USA was the first western country to ban the LTTE. The Department of Defence is always against terrorism. Even before the September 11 terror attack on USA they imposed a lot of restrictions on terrorist groups and on their activities inside the USA. The FBI named the LTTE as one of the most ruthless terrorist organizations in the world. To be active amidst these tight restrictions the LTTE formed the Tamil Rehabilitation Organization (TRO) as a cover-up for their clandestine work. The FBI found that the TRO was funding the LTTE and as a result the USA took action to end its activities. Other pro LTTE organizations that were registered faced the same fate with the strong control of the FBI. For the Last so many years the USA was behind such organizations. Many LTTE cadres, supporters connected to money laundering, arms smuggling, illegal arms deals were arrested. The Sri Lankan Embassy works very closely with the US Defence Department as well as US and Sri Lankan Intelligence, continuously.
Q: Are you satisfied with your success in your posting in Washington?
A: I'm extremely happy. After my posting in Washington, I had to put a lot of effort as there was so much of pressure on Sri Lanka from the world. It's interesting to note that because of the pressure I managed to meet seventy congressmen and about 40 senators, making them aware of the true picture of the country. The pro LTTE diaspora who were US citizens, were also addressing these congressmen and senators. With priority naturally going to the citizens somehow I managed to create a truly positive understanding. One of the results was getting a very balanced report from the Senate's Foreign Relations Committee. It was a crucial point in the policy change of the US Government. Lead by Senator John F.Kerry and Senator Richard Lugar, representatives came to Sri Lanka to carry out ground work. They named the people they wanted to meet and we fully supported their request. These two senators went all over the country and met a wide variety of people.
Q: Most of the allegations levelled against Sri Lanka regarding human rights violations have not been substantiated. Please comment?
A: With the end of the war there was nonews published on war and related incidents. Yet we come across reports by different human rights organizations mainly relating to events of the past which are erroneous. We make sure th at we correct such reports with true statistics without delay.
Q: Re Sri Lanka, what are the main concerns of the USA Government?
A: We are more closely associating with the US Ministries of Trade and Commerce. And also the State Department and Defence Department. They believe that through economic development we can come out of the many problems faced. The US Trade Department supports us in promoting US investments in Sri Lanka. Their main concern now is reconciliation. Earlier it was the settling of IDPs. Secretary of State Hillary Clinton congratulated Sri Lanka on resettling 90 percent of the people within one year, during the special meeting with Sri Lankan External Affairs Minister Professor G.L. Peiris. The world average of resettling displaced people due to natural disasters, is 20 years. Our problem is more complicated. Clinton said commenting on the Commission on Lessons Learnt and Reconciliation that it is a promising opportunity to move forward. "Experience in other countries has shown that such a commission that has the credibility within the country has a valuable role in advancing accountability," she said. We have a very cordial relationship with the State Department. Having Robert Blake as the Assistant Secretary of State is a great advantage for Sri Lanka. He is a person with a sound knowledge on Sri Lanka with his experience as former US Ambassador to Sri Lanka.
Q: How about promoting tourism?
A: Our job was on the political front. Now is a good time for tourism and investor promotion. Focusing on this we facilitated a group of professionals on a tour to Sri Lanka - 'A signature tour with the Ambassador'. They are travel writers, senior attorneys, location scouts in cinema industry etc. They are ready to help us technically as well as to build our contact network. Without contacts and marketing we can't do anything. Within three months I organized this group's visit. There was a lot of groundwork done since my posting in Washington as Ambassador. They are travel ambassadors. They can convince groups of people in their network to bring down more tourists to Sri Lanka. Sri Lanka is situated on the other side of the world for Americans. However, they do visit the Maldives, Thailand, India. US tourists spend much more money compared to tourists from Europe. Most of the Americans interested in travelling are retired elderly or middle aged people or professionals earning huge salaries. I have educational programs at the embassy and my residence to promote Sri Lanka to them. I always say "I can only show you 1 percent of Sri Lanka with the presentations I make. To get the true picture it is important to visit the island. Through direct communication today we have over 600 USA citizens willing to visit Sri Lanka. We are going to continue this and next year I will bring 250 tourists from America.
Q: Who is more concerned of the new situation in Sri Lanka. Is it the political or the business community?
A: Both are equally interested in helping Sri Lanka. What we have decided is that we will forget the extremists and go with the moderates. The US Trade Department promotes Sri Lanka under the theme. 'Make Sri Lanka your next business stop'. They have organized a special conference to be held in Colombo from October 12 - 14. This conference provides an excellent opportunity to the US businessmen to discuss investment opportunities with senior government officials and investment partners of Sri Lanka. They have scheduled a tour to Jaffna as well.
Q: The present Tamil Diaspora is the second or the third generation who are clueless about the history of our country. As Ambassador don't you think you have a responsibility in bridging this gap?
A: The most important is bringing the diaspora together. My priority is to get help from the diaspora and build up enthusiasm for visiting Sri Lanka. In fact during the last year I have sent nearly 200 Tamil people who have never been to Sri Lanka during their entire life or for the past twenty years. Actually they contacted us, and we made arrangements for them to visit Sri Lanka. We were so delighted to receive their response expressing their joy after the visit.
Q: The present generation of the Tamil diaspora see and hear what is being published in the international media or on the web. This distances them further from Sri Lanka. How are we going to address this problem?
A: The number one solution is basically the duty of parents. Parents should try their best to keep children within their cultural values even when in a foreign country. At the embassy we very closely work with young Sri Lankans. We do a lot of activities centred around youth. Sinhala, Tamil, Muslim youth groups interact with each other at every activity. These young boys and girls are very enthusiastic to be in touch with their brethren. It is very encouraging for us as well. We need to get them together and we must educate them inculcating the habit of living in harmony. If everything goes well, I hope we will be able to organize a Sri Lankan tour for these youth groups. We have a complete database of the youth and we regularly interact with them by e-mailing newsletters. Every week there is some sort of an event for youth.
Q: How is the response?
A: Excellent. The youth groups are actively involved in compiling databases on all Sri Lankans living in USA based on their professions. It is easy to make them work together. I have appointed one of my officers at the embassy to bring these groups together. It is important to strengthen the unity among the Sri Lankan expatriates and when more places are available for them to get-together the more they feel close to their motherland. If not for the great support of the diaspora our mission would not have been successful.
Q: Media plays a big role in showcasing a country's image. Shouldn't we have a strong media network in the USA to project the true picture of the country?
A: USA tourists are happy to be in Sri Lanka. So tourists indirectly play a role in spreading the good news about Sri Lanka in their respective communities. The New York Times carried an article in January this year stating that Sri Lanka is the number one country to visit. I work very closely with certain media personnel. But their is another set of media personnel who will grab a negative point.
As the war ended US media did not write much on Sri Lanka as there weren't many 'exploding' stories. Communication is good with main newspapers the Washington Post, New York Times, LA Times, Washington Times, Chicago Tribune and Boston Globe.
The US media is publishing more positive stories about Sri Lanka compared to earlier.