Duty on imported essential items to be imposed
The Ministry of Trade will impose duties on imported essential items to protect consumers from unfair profits made by importers, said Deputy Minister of Trade and Commerce, Neomal Perera.
He said by imposing taxes on imported commodities the government hopes to protect local industries and boost the manufacture of local products.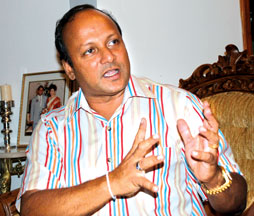 The Government fixed a Rs. 30 per kilo tax on imported potatoes recently to safeguard local farmers. The price of potatoes dropped from Rs.90 to Rs.65 a kilo due to the import of potatoes.
"The Ministry of Trade has decided to import essential items directly to prevent importers from making huge profits and create a stable market", the Deputy Minister said.
He said the activation of the Paddy Marketing Board has helped provide a good price for farmers and to stabilise the market. The PMB has purchased around 5 percent of the harvest this year.
The Ministry of Trade will increase the number of Sathosa and Cooperative outlets to provide consumers essential items at an affordable price.
The number of Sathosa outlets will be increased to 250 this year. Currently 206 Sathosa outlets and 10,000 cooperatives are operative in the country.
The Deputy Minister said the number of raids carried out islandwide has increased and more officers have been deployed to nab errant traders.
Traders are fined for not displaying price tags, selling items underweight, exceeding the expiry date and violating manufacture specifications.
"We have to protect the consumer and the trader which is a difficult task. Despite accusations from both parties we have ensured that the best is done for the country", he said.
(LF)