'Samanalaya 2010', a high quality show by disabled youth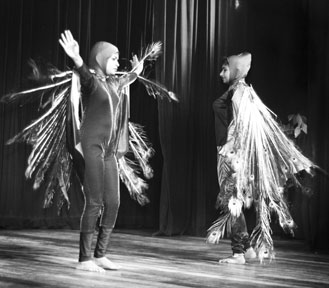 We witnessed a rare performance of high quality presented by "Samanalaya 2010", the drama workshop initiated by the Sunera Foundation recently. The Foundation has embarked on a meaningful project to develop, stimulate and strengthen the aesthetic talents of the younger generation.
This particular workshop centres on drama encompassing its diverse aspects namely, acting, singing, dance, gesticulation and miming. The entire audience appreciated and admired the roles played by both males and females. It was incredible that disabled persons could act in such a magnificent and superb manner enthralling the entire audience.
The themes of the two stylised dramas were based on the attitudes of human beings towards innocent animals and inanimate objects such as trees in the jungle. The two dramas highlighted the violent acts of human beings who were aspiring to take away the life of innocent animals.
The disastrous acts of our human beings who were anxious to destroy the trees which are found in the jungles without considering its evil consequences and the immense value of the flourishing trees.
The two dramas were very attractive and extremely effective that most of the spectators in the audience were almost spellbound. The gathering in the audience were almost astonished at the manner these actors and actresses with diverse disabilities could act so naturally depicting a clear visual picture of the dramatic situations they endeavoured to portray through their gracious energetic and lively acting. The overjoyed audience cheered heartily.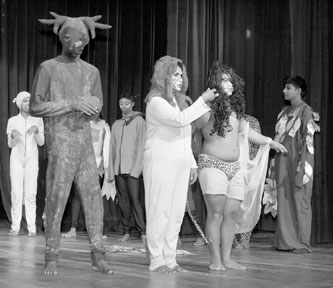 This was a novel experience for those subjected to diverse disabilities who were deprived of such opportunities to display their inherent talents and create a resounding impression in others.
These performances should be considered a medium to express their feelings, emotions and sensitiveness which could be a heart-rending experience for the audience. But for them it is an occasion emanating sensuousness.
The Chairperson of the "Sunera Foundation", Sunethra Bandaranaike should be commended and congratulated for mooting this laudable project mainly to develop the creative skills of the vulnerable and marginalised boys and girls subjected to disabilities and who are with special needs and under special care.
Dhammika Gamage, the Field Manager said workshops are conducted in various parts of the country and the participants are properly trained to present their roles. This vividly displays that the project initiated had been broad-based to cover a considerable number of participants.
It is envisaged that drama, music and dance are a therapeutic device to get considerable relief from some aliments. The complacence of mind a disabled person gains through these aesthetic items and the ecstasy he experiences motivates him to be active and forget his misery, discontent and anguish.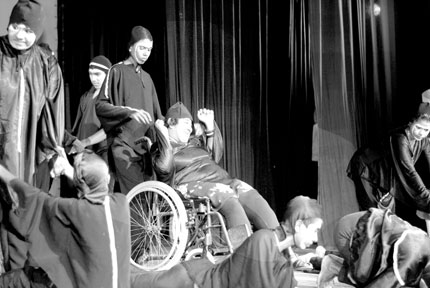 The entire project is an illustrious and humanitarian campaign to embark on rendering social service and develop the skills of the younger generation with special needs.
Invariably it tends to eliminate the indignation afflicted with a group of human beings who really need our loving kindness, compassion and recognition.
(The writer was a former Director of Education and is at present the Director of Education Division of HelpAge Sri Lanka.)