Gal Oya National Park
Established in 1954, the Gal Oya National Park is in the southeast of Sri Lanka, West of Ampara about 314 kilometres away from Colombo. The Gal Oya Development Board was set up to protect the catchment area of the Senanayake Samudra Reservoir and then handed over to the Department of Wildlife Conservation in 1965.
Part of the national park is Inginiyagala which is famous for its unique wildlife, elephants and ecology created by the forest and the largest reservoir in Sri Lanka.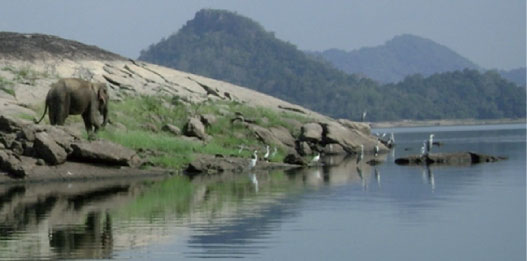 The Senanayake Samudra was built by damming the Gal Oya at Inginiyagala in 1950. An important feature of the Gal Oya National Park is that elephants can be seen throughout the year. Three important herbs in Ayurveda medicine are among the popular plants of the forest.
The Gal Oya Development Board set up many protected sites to conserve and sustain the catchment areas of the Senanayake Samundra and several other reservoirs which helped prevent soil erosion caused by burning the Thalawa grassland by the villagers. The protected areas established in 1954 are Gal Oya National Park, Senanayake Samudra Sanctuary, Gal Oya valley north-east Sanctuary, and Gal Oya Valley South-East Sanctuary. These reserves cover 63,000 hectares of land in the national park.
Administration and protection of the four protected areas, reducing human-elephant clashes and enforcing the flora and fauna ordinance are among the duties of the department and rangers are stationed in four sites encompassing Inginiyagala, Mullegama, Nilgala and Baduluwela. In 1974, the Buddhangala Sanctuary was also designated. Buddhangala is a monastery with ruins of a stupa and other buildings in the nearby Malwattai area and thousands of pilgrims visit the Dighavapi stupa annually. The stupa was built in the second century BC on the site where the Buddha is supposed to have meditated on his third visit to Sri Lanka. Danigala has historical importance as it was the home to the Henebadde Veddahs. A rock near the Henebedde cave contains Brahmi inscriptions.
The elevation of the park varies from 30 m to about 900 m. Danigala, Nilgala, and Ulpotha are the mountains of the park. Birdís Island in the reservoir is an island used by birds for nesting. At the place where Gal Oya falls to the reservoir, water flows in a natural tunnel known as Makara Kata (Sinhalese for dragonís mouth) or simply Makara.
The vegetation of the forest is forest, shrub and grassland. The national park contains a substantial area of Savanna grasslands known as Thalawa in Sinhala and mountainous grasslands known as Pathana.
There have been 32 terrestrial mammals in the park including elephants and axis deer endemic to Sri Lanka with a wide variety of birds. Illegal logging has cleared 30 acres of the forest and smuggling of medicinal plants also has been recorded.
There are not many ranger staff who work here, so it has been difficult to enforce the law.