Life of Omar Khayyam
Omar Khayyam's quatrains are intense in their simplicity indicating his knowledge of life.
He was born in 1048 to an Iranian tent-maker's family and as he grew older it became noticeable that he was full of wisdom. Indeed, he was a mathematician, astronomer and philosopher. When his fame spread throughout the land, the Sultan-Shah requested him to improve the calendar using his astronomical observations. He built an observatory in the city of Estafan for this purpose.
Having achieved what was required of him by the Sultan, Omar made a pilgrimage to Mecca. On returning he resided in the court and joined the retinue of the Sultan.
He predicted future events and maintained records of past developments. He also used his expertise to diagnose and cure the sick administering his own medicines.
He wrote some prose which included facts on metaphysics and a systematic writing on Euclid.
In the Rubaiyat of Omar Khayyam he used his own technique of composing poetry in stanzas of four lines. Unfortunately just a few fragments of his poems remain.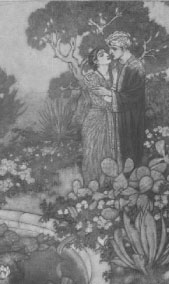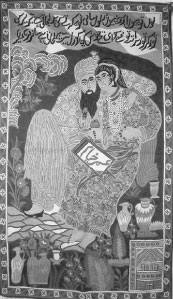 A 19th century American poet inspired by Omar's compositions set his mind to discover and translate them into English. The quatrains are related to one another by a common idea. Some famous lines are "A Jug of wine", "A Loaf of Bread and Thou", and "The Flower That Once has Blown, Forever Dies".
There came a period when he was somewhat confused by nature's reality, man's relationship to God and doubts about after-life.
These strategic theories changed him completely. He turned to sensual pleasures of life entranced with women. The aura of romance impressed him so much that he presumed they were personifications of love, tenderness, beauty and passion. These thoughts made Omar compose quatrains weaving into them facts as well as illusions of life.