Now a Sinhala hit by KNH
Back in the spotlight is the threesome the KNH Project who have released their first Sinhala hit and they can proudly claim that they are the first among professional Dee-Jays in Sri Lanka to achieve it.
Earlier they had a first in the recording and release of "Dollar Boy' which became a rage with club groovers. The song was played many a time at many a nite club and was a kind of a weekend special song. Now the KNH's new release is Heta Elivena Thura Nata and there's no denying that the song is fast gaining popularity. We asked Harith of KNH for a low down on the release.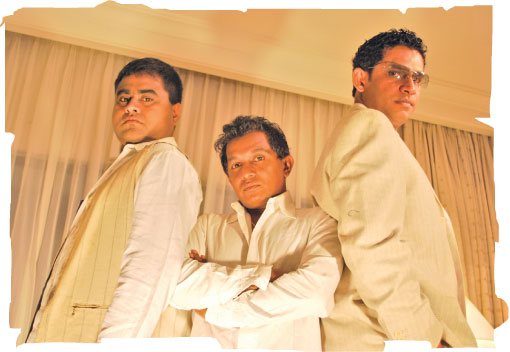 "The track is a light-hearted song focusing on partying tourist spots in Sri Lanka. The chorus goes:-
Kandy, Colombo, Hikka, Negombo
Arugambay, Hikkaduwa, Meegamuwe, Unawatune, Kandy, Colombo, Jaffna, Negombo.
After thirty years of conflict this is our aim to promote Sri Lanka as a beautiful island with fabulous beaches and a must on every tourist's itinerary. To make it more exciting we recorded a video too, showcasing our wonderful beaches and the many water sports Sri Lanka can offer to tourists as a preferred vacation destination. The song which is now being airplayed was produced by Iraj Weeraratne while the lyrics were by Wasantha Dukgannarala," said Harith.
The trio Kapila, Naushad and Harith are planning more projects which no other professional Dee Jay in Sri Lanka has done as yet. Keeping the KNH flag flying high is Naushad who is the resident DJ at the high-tech disco Mojo. After the successful Dollar Party 2010 to usher in the year 2010 at the Hilton Colombo, which incidentally was a first for the KNH, because hitherto a live band ushered in every new year. On this occasion it was a resounding success for the threesome. So this December KNH have surprises up their sleeve, keep in touch.
House music is their trademark and everyone knows how KNH came together to become a distinguished and popular force in the nite club scene, spinning grooves at the Blue Elephant. When they are not together behind the console KNH are putting their heads together to plan new ideas and schemes to make groovers happy on the dance floor. Now this new Sinhala hit and video is another result of this "musical brainstorming" that KNH do ever so often. Heta Elivena Thuru is will be a success.
Good luck KNH!