ASPI crosses 6000 point mark
The All Share Price Index (ASPI) of the Colombo Stock Echange (CSE) crossed the 6000 point mark on Thursday for the first time in the history of the Stock Exchange.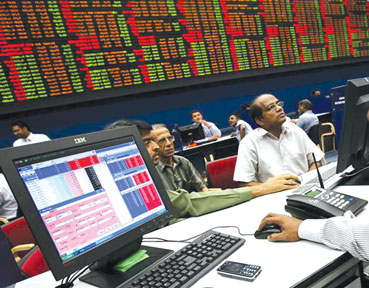 A stock broker of Asia Securities (Pvt) Ltd. said the price band imposed by the Securities and Exchange Commission (SEC) to streamline the market contributed to the achievement.
"The CSE is performing remarkably well and this trend will continue due to the favourable business environment in the country. Companies have revived businesses and their profits are up helping share prices to increase", he said.
The CSE has been recording many feats following the completion of the war and the Colombo Stock Exchange has been rated as one of the best performing markets in the world.
CSE sources said more companies are keen to list in the stock exchange which would boost the growth of the CSE. Currently around 230 companies trade on the Stock Exchange.
Rakshitha Perera of Bartleet Mallory Stock Brokers Ltd. said positive sentiments are back at the CSE and the overall directions are good for the market. "Positive macro-economic factors contribute to the increase in trading. Over the last few days institutional and high network participation was visible in the market", he said.
Stock brokers said retail buying across the board contributed to the positive trend in the market.
The SEC has issued license to Indian Infoline, a stock brokering company increasing the number of CSE's stock brokering firms to 22. According to the SEC sources approval is pending to three more firms.
(LF)