SUNDAY OBSERVER in entertainment forefront:
Fab Beatles in a class of their own
True to all the blurbs The Fab Beatles proved undoubtedly how true to the original Beatles they were when they performed at the Sri Lanka Exhibition and Convention Centre last Saturday (September 18).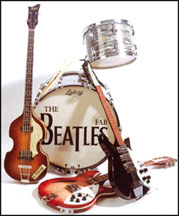 It was an excellent entertainment. The sound was good with no gaffs thanks to Mystere Entertainment Lanka who ensured that the best equipment was on stage that evening.
The lighting was fabulous. The hall was draped in multi colours which was exciting, and the attention getter videos gave the concert a professionalism that was hard to beat. The Fab Beatles were tight knit in their musical expression and they took the capacity packed audience through eras of the Beatles trilogy with ease.
The singing of the leader Kev Day as John Lennon and Andy Southard as Paul McCartney, they carried the load of the vocals, was so close to the original that it was unbelievable. As soon as the first chord of the opener "I Saw Her Standing There" filled the air the audience was transported back to the swinging 60s when the Beatlemania was the rage.
With inflections and harmonies that were so close The Fab Beatles sang all the hits Sri Lankan audience were extremely familiar with. In their first half of the show the foursome after their opener moved into hits like From Me To You, I Wanna Hold Your Hand, Love Me Do, Please Please Me, Dizzy Miss Lizzy, Roll Over Beethoven, This Boy Wants You, Hard Days Night, Can't Buy Me Love, All My Lovin' and more. They packed in something like eighteen songs in the first half of their performance which left the audience waiting eagerly for more.
Michael Dunn the George Harrison in the group emulated successfully Harrison's hit It's A Secret and Joe Breden the Ringo Starr; carried off an authentic Thank You Girl.
The second half was equally exciting and delirious to the fans. With a change of costume, sporting the Sgt Pepper outfit The Fab Beatles loaded their performance with many hits from the eras of the Magical Mystery, Abbey Road and Let It Be. With Kev Day alternating on piano and guitar the Beatle fans enjoyed many hits. Ofcourse the dancers and the fans did not let them go. They were on stage for encores. Twist and Shout kept the dancers in ecstasy. Everyone went home-Beatle fans and the dancers-with unforgettable memories. We hope Mystere Entertainment Lanka will come up with more superb entertainment in the near future.
| | | |
| --- | --- | --- |
| | | |
| The Fab Beatles opening their concert with 'I Saw Her Standing There'. | Kev Day the John Lennon of the group performing 'Let It Be'. | Joe Breban in solo action. |
| | | |
| --- | --- | --- |
| | | |
| More Beatles' favourites from the Fab Beatles | Audience appreciating the sounds of the 60s. | |