Begging, the way out
Beggars belong to a separate group in the society and eke out a 'hand-to-mouth existence'.
The begging bowl, plate and old worn clothes are the sole possessions of beggars. Some beggars earn a good income through begging. A female beggar with a baby with a running nose is a common sight in buses and on the pavements.
A few street entertainers perform on buses and on the streets very often.
Some have taken to begging as a means of a livelihood. Over 96 percent of the beggars earn an average daily income of nearly Rs. 80 while 27 percent of the beggars spend Rs. 50 to Rs. 100 per day on their needs.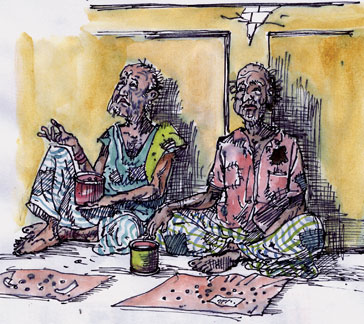 Beggars usually throng roadsides, traffic light signals and seem to prefer flyovers. The line that separates beggars from the poor is getting thinner in certain underdeveloped countries where one in every four beggars goes to bed hungry every night and 78 million are estimated to be homeless.
Social evils
Begging has become a nuisance to society and nobody thinks of the harm begging does to the society, when they give money to beggars. When we give money to beggars does it mean that we are helping the needy? Are they really the people who deserve help? Generosity in a sense does not mean helping beggars to depend on the society till their death. Many people opt for begging as a profession even if they have adequate means to live an independent life.
Our generosity has resulted in encouraging more beggars to continue begging as a means of earning money. Serious damage to children's future, increasing criminal activities on streets, obstructing the free flow of traffic, increasing road accidents and many more are the direct and indirect evils of begging.
Begging has been traced largely to unemployment and poverty. Generosity on the part of the people tends to encourage begging.
Natural catastrophes and physical disabilities also drive people to begging.
Cambodia is one of the poorest countries where begging is rampant. Children are brought into the cities from rural areas to work as sex workers and sometimes trafficked to countries such as Thailand to engage in the sex trade. Minors are smuggled to work as construction workers, domestics or child prostitutes.
Legal framework
Indonesia has installed a legal framework to put an end to begging. The Jakarta Urban Council has banned giving money to beggars, buskers, car cleaners and street children or purchase of goods or food from road-side stalls.
The City Council of Jakarta agreed to replace the 1988 regulation to make Jakarta a more orderly City. Punishment for scheduled offences are imprisonment ranging from 10 to 60 years and fines from 100,000 rupiah ($11) to 20 million rupiah ($2100), the sources said.
Beggars are a community without any aspirations or goals in life but depend solely on charity.
Their life pattern is rather different from other communities as they live in streets, parks, under trees and roam in public places.
Beggars seek refuge largely in urban areas. Observers maintain that there are two types of begging, namely passive and aggressive.
Passive begging involves soliciting money by simply raising one's hand or cup or plate.
Aggressive begging involves "Coercive soliciting" that includes a degree of intimidatory action such as following a potential donor down the street and making threats.
'Beggars' frequently haunt locations such as entrances to office buildings, almsgiving houses, ATM machines, parking places, railway stations and bus halts, major road intersections, particularly where there are tourists, filling stations and fast-food restaurants.
Beggars are mostly homeless. Some of them are handicapped due to physical disabilities and are prevented from holding jobs due to various reasons.
Life patterns
Their life patterns are very often attuned to new methods of begging which they adopt from time to time. Youth have also taken to begging as it has become a lucrative business. They very often sell stickers and hand bills in the metropolitan areas.
There are well established beggar groups operating in major cities such as Kandy, Colombo and Galle. Some beggars even prefer to take children with them to evoke public sympathy.
Some years ago Prof. Nandasena Ratnapala had conducted a survey on the life patterns of the beggar community in Sri Lanka.
The general practice of issuing birth or death certificates seem to be non-functional as far as beggars are concerned.
Hundreds of beggars, young and old plague popular cities such as Colombo, Kandy and Kurunegala. Others go begging from house to house in rural areas.
Many have taken to begging as they do not have a fixed abode or any means of livelihood or property of their own. This situation has arisen due to various factors such as poverty, parental death and illness, loss of parental love and affection and loss of love and affection of their children. The number of beggars is on the increase daily.
Most of the beggars are physically and mentally healthy. They can earn money by doing some sort of work yet they prefer to beg as it is perhaps the easiest way of earning a fast buck.
Tourists pestered
Beggars have become a nuisance to tourists. They pester tourists and demand money.
Even children in the age group of 5-10 years have been forced into begging. This is a sad state of affairs in the country. Most of these children have lost parental love and affection. The police say that such children become criminals in later life.
The Government has set up several camps for beggars. They, however, do not like to live in these camps presumably due to lack of freedom.
Sociologists have called upon the authorities to contain the scourge of begging. Some countries have established special homes for beggars.
The Government alone cannot solve this problem. Social service associations and voluntary organisations should extend their cooperation to the Government. Children who are engaged in begging should be sent to school and given vocational training or taught a trade while the healthy should be provided suitable employment.