Germany to support development in Lanka


The Sunday Observer invites views from diplomatic missions here and abroad for the greater understanding of their political, social and cultural relations in their resp[ective countries.
Please submit your entries by E-mail : dpl@sundayobserver.lk
With the dawn of peace after 30-years, more German tourists visit Sri Lanka while more German investors are planning to invest due to the economic and political stability of the country.
Germany, which has been helping the country for nearly 60-years, is hopeful that its government can do more to uplift the people of the country, who suffered from the deadly conflict.
German Ambassador Jens Ploetner said in an exclusive interview with the Sunday Observer that Germany would help Sri Lanka develop in the post conflict era.
"Last year we spent almost US $ 15 million as aid and we will spend about the same amount this year", he said.
The Ambassador was interviewed last week on the day he turned 43. Instead of a gala party he celebrated his birthday with the villagers of Manapaha, in Kurunegala, who were gifted with a German funded 'Senehasa' rice mill which will assist over 200 paddy farmers. Travelling around the country often, Ploetner said that he and his family were happy that he was posted to Sri Lanka. " We have found the country to be very beautiful and the people-friendly", he said.
Excerpts of the interview :
Q:In post the conflict Sri Lanka, what would be Germany's contribution to develop the country?
A: Sri Lanka is facing the challenge of transforming itself from a country at war to a society living in peace. This is a huge task and the main work has to be done by the people of Sri Lanka themselves. They have to find a way of making all communities live in peace and harmony. What the international community can do is to assist in this endeavour. This is where I see a role for Germany.
Meet German Ambassador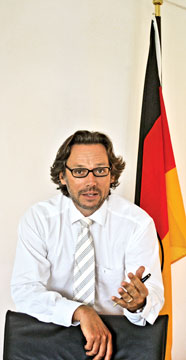 * Name: Jens Uwe Plotner
* Date of birth: September 29, 1967
* Place of birth: Eutin, Germany
* Family status: Married, one child
*1987: Baccalaureate/Higher Education Entrance Qualification/A Levels
*1987 - 1988: Military Service
*1989 - 1993: University studies in law and political science in Hamburg, Bordeaux and Paris
*1996 - 1998: Deputy Chief of Staff to the State Minister for European Affairs in the German Federal Foreign Office
*1998 - 2002: Political Counsellor, German Embassy Tel Aviv
* 2002 - 2005: Spokesman for Middle Eastern and UN-Affairs, Press Department of the German Federal Foreign Office
* 2008 - 2009: Spokesman of the German Federal Foreign Office
* 2009: Ambassador to Sri Lanka
Q:What is the total commitment of assistance this year and what is the progress made when compared to previous years?
A: Fifty years ago, Sri Lanka was one of the first countries to benefit from German Development Co-operation. Many people know of our lighthouse projects and the German Technical College in Moratuwa. Since then we have continued to work in a number of fields such as agriculture, energy, the Mahaweli water scheme and vocational training. In recent years, alleviating the consequences of the armed conflict became our main focus.
Last year we spent almost US $ 15 million as aid and we will spend about the same amount this year. To this you have to add Germany's contributions to the EU and the UN-budgets. All in all, I believe we have seriously tried to contribute to the long-term development of Sri Lanka.
Q: Demining is one area to which the German government offered help. What is the progress in this area?
A: I totally agree that demining is a top priority because it is a pre-condition for families to finally return to their homes.That is why we have spent US $ 1 million on de-mining.
I can very well understand that displaced families are very impatient and want to return home as soon as possible. But we need to make sure that the quality of de-mining is 100 percent. I visited the de-mining sites and saw the meticulous work FSD, the organization that we are funding, is doing. Remember that a few months ago a French de-miner of this organisation lost his life while clearing a mine-field. So you see: People are actually risking their lives to make Sri Lanka a safer place. I feel that deserves more credit.
Q: After the war the North and the East is the region that needs development. What are the projects that are designed to offer livelihood support for these people?
A: Most of our help goes to the North and the East. We are helping in the construction of houses. In another project, we are training young women and men for jobs in the construction sector in close cooperation with the Chamber of Construction. And then most recently we have started a program in Batticaloa with the Women's Chamber of Commerce to supply livelihood opportunities for war widows. They will be given the opportunity to start a small poultry farm and in that way they can earn an income and also contribute to improve the health and nutrition in the community.
Q: Sri Lanka - Germany have nearly 60-years of diplomatic relationship. How do you evaluate it?
A: Yes, the friendship between our people has a long history. German development aid laid the foundation. Then, work-relations turned into friendship. Starting in the 60's, quite a number of Sri Lankans came to study in the East and West Germany.
That further strengthened the bonds. With the beginning of tourism in Sri Lanka Germany became the number one country of origin of tourists coming to Sri Lanka. And although it might sound paradox the tsunami further strengthened our friendship. Germans felt great sympathy for the people of Sri Lanka suffering from the consequences of this horrible event and donations hit a record level in the aftermath.
Today, after the end of the war in the North the number of tourists from Germany is again picking up with tremendous speed. German tour operators told me this trend would persist.
Q: Tourism is one area that the government expects to develop after ending the war. Do you have any plans to bring more German tourists to the country?
A: German tourists roam freely and its up to Sri Lanka to convince them to visit the island.
President Mahinda Rajapaksa has set an ambitious goal of attracting 2.5 million tourists to Sri Lanka by 2016. And I know that the tourism sector is working hard to meet this target. Whatever the future numbers, I hope that Sri Lanka will conserve a quality tourism respectful of nature and local traditions. German tourists come to the island to be close to nature and to discover your culture and customs. Many also come to Sri Lanka for Ayurvedic treatment. So 500 bed mega-hotels will definitely not be attractive to them.
Q: Are there any plans to revive the travel advisory?
A: We have relaxed the travel advisory significantly since the end of the war and we are going to further relax it from the beginning of this month. The only area which we don't recommend travelling to is the North. One reason being that foreigners are still not allowed to travel to Jaffna.
This is a limitation I quite honestly don't understand and I hope it will be dropped in the near future. Once the state of emergency is abolished, we will reach a situation where we will have no specific travel advisory at all.
Q: You have travelled around the country including the North and the East. What are your observations and what do you have to tell to German tourists and German people about Sri Lanka?
A:It is a beautiful country with friendly people - a travel destination I can only recommend. At the same time, when you live here, you also witness the incredible suffering many people have gone through in the last years. I have met so many war widows who have lost their families - their plight has touched me. At the same time I admire the resilience they show and the dignity they have maintained all along their terrible experience. After meeting them I always feel extremely humble by what I have seen and I am full of admiration and sympathy for these people.
Q: Germany suffered the same war situation some decades back and rose from the ashes to be one of the most developed countries. What are the lessons that Sri Lankans can learn from Germany?
A:Every country has to find its own path. And speaking about Germany, don't forget that after the war my country was divided In the East, a communist regime quelled civil society and basically installed a one-party dictatorship.
Anyone who voiced opposition was put behind bars. In the West, we were lucky enough to receive a democratic constitution. I am convinced that without the rule of law, press freedom and a vibrant civil society West-Germany would not have become the success-story it turned out to be.
Q: What is the support extended for poverty eradication?
A: Apart from livelihood programs, the vocational training for young women and men in the construction field, we are doing some livelihood support projects in the North such as fisheries for example.
While foreign help is important, the main impetus for the eradication of poverty must come from within the country. I have carefully noted, that in his speech to the UN, President Rajapaksa attributed high priority to eradication of poverty in Sri Lanka.
Q: The government invited foreign investments in Sri Lanka after ending the battle against terrorism. How do you expect to encourage German investors to come to Sri Lanka?
A: German companies are starting to look into the possibilities of investing in Sri Lanka. As an Embassy, we can encourage them, but the choice is theirs. Experience has shown that to attract investments, a stable economic and political framework are important.
Q: As a young diplomat what do you have to say about your first appointment to Sri Lanka as Ambassador?
A: My wife and I very consciously chose Sri Lanka as a post. We have found a very beautiful country and friendly people. We have been travelling around seeing wonderful historical sites and nature. We are happy that a year ago we decided to come to Sri Lanka.
Q: Do you think that the country's political and economic stability will bring more support to Sri Lanka?
A: I definitely think that the end of the war has opened new opportunities to attract investors. But we should not forget that the end of the war can only be the first step on the path of attaining sustainable peace.