CORPORATE
Ceylon Asset Management revises Top 10 index
The Investment Committee of Ceylon Asset Management Company has revised the Colombo Top 10 Index and the Tourism Top 10 Index for the 4th quarter of 2010, based on Stock Market valuations as at September 30. These two liquid indices are 95 percent invested (tracked) by the Investment Portfolios of two "enhanced" index funds.
The index revisions are as follows:
I) The Colombo Top 10 Index - tracked by the "Ceylon Index Fund"
a. Ceylon Theatres PLC has replaced Hayleys PLC.
b. Aitken Spence Hotel Holdings PLC has replaced John Keells Hotels PLC.
The index companies had a total market capitalization value of Rs. 838 billion as at September 30, covering 36 percent of the entire market capitalisation of the Colombo Stock Exchange (CSE).
II) The Tourism Top 10 Index - tracked by the "Ceylon Tourism Fund"
a. Galadari Hotels PLC has replaced Ceylon Hotels Corporation PLC (CHC) following the CHC being included on the default board of the CSE.
b. Eden Hotels Lanka PLC has replaced Fortress Resorts PLC.
The Tourism Top 10 Companies had a market capitalisation value of Rs. 150 billion as at September 30 covering 69 percent of the entire Hotels and Travels Sector market capitalisation of the CSE. The valuation of the Tourism Top 10 Index has improved significantly following the two revisions. The revised indices are listed below in order of Market Cap:
bold
The Colombo Top 10 Index:
* John Keells Holdings PLC
* Dialog Axiata PLC
* Commercial Bank of Ceylon PLC
* Carsons Cumberbatch PLC
* Aitken Spence PLC
* Hatton National Bank PLC
* Distilleries Company of Sri Lanka PLC
* Asian Hotels and Properties PLC
* Ceylon Theatres PLC
* Aitken Spence Hotel Holdings PLC
The Tourism Top 10 Index:
* Asian Hotels and Properties PLC
* Aitken Spence Hotel Holdings PLC
* John Keells Hotels PLC
* Taj Lanka Hotels PLC
* Galadari Hotels (Lanka) PLC
* Hotel Services (Ceylon) PLC
* Amaya Leisure PLC
* Royal Palms Beach Hotels PLC
* Eden Hotel Lanka PLC
* The Light House Hotel PLC
The companies are selected for inclusion in the indices on the basis of Market Capitalisation, Liquidity, Corporate Governance and Risk Mitigation strategies employed by the Investment Committee.
The Colombo Top 10 Index gained 51.62 percent during the 3rd quarter while the ASPI gained 51.70 percent and the Milanka Price Index (MPI) gained 43.09 percent during the same quarter.
The Ceylon Index Fund gained 46.94 percent during the quarter.
The Ceylon Tourism Fund meanwhile gained 18.67 percent during the two months of August and September. The daily fund valuations are published in the Business sections of the daily English language newspapers.
---
Why should you know about credit ratings?
Although many people place their money in savings and fixed deposits, there are many other fixed-income securities available to investors, including the following:
* Treasury bills and bonds - Government-guaranteed instruments with fixed interest rates.
* Debentures/bonds - Medium and long-term instruments issued by companies and banks, with fixed or variable interest rates.
* Promissory notes - Short-term instruments issued by corporates, with fixed interest rates.
All the above, unlike equities, are held to earn fixed returns. Many investors have lost their life savings as a result of placing their trust in weak institutions or instruments. To avert such undesirable circumstances, it is crucial that investors take adequate precautions. One such measure is for investors to be aware of the credit ratings of the institution or issue where they have invested their hard-earned money.
What are credit ratings?
Credit-rating agencies, such as RAM Ratings, provide investors with independent opinions on the risk associated with institutions or instruments, be they banks, finance companies or debentures. The assigned rating indicates the ability and willingness of a particular institution to repay investors, together with the promised interest, on a timely basis. Investors can use this rating to determine the level of risk associated with such investments, and can therefore decide the degree of risk they are willing to accept in earning the required returns.
It is important to note that credit ratings are not equal to or the same as recommendations to buy or sell securities, nor are they a guarantee against default. Rather, credit ratings are relative rankings that represent the creditworthiness of an institution or issuer in relation to another. Therefore, ratings should be used as a guide to determine the returns expected from a particular investment, and to assist in pricing investments vis-vis the attached risks.
Who can provide credit ratings?
Credit ratings are provided by agencies that are registered and regulated by the Securities and Exchange Commission of Sri Lanka; RAM Ratings is one such agency. RAM Ratings is also endorsed by the Central Bank of Sri Lanka and the Insurance Board of Sri Lanka. All published ratings can be accessed free of charge from their web site, www.ram.com.lk.
Rating symbols
Ratings are denoted by alphanumeric symbols, ranging from the highest level of safety (AAA) to default or imminent default (D). They are divided into 2 categories: investment grade (AAA to BBB-) and speculative grade (BB+ to D).
AAA
Highest level of safety
Strong balance sheet, favourable credit profile, consistently above-average profitability
AA
High level of safety
Sound credit profile, no significant problems
A
Adequate safety
Acceptable credit profile, with at least one problem area
BBB
Moderate Safety
Under-performance in some areas, but has the capability to overcome problems
BB
Risky
Lacks key protection factors, inadequate safety
B
High Risk
Serious problems, currently meets obligations but long-term ability uncertain
C
Highest Risk
Very serious problems, requires external support, unable to meet financial obligations
D
Default
Already in default or expected to default
Within this spectrum, there are different degrees for each rating category, as indicated by a plus (+) or a negative (-) sign, except for AAA and D, which do not have notches.
What is a Rating Outlook?
Ratings are accompanied by an outlook, which specifies the likely direction of the ratings. A "positive" outlook indicates that a rating may be raised while a "negative" outlook indicates that a rating may be lowered. A "developing" outlook refers to situations in which future events are unclear and the rating may potentially be raised or lowered.
What is a Rating Watch?
A rating is placed on Rating Watch when events are expected to or have occurred. However, it does not mean that the existing rating will be changed. It only means that a rating is under evaluation by RAM Ratings and a final affirmation is expected to be announced in the near future.
What is the distinction between issue ratings and entity ratings?
An issue rating refers to the credit risk of a debt instrument, whereas an entity rating denotes the credit risk of an entity or corporate.
Courtesy: RAM Ratings - Investor Education
---
Overseas Realty Rights Issue launched
"Work on the second phase of the HavelockCity Project will commence early next year and it is expected to be completed by the end of 2013, said Director, Overseas Realty (Ceylon) PLC, Ong En Ping, addressing a ceremony on Wednesday to launch a Rights Issue.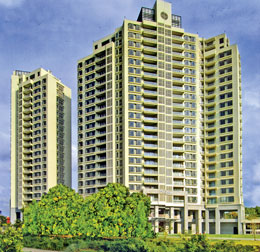 The company hopes to raise Rs. 4.2 billion through 281 million shares priced at Rs. 15 a share.
Ping said piling on the residential towers has been completed and the superstructure design is in progress. Apartments of phase two will be ready for marketing when substantial sales of phase one is achieved.
HavelockCity, the largest mixed development project in the country is built on 17-acre land in Colombo. The project consists of 1,080 apartments, a commercial complex, recreational and entertainment facilities. The project is undertaken through the joint venture entity Mireka Capital Land (Pvt) Ltd., where the Company holds 60 percent ownership and Bank of Ceylon the rest.
"Work on phase one of the project which was completed last year was carried out under adverse conditions.
The investment environment in the country is improving and there is increased interest in development", Ping said.
Currently 133 units of phase one have been sold.
The development is done in phases on approximately two thirds of the land area. Phase one of the project comprise 226 units.
The Company is finalising the design for the state-of-the-art club house which will comprise a guest lounge, swimming pool, gymnasium and recreational facilities.
"The development of the club house is scheduled to begin towards the end of the year", Ping said.
The World Trade Centre is a another flagship project of the company built in 1995. The demand for quality office space increased occupancy levels at WTC to over 70 percent by mid this year at the WTC.
The company expects occupancy levels to be over 75 percent by end this year and to increase to around 90 percent next year.
Overseas Realty (Ceylon) PLC will use the funds of the Rights Issue to effect compulsory redemption of Non Convertible Cumulative Redeemable Preference Shares. Surplus funds will be used as working capital to fund the HavelockCity project.
LF