Percy - man of many words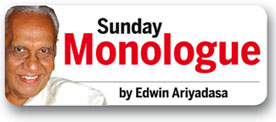 "A lexicographer is a harmless drudge, that busies himself in tracing the original and detailing the significance of words". - Dr. Samuel Johnson (1709-1784 - Dictionary Johnson)
'Percy' of the title of this article is Percy Jayamanne.
Since he makes dictionaries and compiles encyclopedias, he is emphatically a 'Man of Many Words'.
Although Percy Jayamanne makes a tremendous effort as lexicographer and encyclopedist, he remains largely unsung. He presents enormous quantities of words, through his dictionaries and encyclopedias.
But, as things are, only a few words are written about him - if at all. Of those who practise the art of writing in this country today, Percy Jayamanna is decidedly unique. His sustained output of word-books (Dictionaries and encyclopedias), is nothing short of the phenomenal.
Today there are some instances of Sinhala dictionaries being produced by individual scholars. But, it is only Percy Jayamanna, who has taken to the production of encyclopedias as a single-handed operation.
Anyone who has struggled, at least peripherally, with words, in his creative efforts, would fully appreciate that, making a dictionary is a soul-searing exercise. But, the production of a one-man encyclopedia, is a form of self-torture that goes well beyond the threshold of ordinary intellectual capacity.
But, how does Percy Jayamanna continue to endure this kind of creative agony and anguish? This has always been an enigma to me. Besides, he is dedicated to this word-celebration, while coping with a multiplicity of domestic and public responsibilities.
Percy Jayamanne's selfless commitment to the making of dictionaries and the compiling of encyclopedias, calls invariably to mind, a high historical parallel. And, that exalted parallel is Dr. Samuel Johnson, who has been dubbed by history as "Dictionary Johnson".
Incidentally, now it is exactly 255 years, after the publication of Dr. Samuel Johnson's pioneering "Dictionary of the English Language". Dr. Samuel Johnson was persuaded by a group of booksellers to compile a dictionary within three years.
A sceptical observer remonstrated within: "But, Sir, how can you do this in three years? The French Academy which consists of 40 members took 40 years to compile their dictionary." Unfazed Dr. Samuel Johnson responded: "Sir, thus it is. This is the proportion. Let me see; 40 times 40 is 1,600. As three to 1,600, so is the proportion of an Englishman to a Frenchman."
Asserting that three Englishmen equal 1,600 Frenchmen, Dr. Samuel Johnson strained hard to compile his dictionary," balanced precariously on a chair with only three legs."
Even today, it is rated an admirable pioneering dictionary.
Although Percy Jayamanne did not have to suffer such physical privation, for him, creating dictionaries and compiling encyclopedias have been highly challenging propositions.
Percy Jayamanne's special feeling for and marked attachment to words, began when he was still at school. As a school boy of 18-19, he began to take a deep interest in dictionaries. At that early age, the book that influenced him with a lasting impact, was an English dictionary. The author was A.S. Hornby, an Englishman married to a Japanese lady. A teacher bought a copy of this dictionary for the schoolboy Percy Jayamanne.
From then on, the book became one of his cherished possessions. He subjected the format and the structure of this dictionary to a thorough scrutiny, and probably made a firm resolution to make a dictionary, one day.
His fascination for words, made him take assiduous notes, on words and phrases, that captured his keen attention. For him, Ven. Welivitiye Soratha Maha Thera's "Sri Sumangala Dictionary" was a trusted vade mecum.
Eventually he joined Lake House as a professional journalist. This turn of events, sharpened his built-in lexicographic and encyclopedia - making urges.
Percy Jayamanne was invited to lead a team of Editors and consultants to revise the widely-known "Malalasekera English-Sinhala Dictionary". For him, this was a highly significant involvement in practical aspects of lexicography.
The process of revising this enormously popular dictionary, is an on-going activity.
Percy Jayamanne's initiative to produce an encyclopedia as a one-man operation, is, by and large, a spin-off from his print-media journalism.
"Silumina," decided to introduce an insert focussing on new-knowledge. Titled "Vishva Kosha" (Treasury of Universal Knowledge), this was intended to provide readers - especially young ones - information relating to the latest developments in science, technology etc.
While working on this idea, Percy Jayamanne, decided, that an encyclopedia in Sinhala, was urgently called for. That is how his one-man encyclopedia came into being.
If we resort to Dr. Samuel Johnson's calculation of the ratio, this works out somewhat like thus: "One Percy Jayamanne equals 300 scholars."
Even with lethargic public support, Percy Jayamanne, is keeping on. Four volumes of his on-going "Lama ha Yovun Vishvakoshaya" (Encyclopedia for Children and Youth) are already in the public domain.
In the meantime, he has recently introduced a surprisingly versatile one-volume lexicographic work. Titled "Sarasavi Sinhala - Sinhala Dictionary," this work contains more than 85,000 entries, ranging from 'a' to 'phloem.'
Stating their purpose in bringing out this new dictionary, Sarasavi Publishers say, that, the present work was brought out, to persuade readers to take to classical literature and to ensure the pristine use of language.
Percy Jayamanne is the co-editor of this dictionary, which has been six-years in the making. The entries in this volume are an eloquent tribute to the Sinhala language.
Percy's current preoccupation is to produce a "practical" dictionary. He elaborates the idea: "In today's context, the users of dictionaries need, practical guidance about the behaviour of words and phrases. We have to compile a dictionary that will give not only the meanings of words, but will also provide assistance in the usage of words and phrases.
Percy Jayamanne, is very much a man of action. He is endlessly involved with dictionaries, vocabularies, glossaries and all things that have to do with words - particularly encyclopedias.
Words are as important to him as life-breath.
Percy continues his journalism, in the midst all these other pressing imperatives.
His friends are familiar with his unfailing sense of humour, spiced with telling anecdote. He is the author who popularized Nazuriddin and his humorous escapades. In this mood, we could turn to the longest word in the English language.
There are some coined words that contain 189 or 183 letters. But the longest non-coined, nontechnical word is 'Antidisestablishmentarianism' (28 letters).
A humorist has a different view. To him, the longest word is "Smiles." Why? "There is a 'mile' between the first letter and the last letter."