Elephant 'Ongard' is brave and bold
He's not even a month old but Melbourne's newest baby elephant has big shoes to fill if he's to live up to his name.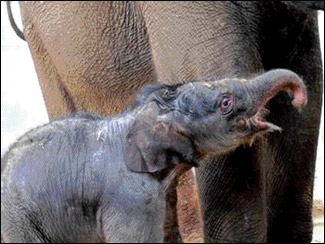 The calf was named Ongard last week - a Thai moniker meaning brave, bold, audacious and powerful.
The name was chosen through a public vote of 8000 people from five options. Each was Thai, reflecting Ongard's parentage.
Ongard is the first ever male elephant calf born at the Melbourne Zoo and follows his half sister Mali, born in January, as only the second baby elephant born at the zoo.Environment Minister Gavin Jennings announced the winning name at Melbourne Zoo's Trail of the Elephants exhibit.
"Anyone who has seen the baby elephant since he was born last month will agree that Ongard is an entirely appropriate name," he said.
"He is larger than his half sister Mali when she was born and already has shown that he is very bold and audacious." Thai names were chosen because Ongard's mother, Kulab, came to Melbourne Zoo from Thailand.
Zoo Director Kevin Tanner said that without the Zoo's Trail of the Elephants facility, Melbourne Zoo could not have undertaken its ambitious conservation breeding programme. "Kulab, Dokkoon, and Num-Oi only arrived here in November 2006, and already we have had two elephant births, the first two in our long 148-year history," he said.