TECHNOLOGY
hSenid's award winning HRIS application for the Gulf
hSenid launched its award winning HRIS Solution 'HRM Enterprise' in the Gulf region during this year's GITEX Technology Week held in Dubai from October 17-21.
As a Sri Lankan company moving to the global arena, hSenid continues to expand its top-of-the-line operations, technologies and solutions in the Middle East region.
Gitex Technology Week, the region's leading technology event week was held at the Dubai International Convention and Exhibition Centre enabling key players in the IT and Telecom industries to display their newest products and services. hSenid showcased its products in the Sri Lankan Pavilion.
Director/General Manager of hSenid Business Solutions Sampath Jayasundara said, "We pride ourselves on our flagship HRIS application and we motivate businesses, governments and end users to use this new technology that has not been fully exploited in the Arab world." HSenid's flagship award winning solution HRM Enterprise is a comprehensive, integrated HRIS system capable of managing employees from recruitment till retirement.
The solution covers the major aspects of HRM, HRD, Payroll and Attendance functions providing a total solution.
Established in 1997 hSenid Software International celebrates its 13th year in the ICT industry. The company has shown its strength by being one of the few Sri Lankan multinationals by expanding and setting up offices in different continents of the world.
hSenid which began operations to supply high quality software products and services has its offices in the United States, Singapore and R&D centres in Malaysia, India and Sri Lanka.
---
MySQL co-founder David Axmark at OrangeHRM Sri Lanka
MySQL co-founder and Director of OrangeHRM Inc., David Axmark visited the company's R&D centre in Colombo last month.
OrangeHRM made sure the visit of this iconic figure was used to the benefit of IT students and arranged for two guest speeches at the Universities of Moratuwa and Colombo.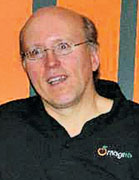 David spoke of how MySQL began in the late 70s with Michael 'Monty' Widenius and how it went on to be sold to Sun Micro Systems for a billion dollars. He said "OrangeHRM is a unique application and the world's most popular open source Human Resource Information System (HRIS). It has proven its success through its innovative features and ease of use."
He encouraged students not to simply be constrained to learning programming languages but to think beyond by learning the concepts of engineering, which would allow them to keep their options open. He said, "Too much focus on languages such as NET or Java has led to high quality languages such as PHP being ignored.
Development languages can come and go but a solid software foundation will help you to build on any new languages that will come in the future".
Co-founder and CEO of OrangeHRM Sujee Saparamadu said that there were over a million users using the OrangeHRM system globally. CTO of OrangeHRM and graduate of the University of Moratuwa Himath Dissanayake and Project Manager at OrangeHRM and graduate of the University of Colombo Nilufer Nilar shared their experiences of OrangeHRM and advised students to learn IT in the proper way.
---
Is Sony making a PlayStation phone?
The fabled PlayStation Phone has finally surfaced, and it is definitely packing Google's Android OS.
A few months ago, rumors surfaced about the existence of a PlayStation Phone, a hybrid mobile and gaming device with a 5-megapixel camera, 1 GHz Snapdragon processor, slide-out gaming pad and the Android Gingerbread OS. While those reports contained several details concerning the device, there wasn't much in terms of proof.
Now Engadget has delivered strong evidence that the device exists. The technology blog has posted a series of crisp pictures of the device, and unless someone went to extreme lengths to create a false prototype, it looks legitimate to us. Engadget reports that the PlayStation Phone sports 512 MB of RAM, 1 GB of ROM and a 1GHz Qualcomm MSM8655 Snapdragon chip.
CNN
---
FTC ends Google 'Street View' investigation without fines
The U.S. Federal Trade Commission has called off its investigation of Google's "Street View" mapping program without issusing fines to the company, according to a letter sent from the FTC to Google on Wednesday.
The federal agency had been investigating the fact that Google collected communications, including passwords and e-mails, from people who used open Wi-Fi networks in their homes. The data collections, which Google says were inadvertent, happened while Google was driving around taking pictures for the Street View function on Google Maps, the Mountain View, California, company said.
The FTC said Google has sufficiently addressed the problem.
"Google has made assurances to the FTC that the company has not used and will not use any of the payload data collected in any Google product or service, now or in the future," David C. Vladeck, the FTC's director for consumer protection, in a letter to Google, which was posted on the FTC's website.
"This assurance is critical to mitigate the potential harm to consumers from the collection of payload data. Because of these commitments, we are ending our inquiry into this matter at this time." Google, which first mentioned the fact that it had "sniffed" this Wi-Fi data in May, said in a blog post last week that the data included more sensitive information than was previously thought.
CNN
---
Abans launches Philips HD Home Theatre
If you are truly obsessed with sound, you can now experience surround sound from all angles, like in the cinema. Start enjoying the original cinema experience, no matter where you are in the room. The Philips HD Home Theatre System is equipped with innovative 360Sound speakers which are designed with sound drivers in the front and on the sides to fill your room evenly with surround sound for the ultimate listening experience.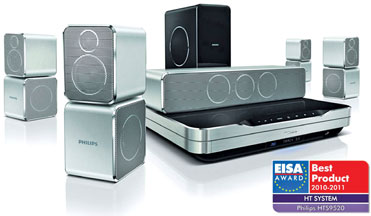 Be enthralled by 3D movies in your own living room with full HD 3D Blu-ray.
Active 3D uses the latest generation of fast switching displays for real life depth and realism in full 1080 x 1920 HD resolution. By watching these images through special glasses with right and left lenses that are timed to open and close in synchrony with altering images, the full HD 3D viewing experience is created. Premium 3D movie releases on Blu-ray offer a wide, high quality selection of content.
Vastly different from a conventional 5.1 home theatre, 360Sound is uniquely designed with three drivers in each satellite speaker - a front one, and two side firing ones which are angled to project immersive sound around you. In addition to the principle of dipoles, Philips uses a proprietary algorithm to further enhance the embracing sound effect. Built with premium acoustic components like soft dome tweeters, neodymium magnets and class D digital amplifiers, Philips 360Sound delivers exceptional sound from all angles giving you a true cinema experience in your home.
Dolby TrueHD and DTS-HD master audio essential deliver the finest sound from Blu-ray discs. Audio quality reproduced is virtually indistinguishable from the studio master, so you hear what the creators intended for you to hear. DTS-HD Master Audio Essential and Dolby TrueHD complete the high definition entertainment experience.
It also has a DLNA Network link which provides access to personal photos, music, videos or movies on your PC or home network.
You can access a world of entertainment at a simple push of a button with the intuitive user interface, which is designed for easy browsing.
The entire set up is designed in sophisticated high quality aluminium finish for a classy and elegant effect and is available at all Abans Showrooms islandwide.