Electoral reforms will benefit voters, parties - Dinesh Gunawardena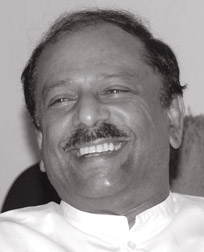 The new electoral reforms under which elections are to be held early next year will immensely benefit the voters since they will be empowered in all development-related works, Minister of Water Supply and Drainage Dinesh Gunawardena, who is also Chairman of the Parliamentary Select Committee on Electoral Reforms (PSCER), told the Sunday Observer.
The Bill which has already been tabled in Parliament is more advantageous to all political parties and political groups contesting the polls, including those of the ethnic minorities and there will be no disparities.
For the first time in the history of local government polls there will be multi-member wards. There will be re-demarcation of Grama Niladhari divisions and also areas under the jurisdiction of local government bodies, with provisions for increasing the political representation of minority communities, he said.
It is possible for a first member, a second member and in some cases, a third member to be elected from one ward, he said.
He expressed concern that some political parties were resisting the Bill without comprehending its benefits. Some of them depend only on preferential votes to win.
The PSCER went through a long process of deliberations and consultations with all political parties and political groups before drafting the Bill.
However, the Government is open for talks with any political party that may make its representations with just, valid and logical reasons so that the changes can be incorporated to the Bill, Minister Gunawardena said.
The seven-day time limit, after presenting the Bill in Parliament, for filing a petition in the Supreme Court (SC) lapsed last Wednesday, he said.
The orders of the SC on petitions that will be taken up for hearing will be communicated to the Speaker of the House. He expressed optimism that the Bill will not be delayed.
Fifty nine political parties have already been registered with the Commissioner of Elections and are recognised by him.
With more independent groups contesting the polls, some of them to appease and help others, the ballot papers will be very long and more expensive to print.
The deposits for independent candidates have been fixed at a higher level than those for recognised political parties to cover the costs, the Minister said.