Mystery of butterfly migration
Whence coming, no one knows; wither going, no one can tell:
The season of butterflies comes around towards the end of the year, because it is during this period of islandwide rain that the vegetation is at its best, and the fresh foliage providing ample egg-laying sites for the insects, and further ensuring the newly hatched larvae or caterpillars a good food supply.
One of the most amazing natural phenomena to be observed during this time of the year is the mass cross-country migration of various species of butterflies. Impelled by some mysterious instance thousands and thousands of these winged creatures may be seen flying past in an unbroken stream.
In Hordes
In hordes they come, winging their way a few feet above the ground and go on for hours and days or weeks on end, looking for all the world a thin snowstorm. In a broad front they advance, in home gardens, on public roads, over paddy fields, playgrounds and scrubland and across lagoons and irrigation reservoirs, threading their way to an unknown destination. A record of butterflies having been observed flying out to sea, where most probably they could have perished en-mass. They may even enter our rooms and offices, only to flutter against the walls and pass out through the windows.
According to Dr. C. B. Williams, Chief Entomologist of Rothamsted Experimental Station, England, as quoted by L. G. O. Woodhouse in his monumental work " Butterfly Fauna of Ceylon (1950) "These migratory species are found in all parts of the world, and sometimes the movements of the insects take place in great aggregation, thousands or even millions flying simultaneously, and are much more striking in warmer climates and there is scarcely a country in the tropical and sub-tropical belt in which the inhabitants do not at times see great swarms of butterflies moving steadily in one direction, for hours, days or weeks on end. In some places these flights are sufficiently regular to have become the basis of legend and superstition among the native races. In Ceylon the swarms are pilgrims on their way to Adam's Peak. In West Africa the natives consider that it is safe to plant their corn once the butterflies have passed".
Woodhouse also, quotes from published sources an observation in Colombo on October 25. 1895, which goes as follows: "I certainly thought I had stepped into the land of butterflies. The harbour, streets and large promenade the Galle Face by the seashore were alive with butterflies, and being nearly comprised of Catopsilia (whites) looked like a snow-storm".
Directions of Flight
Another writer Miss Gordon Cumming in her travelogue "Two Happy Years in Ceylon" commenting on the periodical movements of butterflies in Sri Lanka has observed: "One of the mysteries of the isle is the annual migration in November to December and in intervals right on until February of countless butterflies in mass flights.
The migration commences with the setting in of the North East monsoon, with its cool mornings and bright days, and the stormy winds blowing stronger, these delicate insects force their way against it and in a couple of months, successive legions pass on like an ever-flowing stream".In Sri Lanka the flights of the butterflies generally begin about the last week on October and grows in intensity during the first half of November and decline towards the end of that month. However, in a lesser scale the movements continue sporadically through December and January to March, or even June.
First flight
Writing from Nuwara Eliya at the turn of the century one observer noted the first flight for the season on the on November 1, while other observers have recorded various dates of the month in different places. In this area (Madola-Kegalle district) the migration annually commences in mid-October and continues until about next February or March.
"An illustrated guide to the Butterflies of Sri Lanka (2007) vide page 14, author Rajika Gamage, discussing the subject of migration says, "In Sri Lanka some butterflies do hill country migration during January to May.
They seem to fly in the direction of Samanala Kanda which made people believe that the butterflies always visited that particular mountain during the migratory season. Some sixty-nine (69) species take part in hill-country migration, leading are the yellow and white butterflies of Family Pieridae". Perhaps, his theory is based on firsthand observations in an around Talawakelle, where he is stationed as a research officer of Sri Lanka Tea Research Institute.
"The flights in Ceylon are in various directions in different places, but in general, they appear to be towards the south on the East coast and towards the north on the West coast of Ceylon, and chiefly towards west in the hills, near Kandy" vide Woodhouse.
In more recent observations the flights of the butterflies have been recorded as towards north or north-east in the Eastern Province (Ampara district) and mainly towards west and south-west in the Walawe Valley and the adjacent Hambantota coast.
In the Kelani Valley (Madola-Kegalle district) the direction of flight has been found to be from north to south or very occasionally towards south-west.
In November 1972 at Muwangala (Gal Oya Valley) I saw a mass movement of the Common Indian-Crow butterflies in a northerly direction, while in the meantime another unbroken column of pierids was cutting across the former in a north-easterly direction.
Three days later a similar mass movement was observed at Timbolketiya (Uda Walawe), which was on a south-easterly direction. But there, about 90% were either Common or Lemon Emigrants, with sprinklings of the Common Indian-Crow, Common Mormon, Pioneer, Blue Tiger etc. In South India the major flights are said to be towards south in October to November, with a return flight north, next February and March. A return flight has never been recorded in Sri Lanka.
Flighters
In Sri Lanka 69 forms of butterflies are listed as "flighters", but the vast majority that migrates in a given period appear to belong to the Family Pieridae, for the most part white or creamy-white in colour i.e. Common, Lemon and Mottled Emigrants, Pioneer, Common and Lesser Albatrosses, Common and Lesser Gulls, with sprinklings of the Common Leopard, Chocolate Soldier, Common Indian-Crow, Blue, Glassy and Dark-blue Tigers, Peacock Pancy, Common Banded-Peacock, Common and Blue Mormons, Common and Tailed Jays, Grass Yellow, Dark Wanderer, Common Bird-Wing and Lime Butterfly.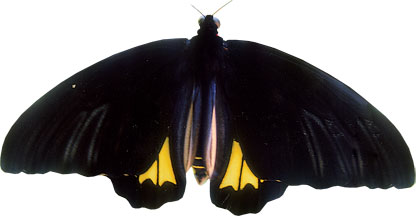 These hordes of butterflies generally start moving around 8.00 or 9.30 in the morning, when the sun is sufficiently high in the sky, coming to a zenith by 10 or 11 o'clock if it is bright weather, and continuing until about 2.30 or 3.00 p.m.
The flights come to a halt when the sky becomes overcast, and stop altogether when a shower of rain begins to fall.
As far as I am aware no convincing explanation, based on scientifically proven facts, has so far been advanced for the annual migration of the island's butterfly fauna.
Some hold the view that these swarms are pilgrims on their way to Sri Pada (Adam's Peak) to do their homage to that majestic eminence in the heart of Sri Lanka, while others believe they are simply overflow movements of the insects, for there is evidence to show that a migration is often preceded by an over-crowding of the caterpillars.
But, whatever that may be, the very fact of its being shrouded in mystery certainly heightens our enjoyment and wonder of this annually recurring phenomena that is butterfly migration.