Despite Opposition denials:
Anti-Lanka role exposed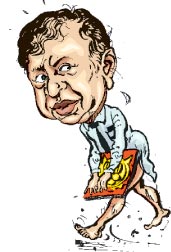 Despite attempts by UNP Parliamentarian Dr. Jayalath Jayawardena to escape condemnation following the 'London drama', a prominent member of the Tamil Diaspora told the Sunday Observer that the MP made an inflammatory speech at a gathering in London just one week before President Mahinda Rajapaksa's visit to London.
The UNP has denied any involvement by Dr. Jayawardena in the events in London, but welcomed the appointment of a Parliamentary Committee to probe the matter.
"He along with Dr. Wickramabahu Karunaratne and some others chaired a meeting at the House of Commons on November 25. They called for sanctions to punish the Government and said the government should be taken before the International War Crimes Tribunal, alleging that 100,000 people were killed in the final stages of the war," Rajeswari Subramaniam, a writer and a novelist based in London said.
She was among the 30 odd Sinhala and Tamil Diaspora members who were gathered at Committee Room 8 of British Parliament to listen to their views.
The meeting was chaired by former BBC News Editor Clive Lawrence. Many participants constantly challenged the "facts and figures" quoted by both speakers. They said the Government should be held accountable for these crimes and the visit by the President should be stopped at any cost, " she said adding that it was unfortunate to have Sinhalese leaders disseminating hatred towards the government when the moderate Tamils were striving to make their younger generation give up those feelings.
When the call for sanctions was uttered a young Sinhalese condemned it but many members of the audience had listened in silence. Another call for sanctions was made by a UNP Organiser in the UK.
Cathy Ranasinghe, a participant, pointed out that sanctions and the removal of GSP Plus brought about more suffering to the rehabilitated former Tiger combatants who work in textile factories.
When Dr.Jayawardena and others went on about the grievances of Tamils, Mrs.Subramaniam had quipped "don't cry about Sri Lankan Tamils, your (UNP) Government instigated the 1983 riots."
His response had been that at the time he was neither a Member of Parliament nor party to those in power.
Subramaniam, a well known member of the Tamil diaspora in London was actively organizing humanitarian aid for internally displaced Tamils during the height of the conflict, particularly during the final stages of the humanitarian operation.
"I told him I was there during the last stages, when the people escaped from the LTTE and witnessed how Sinhalese and Muslim communities got together to help the Tamils, so don't utter nonsense."
According to Subramaniam, Dr. Karunaratne had been in London as a VIP guest at the London heroes' day celebrations.
"The event was held at Excel Arena in London on November 27 with the participation of LTTE members and their sympathizers.
"He had made an infuriating speech there making war crimes allegations against the Government," she said.
"When such remarks come from Sinhalese leaders, it carries a lot of weight. Not just LTTE, but they were also instrumental in jeopardizing the President's program in London."