Shouldn't vehicle parking charges be reasonable?
During the early days when the Government implemented the one way traffic system in the city, parking vehicles on either side of the road came to a halt.
This resulted in the establishing of vehicle parks in the city. During that period a few vehicle parks were seen in Bambalapitiya and Colombo Fort.
Considering the daily turnover, brought in from vehicle parks more and more people began establishing vehicle parks in every nook and corner of the city.
The Colombo Municipal Council (CMC) maintains over 2000 parking slots in the city. In addition nearly 16 vehicle parks have also been established in the city by private persons.
Vehicle parks are also seen at private gardens which are located close to main roads in the city.
Many of these private vehicle park owners pay taxes to the CMC. Those who have established vehicle parks in their own gardens do not do so.
When the Sunday Observer visited several vehicle parks in Colombo Fort, Kollupitiya, Bambalapitiya and also the one opposite Lake House in Colombo, it was revealed that private vehicle park owners earn a colossal sum of money in an unfair manner. Some vehicle park owners charge Rs. 40 for the first hour and thereafter Rs. 30 for each additional hour.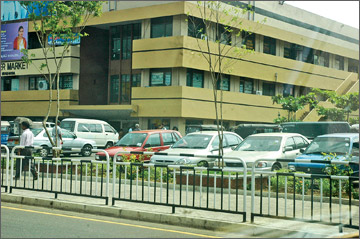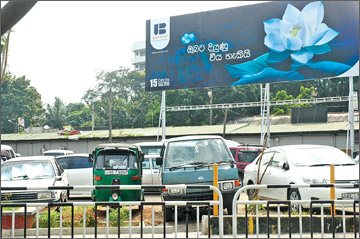 Roadside vehicle parks
Accordingly if any one keeps his vehicle in the park for eight hours he has to pay Rs. 250.
Vehicle owners say that these unfair earnings must be stopped.It is pathetic that the authorities show a blind eye to this menace due to various reasons.
Commissioner CMC, Bhadrani Jayawardhane, when interviewed by Sunday Observer said a large number of workers have been deployed to maintain over 2000 parking slots and the CMC also spends a large sum of money to maintain the vehicle parks.
She said over 200,000 vehicles come into the city everyday and 90 percent of them are parked in private vehicle parks.
She said the charges of CMC maintained parking slots are very reasonable since the main objective is to provide facilities to vehicle owners and not to earn money in an unreasonable way. Asked whether the CMC can't impose rules and regulations on private vehicle parks, she said the CMC wishes to introduce a Parking Regulation System (PRS) soon.
Director Engineering (Traffic Design and Road Safety) CMC
K.A.D.N. Wickramaratne said office workers using public transport is the best solution rather than using their own, so that less vehicles will need parking space.
He also said a four - storeyed building is under construction at Wellawatta by the CMC to be used as a shopping mall where a few upper floors will be utilised to park vehicles at reasonable charges.
We wish many persons, especially office workers park their vehicles at this building and travel to Colombo by bus. The building is expected to open in May.
A bank employee, Sarath Wijesinghe said that the majority of vehicle owners who come to the city everyday are aware that most private vehicle parks charge exorbitant levies. This is very unfair and the CMC or any other authority should immediately look into this.
A mercantile employee Nimalasiri said he usually parks his vehicle in a private park, located near R.A. De Mel Mawatha, Kollupitiya and they charge Rs. 40 for the first two hours and thereafter an additional Rs. 30 for each hour".
"As there was no other alternative, I have to spend nearly Rs. 400 a day. he said.
School Principal, Lesley Punchihewa of Avissawella said there are many state owned bare lands in the city of Colombo and urged the authorities to convert them into vehicle parks.
"Then they can charge reasonable amounts from vehicle owners and also protect them from unscrupulous private vehicle parks owners".
Speaking of the vehicle park opposite Lake House, he said that it does not provide any facility to its customers and it is full of pot holes.
A school van driver Sisil Peiris said the charges of the Pettah vehicle park was very unreasonable. It cuts in to the income he gets from transporting schoolchildren. He urges the CMC to look into this and grant a relief to all school vans parking in the city parks, considering the service they provide to school children.
He also urged the Western Province Governor who has more powers than the Colombo Mayor to look into this problem that puts unbearable pressure on vehicle owners who need to park their vehicles in the city.
A school boy urged the CMC to direct private vehicle park owners to charge Rs. 30 for the first three hours or Rs. 75 for the whole day from vehicle owners. Secretary of a Ministry, Mihiri Chandratilaka said she normally parks her vehicle in a state owned car park at Bambalapitiya and said that they charge Rs. 120 as parking fee for seven hours. "As a result I have to spend over Rs. 2,500 a month for parking and I think this amount is very high, considering the monthly income received,".
S. Krishna of Bambalapitiya said there were many bare lands in temple and church premises in the city. He requested owners of such lands to allow people to park their vehicles at a reasonable charge.
A temple at Timbirigasyaya has allowed vehicle owners to park their vehicles in the temple premises free of charge. People who use it are in the habit of donating money to the temple charity, he said.
Dileep Dias of Battaramulla requested the CMC to instruct all vehicle parks to charge a fixed levy from vehicle owners.There are two private car parks at Station Road, Bambalapitiya. The charges of one park is reasonable, but the other one charges exorbitant amounts.
"I hope the CMC would immediately visit this particular vehicle park and direct the owners not to charge high amounts from people,".
Ex. Assistant Superintendent of Police, Nishantha Saparamadu wanted the Government and the Police to intervene in this matter and allow only state institutions to maintain vehicle parks. Housewife, Chitrangani Munaweera of Ratnapura also requested the Government not to allow the private sector to maintain vehicle parks.
"There are bare lands outside the city of Colombo. Why can't the Government convert them into car parks and charge reasonable amounts from customers", she queried.
G. Hettiarachchi said there were 16 private car parks in the city of Colombo and charges differ, he hoped the CMC will look into this and take suitable measures to make the charges equal in all parks.