Transport safety and security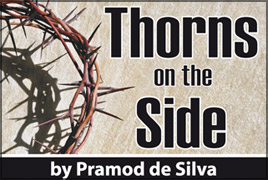 The death of six persons in a boating tragedy at the Mahesen Tank in Welikanda last week again brings into focus the need for more stringent transport safety regulations in this country.
This columnist has repeatedly called for the introduction of mandatory life jacket regulations for the leisure-boating industry.
The simple truth is that life jackets, had they been available and worn, would have saved six precious lives including that of a toddler. Alas, it was not to be.
How many more tragedies like this will we have to endure before life jackets are made compulsory for all boating trips, regardless of whether it is in the ocean or an inland water reservoir? The answer should be none, for it is not too late to introduce such laws.
The biggest reason for deaths on our waterways and the high seas is the almost complete lack of safety procedures and equipment.
The lack of flotation devices - especially lifejackets - is worrying to say the least. There is no doubt about it - lifejackets can save lives. All you have got to is wear one before embarking on a boat voyage and should the worst happen, it will keep you afloat until help arrives.
First of all, the leisure boating industry has to be licensed and regulated. All boat owners and operators should adhere to safety regulations stipulated by the authorities. In the first instance, the boats should be in a sound mechanical condition. Second, they should not be overloaded. If a boat is specified for 15 persons, it is the maximum number of persons that should be allowed on board. There should be no exceptions.
Third, there should be life jackets for the passengers and crew as well as an inflated wheel on board. Boats that do not pass these tests should not be allowed in the water. A two-way radio system is also ideal, but may not always be practical given the costs. Boat operators should also have a homing beacon as well as a visual device, such as flares to attract attention in an emergency.
The authorities will have to consider the financial implications of such measures. The Government could perhaps subsidise the purchase of lifejackets by boat operators and local companies could be given a contract to manufacture high quality lifejackets, thus saving foreign exchange.
I have highlighted this issue again to also focus on the need to have an authority for transport safety in Sri Lanka - an institution on the lines of the National Transportation Safety Board of the United States (NTSB).
The NTSB minutely analyses each accident - be it an air crash or a three-car pile-up - and gives recommendations to avoid such accidents in the future. Indeed, their recommendations have saved countless lives over the years.
In Sri Lanka, on the other hand, major accidents get banner headlines in the newspapers, the police investigate the case for a while and then, everything is forgotten. Police can investigate certain aspects of an accident (e.g.: whether a driver was under the influence of liquor), but they are not experts at homing in other factors that may have led to an accident, such as the mechanical condition of the vehicle(s) involved. This is why there is ample room for an institution such as a transport safety board.
In tandem with the Police, they can probe all aspects of an accident and better still, recommend measures and laws that would be needed to curb such accidents in the future. Experts in aviation, maritime and road safety should be drawn into this organization.
Their expertise should be harnessed to prevent or at least minimize the number of accidents in the future. Yes, some accidents may be inevitable, but there are many others that can easily be prevented. And strict laws do help prevent accidents.
For proof, we do not have to look beyond the highly effective helmet law. Today, no motorcyclist dares to ride without a helmet on even for a short distance. Even more than the prospect of getting fined by Police or a court of law, the riders are by now well aware of the life-saving benefits of strapping on a helmet. It has become second nature to regular motorcyclists to don a helmet.
Over the years, this simple law has saved countless lives and it will continue to do so. A crash helmet, as the name implies, can save lives in a crash. The authorities should also be applauded for specifying that seat belts must be worn at least in newer cars and that only buses with seat belts for all passengers should be imported.
We also hope that the CCTV system now installed in parts of Colombo would play its part in reducing accidents. It will help Police to identify accident hotspots and take appropriate action. If successfully implemented in Colombo, it should be expanded to cover other major cities such as Galle, Kandy, Kurunegala and Anuradhapura.
In fact, this also raises the possibility of having a separate institution for transport security, as opposed to safety. In the wake of terror attacks, the US responded by establishing a Transport Safety Authority (TSA) with wide powers. Personnel belonging to such an institution could man the two international airports, domestic airports, seaports, main railway stations and bus terminals to ensure enhanced security.
They can work closely with the Police and the Security Forces to coordinate and implement security arrangements at transport hubs. They can also link up with transport safety personnel in certain cases. They should be given the latest equipment to check passengers, baggage and cargo. Overseas training will also help.
Transport safety and security is all about planning and prevention of accidents. It can be simpler than we think - for example, why not ban overloading in three wheelers for a start? Why not make it compulsory for even backseat passengers to wear seat belts? Why not request cyclists to wear helmets? These simple steps can save lives. Any investment made in that direction is highly commendable.