Sunburnt Home - an Australian-Sri Lankan novel
Chapter 6 : This is not your country!
Jayadeva soon learnt about the strange weather patterns in Perth. Though they had arrived in the middle of winter with unpredictable spell of rains that virtually poured heavy to mild showers one day, the next day could be as sunny as in a hot summer day.
The Kirklands usually gave them a call every other day and after Jayadeva enquired about a place to buy a second hand television set, the following evening Douglas came unannounced with an old television set. It brought streams of happy smiles into Sunitha's face instantly.
"Oh, this is still a brand new one! We bought a new colour TV to watch the Olympic Games as watching sporting events better on big screen. You can have this one, No worries!" Douglas said handing over the gift of the time to Jayadeva and family.
As soon as television frames started appearing on the screen with the help of a small antenna, Sunitha jumped up and said: "Uncle Douglas, Thank you, very much!"
"Oh Dear! You're most welcome, but please call me Douglas!" Sunitha was a bit flabbergasted with his explanation.
"Oh in Sri Lanka, we never encourage our children to address elders by their first name." Jayadeva explained.
"This is not Sri Lanka, Mate! This is Australia. Get used to new a vocabulary! Help your children to be good Aussies," Douglas emphasised as he walked out.
-- Oh now, the children have to address elders by first name! What a country is this?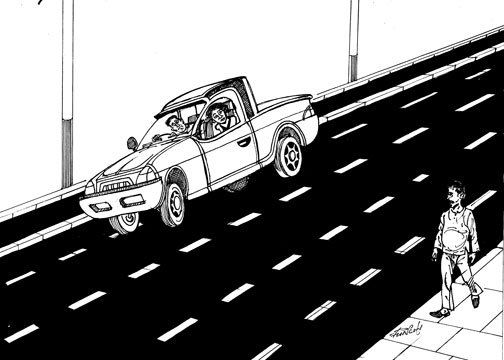 Sunday morning a middle aged couple came to welcome Jayadeva and the family.
"We live around the corner and thought we'd drop by to say Hello. We must know who our neighbours are!" The woman said after introducing herself. She had a fair complexion and was not so tall and had a short hair.
"Come to our place for coffee around 3 o'clock. Some of our friends will also be there. Please do come over." The woman walked out even without looking at children.
Jayadeva wondered how to dress to visit their neighbours and thought of wearing one of his expensive woollen coats for the occasion. He also took a packet of Sri Lankan tea as a gift. Malini selected a nice small exotic vase she had bought at the Indian market in Bangkok as her choice of gift for the neighbours.
"Oh, please do come in. Our friends will be here soon. I must get your names correctly. I'm Margaret. Margaret O'Conner. My husband's name is Clive.
This is our eldest son, Simon. This is our second son, Robert and he is fifteen. This is our daughter Fiona and she's our baby, and she turned thirteen last month. Let me get your names correctly. You have to spell them for me." Margaret wrote down their names on a piece of a paper.
"Oh, here come our friends!"
"G'day Ron. G'day Roz," said Margaret welcoming their friends and introduced Jayadeva and Malini. "Meet Ron Clark and this is Roslyn Clark."
"G'day." Peter and Roz greeted the visitors. "So I learnt that you have come all the way from Ceylon. Why did you come to Perth? Have you got any relatives here? Have you found yourselves jobs?"
When Jayadeva explained their situation, the visitors shoot another series of questions.
"So how are you going to support yourself?
"I don't know yet! I hope to find a job soon. We were told that we may be given social welfare payments until we find jobs."
"Oh, you mean to say the Dole? You have already found a way of getting around! Clever beneficiaries of the system even before you give something back! That may be the reason why Australia is called a 'clever country.' Definitely we support clever people who are coming over to enjoy our benefits!" Ron Clarke responded directly and Jayadeva immediately felt the sarcastic pitch of the words. Jayadeva soon felt that the tea party was more than a simple social gathering. It has been arranged to find more about Jayadeva and his family. "An interrogation!" Jayadeva thought.
When they returned from the interrogation party, Jayadeva wanted to lie down and reflected upon the meeting and he heard a knock on the door. When he came out of the room, he saw Malini had already at the door. There was another middle-aged couple smiling at them standing outside the front door.
"Oh, welcome to Nedlands!" The unknown woman of medium height with slightly tanned complexion gave Malini a bunch of rose flowers and placed a friendly kiss on her cheek. We are your neighbours and we live in the house just opposite yours but our entrance is faced to Barcoo Avenue. I'm Eileen Pullen and this is my husband Rodney. You can call him Rod. Shall we come in?"
"Oh yes, but we haven't got any furniture yet." Malini apologised.
"Please do come in and take a seat," Jayadeva invited them inside.
"Oh, you have done very well compared to the neighbours we had from Latvia when I was growing up on a farm in Narrogin," Eileen explained and continued, Oh, that was a great experience for all of us. They couldn't speak English at all. Both of you speak English very well. That makes a big difference. Our parents helped them a lot. In fact, they bought our farm after Dad retired and moved to a nursing home in Perth. They are doing extremely well now. They used to work from dawn to dusk everyday to improve our farm. We have learnt so much from them about their country and their culture. Oh, tell us something about your beautiful country, Sri Lanka. Did I pronounce the name correctly? What's going on between Tamils and Sinhalese there?" Eileen asked innocently.
Malini made tea while Jayadeva described the plight of his lost paradise and what he and Malini did for a living in Sri Lanka.
"So if you were top professionals why did you leave Sri Lanka?"
"This is a bad time in Sri Lanka. There is an ethnic conflict in the north and also an ultra-leftist group terrorising people in the south," Jayadeva attempted to explain some of the reasons for their migration.
"So don't you have a police services to get hold of these people and put them in jail?" Eileen questioned innocently. Jayadeva tried to explain a brief history of Sri Lanka and realised that his engineering degree hasn't provided him with facts and figures of the history of his own country.
When Eileen realised Jayadeva's hesitation and lack of words to explain their plight in their own land, she changed tack and explained bit and pieces from Australian history and Australiana.
After a pleasant chat that lasted for over an hour, the kind neighbours left emphasising that Jayadeva and Malini could contact them for any emergency or when needing help and gave their phone numbers written down with their full names.
Malini went to the kitchen and children were watching television quietly immersing in every frame of afternoon children's television program, Play School produced by the Australian Broadcasting Corporation.
Jayadeva went and lay down on their bed-less mattress and thought of the kind neighbours.
-- What a different people they are!
As advised by Mrs Weerasuriya, Jayadeva was keen to pay their rent on time and to make sure that they don't default with their fortnightly payments. Still without a car, Jayadeva used to take a bus from Stirling Highway to Claremont and walk to the real estate agent's office near Swanbourne railway station every second Saturday to pay rent.
That day, since dawn the sky was like a weeping widow and the rain covered the earth as her heavy tears. The whole atmosphere had changed due to gusty winds from both east and west. Malini reminded him that he should buy some provisions on his way and emphasised the need to purchase food and provisions from a larger supermarket in Claremont rather than buying them from the nearby Charlie Carters as they were always expensive in shops meant for upper middle class people in Nedlands.
Jayadeva wondered how to go out and pay rent in rough weather and bring over a couple of kilos of provisions on his own in this rain. With the help of an umbrella he rushed to the bus station and waited for a bus to arrive. The roads were full of cars but every vehicle was moving calmly like a group of monks going on their morning rounds of alms one after the other, calmly and quietly. Jayadeva was the sole commuter waiting for a bus as all other morning shoppers were travelling inside the comforts of their luxury vehicles.
He got off at the Claremont junction and started walking towards Fremantle on the Stirling Highway with the intention of reaching a cross road to Swanbourne. The rain got heavier and the umbrella was not a good weather shield for Jayadeva as it couldn't guard him against the cruel weather. He ensured that his chest and neck were fully covered with a woollen coat that Malini had purchased last week from a second hand shop in Perth.
The cars were passing quietly in both ways and Jayadeva walked as fast as he could to complete his journey. All of a sudden, a white old vehicle slowed down in front of him and a young white man pushed the shutter down and shouted at Jayadeva:
"You bloody Asians, Go home where you came from... Go home bloody Asians... THIS IS NOT YOUR COUNTRY!"
The car with rude people rushed passed quickly but Jayadeva felt as if his limbs and body had reached a frozen point, hence unable to pursue his journey. There were no signs of any relief from the weather or signs of a definite end of the ruthless rain. He felt as if frozen blood in his body rushing through his veins causing a sharp acute pain.
Jayadeva rushed in and paid the rent. Without continuing his walk back on the same route, he got into a train from Swanbourne to Fremantle and came back all the way via Claremont to Stirling Highway in a bus. He got off in front of the Charlie Carters supermarket that carried a neon sign: 'Crazy Carnival for food lovers'. He crossed the road swiftly worrying whether another vehicle would stop and the passengers thereon would shout at him.
The heaven opened up and Jayadeva couldn't walk fast enough to run home without getting wet. He crossed to road again and took shelter at the super market thinking as if it is the only safe place to stay until the rain disappears.
At the entrance to the shop, the neon sign 'Crazy Carnival for food lovers' winked and laughed at him.
For feedback and readers' response: blackaustralian@yahoo.com.au
Disclaimer: This is a work of fiction. Names, places, characters and incidents are either products of the author's imagination or are used fictitiously.