Developments in digital technology:
Lanka ready for huge leapinto future
Sri Lanka is ready to make a huge leap into the future with digital technology, Telecom Regulatory Commission, Director General, Anusha Pelpita said in an interview with the Sunday Observer.

He said plans are under way to convert analog TV transmissions into Digital Video Broadband - T2 from 2018, introduce fourth generation mobile technology and take broadband facilities to the rural sector in the near future.

Following are excerpts from the interview: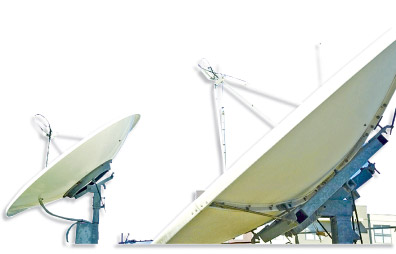 Q: The Telecom Regulatory Commission (TRC) raided a large number of illegal TV stations in Jaffna and the rest of the country in the recent past. What is the progress of the investigations?
A: Sri Lanka does not have a huge number of TV stations. These illegal substations were maintained by cable TV networks. With the help of the Police we are raiding these stations. Some cable TV companies have given franchise rights to substations. As per the permit issued by the TRC, they can acquire substations, but cannot offer franchise rights to operate under a different brand name.
Action is being taken with the local Police and the CID to raid and arrest the owners of such places. We have already raided over 20 such substations and many more are to be raided in the coming weeks.
The matter is before the Attorney General now to clear out some legal impediments; once this is over, the raids will continue.
Some of these stations claim that they have franchise rights, but there are others that are downright illegal. Only two cable TV stations have the legal right to operate in Sri Lanka. If we find that these stations have breached their agreements and maintained subcontracts with individual entities, their permits will be cancelled.
Q: What is the CIDís involvement in the raids? Are you suspecting criminal activity?
A: The CID and the Ministry of Defence are involved in assisting the TRC officials. We cannot raid a place or arrest anyone on our own. Of course, they do their own investigations as to the operations of the illegal stations.
There are quite a few stations in Colombo too to be raided.
Q: The TRC announced recently that the minimum floor rate of mobile services will be brought down. Will this affect the call charges and other rates?
A: What we said was that the TRC is going to clamp a minimum floor rate of Rs. 1.50 from June this year. Currently this is Rs. 2.00. There is no compulsory requirement for mobile phone operators to comply with this minimum rate. But they cannot impose a minimum charge less than Rs. 1.50. This action was taken to sustain the industry which brings in an annual tax revenue of Rs.20 billion to the State.
If the industry cannot earn profits, they will not invest in new technology to bring down call rates. This affects re-investment as well. It has a chain reaction. All the foreign telecom companies re-invest their profits here. They do not take it out of the country.
So we need to ensure that the industry will not suffer due to intense competition.
There is criticism over this move. But this is going to be beneficial for the subscribers in the long run. Although the minimum floor rate is not compulsory, all the operators brought down the minimum rate to Rs. 2.00 during the previous revision. This offered nearly a 50 percent reduction on call charges to prepaid subscribers who represent nearly 90 percent of the market. On the other hand, we managed to restore confidence among the operators.
We do not believe that the other charges will increase due to this move. This is a highly competitive market.
More operators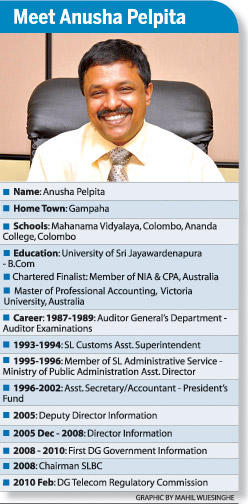 Q: Is a sixth cellular operator ready to start operations?
A: The TRC believes that there is no room for another voice operator in Sri Lanka. We have five mobile phone operators and four fixed line operators. The voice penetration in the country is about 85 percent. Even these nine companies find it a tough market.
The President, the Government, the TRC Chairman or the Finance Ministry, is yet to decide on letting a new operator enter the market.
But if the existing data operators fail to expand broadband penetration in the country up to at least 10 percent within the next two years, we may allow a newcomer in the market. The existing Internet penetration in the country is less than two percent. We have a huge potential
for growth in this sector.
Q: Any possibility of providing lower landline rates?
A: The landline rates have also come down considerably. For instance, the CDMA minimum floor rates have been reduced to Rs. 2.40 from Rs.5. The Government has also introduced a single unit tax, combining the
subscriber levy, environmental tax, NBT and VAT. The effective rate with all these put together was 31.3 percent. This was slashed to 20 percent under the National Budget. As a result, a subscriber paying Rs. 1,000 a month enjoys a Rs. 111 reduction on his bill.
Q: Is there anything in the pipeline for IDD call rates?
A: There was a 3.80 US cents tax on all IDD calls. We brought it down to 1.5 US cents a few months earlier. Immediately, we witnessed a 25 percent increase in international call tariff.
This is expected to discourage International Direct Dialing (IDD) call bypass which has become a huge problem in Sri Lanka. The vast tax margin imposed earlier was a great incentive for individuals to take up this illegal money spinner. We expect the trend to die down with this new reduced tax on IDD calls.
Sri Lanka receives 200 million minutes of IDD calls a month. Out of that 70 million (40 percent) are illegal bypass calls. This deprives The State of Rs. 2 billion collected as taxes each year. The foreign exchange loss is Rs. 6-8 billion.
We have raided a record number of such places in the past, but they keep on mushrooming. There are powerful and known figures in society who enjoy the benefits of such services.
Q: What is the current regulation on the number of SIMs an individual can hold for personal use?
A: An individual can register under his name five SIMs from each operator. We believe that this is too much. Because of this loose regulation, there are a lot of illegal activities taking place in the country.
Clampdown on porn sites
Q: How successful is your clampdown on porn sites?
A: We blocked 900 porn sites recently following a Court order. We donít have a mandate to block websites unless there is a Court order. The TRC has not terminated or blocked any other site.
We have issued licences to 33 Internet service providers, but there are only less than 15 active operators in the country at present. We can block an Internet site through the operators. Nevertheless, blocking is not a very effective solution. Parental awareness and societyís contribution are vital to keep our children away from harmful material on the Web.
Even though we could block one site, it will re-appear shortly in another form. There are computer wizards who could unblock the site. So technically, we are not safe.
There are highly useful guidelines for online child protection prepared by the International Telecommunications Union (ITU). Parents should visit www.itu.int and follow these guidelines to keep their children safe from cyberspace horrors.
The TRC is translating these ITU guidelines to Sinhala and Tamil. They will be distributed among students and parents.
Q: How vulnerable is Sri Lanka to a situation such as WikiLeaks and cyber hacking of financial institutions?
A: There is always the threat of physical leaks. There can be cyber leaks too. We cannot completely rule that out.
This is something that we should give thought to immediately. Many banks here may not have secure systems.
There are less than two percent of the population that make use of e-transactions currently, but this scenario is bound to change. The most crucial thing is creating awareness among the people.
When surfing the Web, you come across a lot of free downloads. Once you click on these, a harmful software may get downloaded in the background. We call them Ďbotnetsí. The hackers enter your system like that. Then, all your private interactions on the Web become their property.
Q: Will we see existing mobile companies move on to 4G from the current 2G or 3G systems?
A: One leading operator in the field has sought our assistance to go for a 4G test run. This is the latest wireless technology. They have sought the spectrum for the test run, but there is a problem since at the moment this is entirely used for TV transmissions.
We will be doing away with analog TV transmissions by 2018. The pilot project will commence in the Western Province in 2017 and the rest of the country will be covered by 2018. The country will use (Digital Video Broadband Terrestrial) DVB - T2.
Most EU countries have already implemented DVB-T1. We will be skipping DVB-T1 and straightaway going to the second generation.
Part of this frequency will be utilised as the fourth generation mobile broadband. This 4G technology is still new to the world. It is still a huge risk to embark on this new technology. But our operators are preparing to face this challenge. India is yet to go even for 3G.
Kokavil tower
Q: What is the progress of Sri Lankaís tallest transmission tower in Kokavil?
A: The construction of the tower has now been completed. The CECB will officially hand over the tower to the TRC before the end of this month. The commissioning of TV transmitters will take another month after which the tower will be fully operational. The Kokavil tower which is 172 metres high and the Vavuniya tower together are expected to cover the entire Northern Province.
Q: What are the issues related to broadband services in Sri Lanka?
A: A few months back, coverage and quality were the major issues.
We set up a special unit at the TRC to monitor all broadband services, last August. Our observations came up with the conclusion that this area was in a very poor state.
We started a benchmarking process for fixed broadband services - ADSL and WIMAX. We monitored the quality and speed of each service provider and published the results in the TRC website. Because of this benchmarking system they had to improve the services. Before we published the findings we gave them a grace period to improve the services. We have seen a drastic improvement in this field after this initiative. It was a big achievement for the TRC.
For mobile broadband we are going to publish these results for the first time by the end of this month. Still we are negotiating with the operators. They have begun upgrading their networks to keep up with the quality standards.
The next step will be to take this broadband technology to rural areas. A National Policy on Broadband will be formulated within this year by the TRC.
Q: Are we going to introduce mobile number portability (the ability to use a single number for different operators) in Sri Lanka?
A: There is an ongoing consultancy process to find the feasibility of introducing this technology here. The committee will determine when Sri Lanka has to introduce the technology. We have not taken any firm decision yet and it may not be in the near future.
Assistant Director TRC M.C.M. Farook and consultants Dr. Manodha Gamage and Sanath Siriwardena were associated with the interview.