Swarnamahal Financial Services in Vavuniya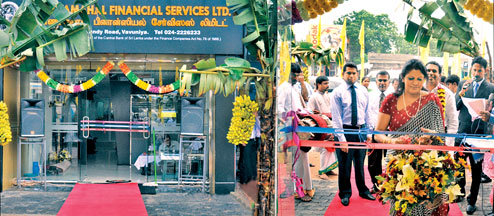 Swarnamahal Financial Services Limited (SFS) branch in Vavuniya was opened by EAP Group Directors Deepa and Nalaka Edirisinghe recently.
Nalaka Edirisinghe said SFS plans to raise 55.6mn from a private placement of the company's ordinary shares in February.
The number of shares to be issued is 2,780,000 at an issue price of Rs. 20 share and we have decided to offer an opportunity to our customers for the subscription of the ordinary shares of the company.
This issue will enable the company to maintain the enquired public float of 10 percent from the stated capital in order to list the company on the Colombo Stock Exchange as per regulations stipulated by the Central Bank of Sri Lanka.
SFS is an EAP Edirisinghe Company, incorporated in 2004 and registered by the Monetary Board of the Central Bank of Sri Lanka in August 2006.
The company's main business functions are pawning, leasing and hire purchase, factoring cum cheque discounting, medium term loans, fixed deposits and savings accounts.