CEAT launches logo
CEAT's market share in the truck and light truck, three-wheeler and radial segments have grown to 59 percent, 39 percent and 18 percent, making it the single highest selling brand in these categories, said CEAT Sri Lanka's Managing Director Randeep Narang.
At a ceremony to launch the logo launch he said that it is an 'evolutionary rebranding' that reflects the rapid growth CEAT has achieved in Sri Lanka over the past 24 months, and the brand's new livery on the international stage.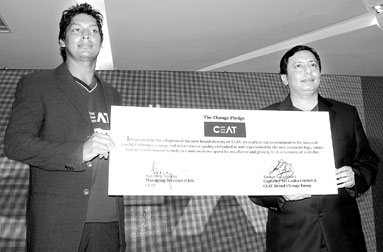 Narang said the red diamond backed white lettering adjacent to a charging rhino makes way for a youthful and energetic tricolour combination of blue, orange and white logotype as CEAT revs up for a new phase of expansion and growth facilitated by change management initiatives that generated results in 2009-10.
To be used as the brand's unified insignia on all product categories in 110 countries the new logo better represents CEAT's positioning as a contemporary and premium global brand, he said.
Narang stressed that this transformation represents much more than a simple logo change.
"New high performance products, new international markets, significant gains in market share and a fresh engagement with the community have given CEAT a new profile in the market that makes our branding an articulation of many tangible developments," he said.
In the year ending March 31, 2010, CEAT Sri Lanka increased its profit after tax by more than five times over the previous year on sales of Rs 5.4 billion.
Export revenue grew by 96 percent and continues to be steady in the current year, during which the company penetrated new markets like Egypt, Syria, Cambodia, Nigeria, Singapore, Dubai and Vietnam. The new logo encapsulates the brand's youthfulness, energy and international equity, and will lend more support to growth in the post-conflict resurgence of Sri Lanka, he said.
"A country-wide re-branding of 450 leading dealer outlets got under way on January 1, and is scheduled for completion by mid March in time for the dealer convention", said Sri Lanka Cricket Captain Kumar Sangakkara, CEAT's Brand Change Envoy.
A 2010 National Business Excellence Award winner, CEAT-Kelani Holdings is an Indo-Sri Lanka joint venture between the RPG Group of India and Kelani Tyre - Sri Lanka. The company operates three manufacturing units manufacturing truck, light truck, radial, motorcycle, three-wheeler and agricultural tyres and employs a workforce of 900 people.