Solitaire crystal range launched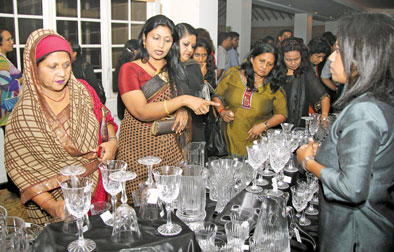 The House of Gifts, the chain of gift shops with outlets at Dharmapala Mawatha, Dehiwela, Mt. Lavinia, Galle Road and Kandy, has been stocking a fine collection of gifts and ornaments since its inception. The latest member of the Macksons Holdings Group, the company plans to expand its growing business islandwide.
House of Gifts recently launched their exquisite range of Solitaire crystal ware. Hand-crafted with precision and care to reflect the true beauty of crystal, Solitaire crystal ware meets global standards in aesthetic forms and design. Solitaire crystal promises to be one of the most admired gifts, with universal appeal and value.
"Solitaire crystal ware is the ultimate gift one can receive", said Head of Business Development for the House of Gifts, Nilrukshi de Silva, "It is a true collector's item, a gift of discernment."
The launch was an occasion of celebration, and saw a unique laser sound and light show that focused on the Solitaire crystal collection on display, reflecting its beauty and radiance.
"We pick the very best because we understand what a customer wants in a gift. A gift must reflect the giver's feelings, an act of love and affection," said Nilrukshi.