Local councillors forget obligations, responsibilities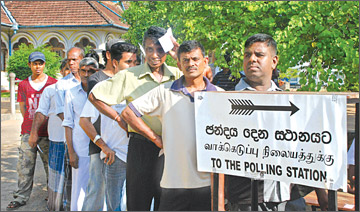 Some ex-members of Pradeshiya Sabhas (PS) and Urban Councils whom the Sunday Observer contacted after selecting them at random in the Central, Northern and Eastern provinces expressed mixed views on achievements of their councils on people's welfare, resource mobilization, shortcomings and changes deemed necessary to the constitution governing the bodies.
The absence of a provision under the LG Constitution to adopt a 'no-confidence motion' against an incompetent council head is a major draw back, a member said.
Most of the members, some of them ex-chairmen of their respective councils, expressed optimism that they would be in a position to organise and mobilize their own resources as well as funds without depending on either the central government or the provincial administration to fulfil the obligations and responsibilities by their local communities.
The responsibilities and obligations of the local government bodies cover a wide-range of areas on public thoroughfare, public health and public utility services, according to the Ministry of Local Government and Provincial Councils sources.
Hunger eradication, health, housing and primary education are significant among the millennium development goals to be achieved by the local government bodies, the sources said.
Excerpts of views of the ex-members:
A.P. Sakthivel (CWC Asst.Secretary), Ex-Vice Chairman, Nuwara Eliya Pradeshiya Sabha: "The constitution governing the local government bodies relates to rural towns and villages only and not the plantations. There are 18 small towns and many villages under the jurisdiction of the Nuwara Eliya PS.
But we did development work in the plantation areas since the constitution provides for services to all taxpayers.
A majority of the voters are from the plantations. My personal view is that this aspect of the LG Constitution needs to be amended. But we were able to perform huge development works in the plantation areas with the funds allocated by President Mahinda Rajapaksa under the Gama Neguma and Maga Neguma programs and also the funds allocated to the PS by Minister Arumugan Thondaman, Deputy Minister Muthu Sivalingam and CWC parliamentarians."
Ebert Perera (SLFP), Ex-Vice Chairman, Ambagamuwa Pradeshiya Sabha: Around Rs. 150 million was spent during the last five years on development work in village areas in the jurisdiction of the Ambagamuwa PS.
Funds were allocated mainly under the Gama Neguma and Maga Neguma programs of President Rajapaksa and also funds were allocated by Minister Arumugan Thondaman. It has not been possible to provide transport service to schoolchildren on a three km stretch from Nayawala to Wilson Kade junction because the Central PC maintained that the area was not under its jurisdiction.
This was recently sorted out by Economic Development Minister Basil Rajapaksa. The government hospital at Ginigathena serves all three communities but it lacks many basic facilities. The PC has not taken steps to upgrade it. There is no national school in the PS area."
G. Naguleswaran, (CWC), Ex-chairman, Ambagamuwa Pradeshiya Sabha: Fund allocations to the PS through the Central PC is not adequate. The PS has formulated far-reaching programs on health, primary education, housing, environmental conservation and garbage disposal. Only Rs. 6 million was allocated annually for the PS but Minister Thondaman had allocated over Rs. 600 million during the past five years."
Sahul Hameed Mohamed Azwar (National Congress), former Vice-Chairman, Kathankudy UC: The most congested place in the whole island may be the Kathankudy UC area. There are 20,000 houses in a 5.5 sq.km area.
There are garment and shoe-factories. There is an acute shortage of drinking water, waste management and latrine problem. We have negotiated with local and international NGOs and we expect to solve these problems by mid this year. We are confident that we can achieve more things for the people generating our own funds and mobilising our resources."
Abu Haneefa (SLMC), Ex Vice-Chairman, Eravur Pradeshiya Sabha: We get limited revenue because ours is a small area. Human resources available and fund allocations are inadequate. The drawback with regard to the LG Constitution is that there is no provision for tabling a 'no-confidence motion' against an incompetent and corrupt council head.
He has all the powers and even government officials who are under his influence are indifferent to us. So no progress has been achieved in the past five years."
Kandasamy Thatchinamoorthy (SLFP), Ex Vice-Chairman, Arachchikattuwa Pradeshiya Sabha: Fund allocation to the council members is inadequate. Many envisaged development activities, including road rehabilitation, improving transport services , health facilities and garbage disposal remain unattended. Council members also should be allocated funds.
G.T. Linganathan (PLOTE), ex-member, Vavuniya Urban Council: Due to internal problems with TNA members and their chairman it has not been possible to do any development or welfare work for the people.
Unless there is compromise between council members belonging to different political parties the local government bodies cannot do anything for the people.