Asian military giants to help Sri Lanka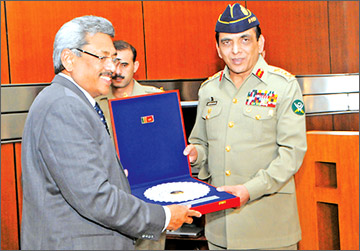 Defence Secretary Gotabaya Rajapaksa presents a memento to Pakistan Army Chief General Kayani.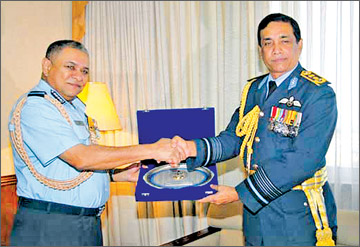 Sri Lanka Air Force Commander, Air Marshal Roshan Goonetileke presents a memento to Indian Air Chief Air Marshal Naik.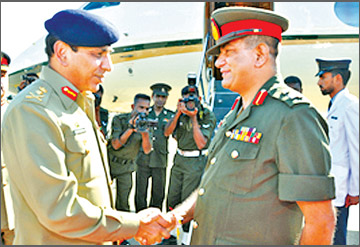 Sri Lanka Army Commander, Lt. General Jagath Jayasuriya welcomes Pakistan Army Chief General Kayani
It was a significant week for the Sri Lanka's defence forces as two military chiefs from two friendly countries arrived to strengthen their longstanding military ties, last week.
Both helped in Sri Lanka's battle against 30-year-old terrorism in 2009. Being military giants both never looked away when Sri Lanka's military was in need of support.
At a time when the West believed that it was a pipe dream for Sri Lankan military to defeat the LTTE and when they were trying to halt the military push to save the LTTE, these two nations silently gave their fullest help to Sri Lanka's military might to defeat the LTTE.
It was India and Pakistan who stepped in Sri Lanka to enhance the on-going military bond between them and Sri Lanka.
First to arrive in Sri Lanka was the Indian Air Force Commander Air Chief Naik on January 17. He was welcomed by the Chief of Defence Staff and Commander of the Air Force, Air Chief Marshal Roshan Goonetileke at the SLAF headquarters.
He met President Mahinda Rajapaksa at Temple Trees and also met Prime Minister D.M. Jayaratne, Minister of External Affairs Prof. G. L. Peiris, Defence Secretary Gotabhaya Rajapaksa, Commanders of Army and Navy.
Being a qualified flying instructor he had visited the Sri Lanka Air Force Flying Squadrons at Katunayake.
He paid a floral tribute to the soldiers of the Indian Peace Keeping Force (IPKF), who fought with the LTTE. He visited the IPKF memorial at Battaramulla on January 17.It was built to honour over 1,000 IPKF soldiers who were killed during their fight with the LTTE.
Military affairs
While discussing the military affairs between the two countries, Prime Minister Jayaratne appreciated the Indian support given to Sri Lanka and said the Government had given priority for development of the North.
Briefing him on post-conflict development activities in the island Premier Jayaratne said the Tamils in the North now have fresh hopes and the Government intended to make their expectations come true.
Discussions were focused on military matters between the two countries.
During the meeting, the Indian Air Force Chief Naik said that India was very particular about Sri Lanka's safety. He also highlighted the importance of strengthening bilateral security. Sri Lanka is a country with natural beauty.
We see how the country moves forward with development goals after ending the war. Sri Lanka would draw a greater number of foreign tourists due to her inherited splendour, he said.
The Premier appreciated the assistance extended by India to Sri Lanka.
While commending the assistance extended by India in strengthening the defence of Sri Lanka, the Premier was of the view that the two countries should explore new avenues in the cooperation with regard to defence issues.
The Premier further said that the people in the North would experience the benefits of development drives already launched.
Commenting on the Indian Air Force Chief Naik's visit Air Force Commander Air Marshal Roshan Goonatilake said it was a very successful visit when both the Air Forces are concerned and it strengthened the longstanding relationship between the two Air Forces.
"We are longstanding friends and the historical relationship between the two Air Forces has been strengthened by this visit. I especially thank the Indian air Force chief for assisting us with the Indian Air Defence system, which was given free of charge, during the Sri Lanka's military and humanitarian mission to defeat terrorism.
Enhancing training
"Being our neighbouring country Indian Air Force helped Sri Lanka in different means", he told the Sunday Observer. He said: "We discussed on further enhancing training of Air Force technicians and air traffic controllers.
We also discussed initiating exchange programs where the expertise in sports and medical fields are concerned and also giving the airmen of both Air Forces who excel in sports to take part in events. But these ideas have not been finalised yet. They will be looked into in future".
Commander of the Pakistan Army General Ashfaq Parvez Kayani arrived in Sri Lanka for a three day visit on January 19. General Kayani and Sri Lanka's Army Chief Lt. Gen. Jagath Jayasuriya discussed military matters of mutual and regional interest and possibilities for sharing experience and strategies in the successful Wanni Humanitarian Operations against the separatist terrorists.
The meeting also explored avenues of receiving more and more training opportunities for Sri Lankan officers in Pakistan, in addition to ongoing training programs.
He met Prime Minister D.M Jayaratne, Secretary Defence Gotabhaya Rajapaksa, High Commissioner of Pakistan, Chief of Defence Staff and Commander of Sri Lanka Air Force, Air Chief Marshal Roshan Goonetileke, and newly appointed Navy Commander Vice Admiral D.W.A.S. Dissanayake during his visit.
He visited the Defence Services Command and Staff College at Sapugaskanda, where he was welcomed by Commandant of the College Maj. Gen. J.C Rambukpotha.
Addressing the student officers he said military ties between Sri Lanka and Pakistan go back generations and Pakistan would continue its training programs for Sri Lankan military officers.
Pakistan Army Chief's wife. Begum Zahida Kayani accompanied Sri Lanka's Army Commander's wife Manjulika Jayasuriya to Ranaviru Sevana and appreciated the SLA's efforts to rehabilitate disabled war heroes.
Sri Lanka's Army Commander Lt. Gen. Jagath Jayasuriya said they had discussed on continuing Pakistan's support in military matters. "It is a significant visit and this is his first visit to Sri Lanka following the defeat of the LTTE. We discussed the experience that the Sri Lanka Army gained in defeating terrorism. This visit will further enhance the relationship between two Armies and continue to support each other in military matters", he told the Sunday Observer.
"I thanked the Pakistan Army for their support in defeating the LTTE.
Pakistan is a friend in need and also a friend in deed. During Sri Lanka's battle against terrorism, Pakistan is one country that did not ignore us. They always stood by us when we needed help. Especially when we needed material support, Pakistan provided us the necessary military equipment without delay", the Army Chief Jayasuriya said.
"The training which the Pakistani Army gives us will continue and we discussed about initiating training in specialized areas. General Kayani agreed to carry out a study and provide necessary support to commence such training", Lt. Gen. Jayasuriya said.
"We have Pakistani Army officers who have commenced their training here recently. Sri Lanka has started extensive courses for international students to learn how to defeat terrorism. Pakistan Army was the first to respond and they are now getting training in our military academy", he said.
Army Chief Jayasuriya said an invitation was extended to the Pakistan Army Commander to participate in the International Seminar on how Sri Lanka defeated LTTE terrorism, which is scheduled to be held on May 31 to 2nd June in Sri Lanka.