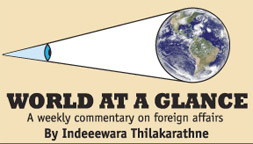 The week commenced with the fleeing of Zine el-Abidine Ben Ali, who was Tunisia's President for 23 years. Interestingly, it was reported that other Arab neighbours feared that the trend would spread to their countries as well.
Apart from unrest in Tunisia, the rest of the week saw several other issues such as a sex scandal involving Italian Prime Minister Silvio Berlusconi and the visit of Chinese President Hu Jintao to the US. Down Under, the Australian Government has plans to introduce a new tax to collect money for reconstruction work.
Turmoil in Tunisia
"Tunisia now lives in fear," Libya's ruler, Muammar Qaddafi told Libyans. "Families could be raided and slaughtered in their bedrooms and the citizens in the street killed as if it was the Bolshevik or American Revolution."
The UK-based (online) Economist reported: "Others seem less sure about what caused Tunisia's upheaval, where it will go or even what to call it. Some have labelled it the 'jasmine revolution'. Close at hand, however, the continuing unrest in Tunisia, for long the most politically neutered of Arab countries, does not bring to mind the sweet-smelling flowers that men here tuck jauntily behind an ear. What is happening ...is more of sweat, tear gas and burning rubber, and has brought Tunisians as much anguish as pride or pleasure.
"It cannot quite be termed a revolution, at least yet. The main instruments of control for the past 50 years, the police and the ever-ruling RCD party (a French abbreviation for Constitutional Democratic Rally) are battered and wobbly, but still standing. They face no strong, cohesive opposition, no charismatic leader waiting in the wings, armed with a mission or an ideology. Yet, with 78 civilians dead by official count and with street protests continuing into a sixth week, it is certainly bigger than a revolt.
"What is sure is that the Tunisian uprising has not only put an end to one of the more insidiously oppressive and comically rapacious strongman regimes in a region inured to them..."
The fall of Ben Ali has virtually sent shock waves throughout the Arab world. It was reported that "Among the Arab League's 22 countries, only three can claim to be democracies and all of those are flawed: Iraq, still afflicted by suicide-bombers and sectarianism, its democracy forced on it by the United States; the Palestinian territories, a state as yet only in name, occupied by Israel and contested by its own people; and Lebanon, where free elections are marred by the necessity of sectarian quotas and where the nation is torn between conflicting visions that, even in the past fortnight, have deprived it of a government. None gives its people the right to choose who will run their lives. The Arab world embraces vast wealth and more than 350 million people. One of the great puzzles is why in terms of democracy it should be the most backward on earth."
Hu Jintao's US visit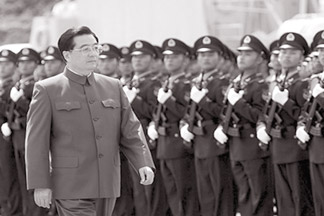 Chinese President Hu Jintao's visit to Washington last week for talks with US President Barack Obama marks an important development in international relations. The visit was reported as "After a fractious few months that have brought differences to the fore over arms build-ups, currency policy and other issues, President Hu and his American counterpart were at pains to stress the benefits of the relationship between the two countries. China agreed to $45 billion in trade and investment contracts during the trip. President Hu said that China and America should respect each other's choice of development path".
Sex scandal in Italy
The world media reported that Italian Prime Minister Silvio Berlusconi had paid for sex with an underage Moroccan-born dancer, among others, and had abused his office by securing her release from police custody. Extracts from the dancer's wire-tapped conversations were published in the press, including a comment from one woman that the Prime Minister had "even become ugly". However, Prime Minister Berlusconi has denied the allegations.
Flood damage and recovery plans Down Under
The Australian Bureau of Agricultural and Resource Economics and Sciences (ABARES) has published a special report titled The impact of recent flood events on commodities (January 2011), examining some key issues and the extent of the recent damage. The ABARES report highlights:
"The recent flooding in eastern Australia is estimated to have reduced agricultural production by at least $500-600 million in 2010-11, with significant impacts on the production of fruit and vegetables, cotton, grain sorghum and some winter crops...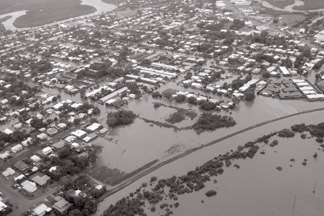 It is estimated that Queensland's coal exports between December 2010 and March 2011 could be around 15 million tonnes lower than previously anticipated. This represents a reduction in export earnings of around $2-2.5 billion."
These will have a dent on the Australian economy which survived a global financial crisis.
The Federal Government says it will have to cut spending to rebuild flood damaged areas in Queensland, and it may also introduce a levy.
The Liberal Opposition has attacked the idea, but the Government has received support from some Independent MPs including Queensland's Bob Katter and Tony Windsor who support a flood levy.
Social services groups say that people with low incomes should be guarded from a levy to pay for Queensland's flood reconstruction.
Australian Council of Social Service spokeswoman Dr Cassandra Goldie has said "a levy could take pressure off other vital programs.
Whether the proposed levy to pay for Queensland's flood reconstruction would save funding for future disaster mitigation is unclear.