Prolific writer - vastly unknown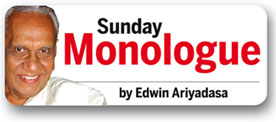 "Full many a gem of purest ray serene
The dark unfathom'd caves of ocean bear:
Full many a flower is born to blush unseen,
And waste its sweetness in the desert air."
Thomas Gray (1716 - 1771)
The haunting lines of Thomas Gray's ever-fresh poetry, swim into my memory, when I focus on the individual I want to talk about.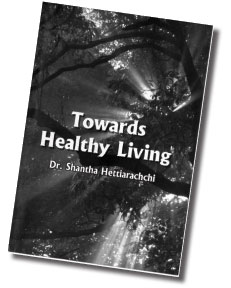 His astonishing plethora of writings, is a hoard of gems, that remains still undiscovered, by and large. And, his philosophy - tinged thoughts and reflections, waste their sweetness in those large volumes of unpublished manuscripts, which still await incarnation in the public domain as printed works.
Amidst all these, there is an inescapable truth.
His writings are more voluminous, than those of any poet in Sri Lanka, I know. Even in the field of English fiction of Sri Lanka, he can leave many a novelist far behind.
The poetry he specializes in, is a brand of his own. Reviewing a volume of his English poetry, about 15 years ago, this is what I had to say:
"The prevailing view is that a volume of poetry should be as slim as a super model. In the world of literature such a volume should have the looks and the appeal of a Naomi Campbell or a Cynthia Crawford.
"But, the present collection of poetry, goes counter to that conventional notion. As volumes of poetry go, the work under review is bulky. I must immediately add - it is so both in quality and quantity.
Its lines fill the pages from end to end, unlike some poetry of our day, which leaves the page starved."
It is high time, that I introduced the central personality of our discussion.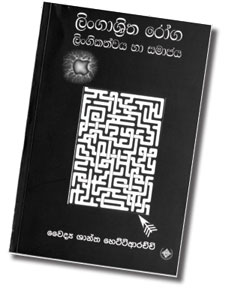 His name is P. L. Newton de Silva. The name may not ring an extensive bell, as he has always shunned the limelight.
In order to trace his creative evolution adequately, it is essential to note keenly the academic and intellectual atmosphere of the late 40s and the early 50s, that dominated the university circle of that day. Relatively free from the anxieties imposed by imperatives of time, the budding 'intellectuals' of that era were in liberal pursuit of issues and themes, that may not have been strictly subject - specific, in terms of the chosen academic studies. Debates, discussions, arguments, controversies, polemics formed the element, in which this coterie thrived.
P. L. Newton de Silva ("Newton" to his associates and "Newta" to his intimate friends) was very much a part of this group. As members and officials of the All-Ceylon Buddhist Students' Union (ACBSU), these young intellectuals acquired the opportunity to burnish their wisdom further. They came under the spell of such "spiritual revolutionaries" as Bhikkhu Dhammapala, Dr. E. W. Adikaram, Prof. G. P. Malalasekera and Ananda Meevanapalane. These young people formed a formidable group, who were eventually to contribute substantially to national life in a variety of ways, through widely differing disciplines. This coterie included, P. L. Newton de Silva, Siri Gunasinghe, Edwin Ariyadasa, Ananda P. Guruge, W.M. Tilakaratne, S.P. Kularatne, H.S.S. Nissanka, Devendra Brothers, K.P.G. Wijesurendra - among many others.
P.L. Newton de Silva, was keen on poetry over a long period of time. In his book "Foot prints on the Sands of Time" published way back in 1979, he quotes a review of his poetry, that I wrote as an undergraduate, in 1948. In the same work, he makes an interesting reference to a discussion we have had. I thought, I must quote it briefly as it quite deftly captures the "mood" that pervaded this coterie of emerging untellectuals:
"I remember the argument that continued for weeks over a work of much ment - " Hiroshima" by John Hersey.... Finally my friends decided to consult the best authority - the author himself. Ariyadasa addressed a letter to Hersey in America. But, the best result was the later discovery that the most vociferous advocate B.A.S. Gunasinghe... had not even read the book!
This incident is indicative of the simmering intellectuality of that youthful milieu.
P.L. Newton de Silva, eventually became an officer of the Sri Lankan Administrative Service. He held many prestigious positions and for a while, he was Counsellor of the Sri Lanka Embassy in Islamabad.
While functioning in the capacities assigned to him, he never ceased writing. That accounts for the extensive array of volumes, he has been able to produce.
The generally accepted view is, bureaucracy and poetry, do not mix. The prevailing notion is, that a bureaucrat is so thoroughly hardened that, it is beyond him to melt into the poetic mood, however much he tried.
P.L. Newton Silva's poetry is irrefutable proof. That even the English muse inspires, on occasion, a favoured member of the higher echelons of Sri Lankan bureaucracy, into singing in.
"The Language Shakespeare spoke" If one were to delve deep into his anthology titled "Questing Intellectual", one will find that the quality of his poetry itself holds tantalizing surprises for the reader. My considered view is that he has introduced a variety of poetry that could very well be described as a "poetic diary". His poetry in "Questing Intellectual", chronicles a deep and continuing philosophic discussion.
Here he admirably balances profound thoughts with a narration of the story of a sustained, intimate friendship.
While communicating hard-core esoteric perceptions, he can utilize his poetry to produce soothing lyrical sentiments as well. He has these lines in his "Questing Intellectual"!
"Recently on a night when the mild majesty of the moon
Shone in a perfect orb, the sky was very clear",
He has composed Sinhala lyrics, with notes provided by him.
After achieving so much as a writer, he has not been able to bring out even a limited segment of that output for the benefit of readers, in printed versions.
But, he has no regrets; nor is he given to frustration. To quote Thomas Gray, he passes his days in quiet contemplation, along the cool sequestered vale of life."
Those State organisations, that are concerned with the welfare of art and literature, we hope, will one day discover these "gems" relegated the dark unfathomed ocean caves of neglect and will enable the sweetness of these desert flowers to be experienced by cultural men and women, who could fully relish their soothing aroma.