Cultural Diary
'Great Experience in Sri Lanka'
Candace Bushnell, the critically acclaimed international best-selling author from New York, was joined by award winning American writer Jay Mclnerney and Mrs Mclnerney on a SriLankan Airlines' Air Taxi ride from Colombo to Koggala to participate in the Galle Literary Festival, held from January 26 - 30.
The trio were some of the first celebrities to embark on a scenic ride since the recent re-launch of the air taxi service which has been scheduled as well as special domestic air services to several parts of the island.
The writers attended the GLF following the Rajasthan Literary Festival in Jaipur, India. Candace and Jay were among several authors and writers in conversation over topics relating to published books which have won awards, made movies and TV series.
The air taxi ride over the coastal belt of the western and southern Sri Lanka afforded a breathtaking view of the country and after an extended stay at the Taprobane Island in Weligama she said 'Sri Lanka is beautiful and I loved my visit here.
I intend to come back sometime to see what I have missed like the tea plantations, Elephant Orphanage and Kandy.' She also commented that 'the people were nice' and that she had a 'great experience in Sri Lanka'.
---
Magul Prasthawa in Galle and Kandy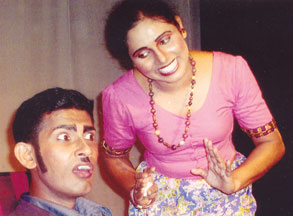 Prof. Ediriweera Sarachchandra's Magul Prasthawa and Ekata mata hina hina will be staged at Hall de Galle, Galle on February 10 at 8 am and 11 am.
There will be a repeat show at the Hindu Cultural Centre, Kandy on February 11 at 8 am and 11 am.
The cast includes Prasannajith Abeysooriya, Rasika Jayapala, Supun Tharanga, Lakmal Chaminda, Ravindra Ekanayaka, Chamara Gamaethige and Rajitha Asanka. Choregraphy is by Miranda Hemalatha. Costumes are designed by Prasannajith Abeysooriya. Makeup is by Lalitha Sarachchandra.
---
Iranian Cultural Week -2011
An exhibition of Handicraft , Miniatures by famous Iranian artists will be held at the National Art Gallery, Colombo 07 on February 7 at 10.00 a.m.
---
Debut by soprano Tharanga
Opera lovers will be able to appreciate the performance of Tharanga Goonethileke when she is featured as soprano soloist at the forthcoming concert of the Symphony Orchestra of Sri Lanka which will be on February 12. This will be her solo debut with the SOSL after winning the SOSL Concerto Competition in 1998. Tharanga will sing the arias Quando Men Vo from La Boheme, The Jewel Song from Faust by Gounod, and Pogi Amor from La Nozze di Figaro.
Tharanga has completed The Artist Diploma for Opera Studies at the Julliard Opera Centre, New York, a Master of Music in Voice and Opera at Julliard School. At Julliard she has been awarded the Makiko Narumi Memorial Prize and is the first Sri Lankan woman to be accepted to this prestigious institution.
---
Book launch
Lingasritha roga, Lingikathvaya ha samajaya and Towards Health Living
Dr. Shantha Hettiarachchi's 'Lingasritha roga, lingikathvaya ha samajaya and 'Towards Health Living" will be launched at the Mahaweli Centre Auditorium Colombo 7 on February 8 at 3.30 p.m.
Prof. Carlo Fonseka will preside over the launching ceremony. Kalakeerthi Edwin Ariyadasa and Dr. Praneeth Abhayasundera will address the meeting.
---
Quicksilver
Auchithya Weerasinghe's Quicksilver is a collection of poems of various moods. Some of the poems are romantic and transport the reader to a lush, magical world of natural beauty. Other poems bring us to the real world where justice and injustice exist side by side. Then there are other poems which give us a certain degree of pleasure. Auchithya Weerasinghe is a Grade 12 student of Bishop's College, Colombo.
---
Panadure Mini Muthu
Jayani Chathurangika Thilakasiri, a student of Agamethi Balika Vidyalaya, Panadura, launched her maiden book Panadure Mini Muthu recently.
The book records details of eminent personalities of Panadura who have contributed their wealth and resources for the welfare of the people. The book opens with an account of Dr. Neville Fernando, founder of the Agamethi Balika Vidyalaya.
The other personalities included in the book are Sir Susantha de Fonseka M. Henry Peiris, Leslie Gunawardane, Leo Fernando, Mrs. Jeramiyes Dias, Arthur V. Dias, P. C. H. Dias, Sir Bennette Soyza, Mudliar Sri Chandrasekara, M. Wilmot A. Perera, Prof. Gunapala Malalasekara and M. Richard Salgado. A major drawback in the book is that it has no contents page.
RS
---
Sergeantge Nendamma
Sando Harris's comedy Sergeantge Nendamma will go on the boards at the Sarvodaya Auditorium, Moratuwa today at 3.30 pm and 6.30 pm.
The cast includes Sando Harris, Chanchala Warnasuriya, Susila Kottege, Kopikade Dayawathi, Nandana Hettiarachchi, Somachandra, Kapila, and Shavindra.
The music is directed by Turin Ariyadasa. The play is produced by Chanchala Warnasuriya and directed by Sando Harris.
---
Senehase Asvenna
A series of drama performances will be held at the Tower Hall, Maradana to mark the first death anniversary of dramatist H. A. Perera.
The programme:
February 6 at 6 p.m. Kalidasa's Abhignana Shakunthala directed by Navadharshani Karunaharan. February 7 Thala Thalam directed by Ravibandu Vidyapathi Tamil version of Kora Saha Andaya directed by Dhamma Jagoda.
A workshop on traditional dramas in Sri Lanka and different styles of drumming will also be held today from 9 a.m. to 5. p.m. at the Tower Hall Theatre, It will be conducted by Prof. S. Mounaguru, Ravi Bandu Vidyapathi and Dr. Lionel Bentarage.
---
Role players for Hamlet
Shakespeare Centre Sri Lanka calls applications from aspiring actors and actress to play diverse roles in its maiden film production 'Hamlet. Details can be obtained from "House-Shakespeare At work ", 327, Darley Road Colombo 10.
---
Did Einstein understand E+me 2?
The launch of Did Einstien understand E+me 2? , a book by Laurel Botsford will be held on February 9 at 6.00 p.m. at the Namel Malini Punchi Theatre, Colombo 08.
---
Golu Birinda
Professor Wimal Dissanayake's "Golu Birinda" directed by Namel Weeramuni goes on the boards at the Namel Malini Punchi Theatre on 12 February at 6 pm. "Golu Birinda" is a brilliant adaptation of the comedy of Anatole France's "The Man Who Married a Dumb Wife" for the stage to which life is pumped by Malini and Namel Weeramuni together with Daya Tennakoon and S. Dikkumbura.
---
Untouchable Woman's Odyssey
The launch of Untouchable Woman's Odyssey, a novel by Sri Lankan Canadian author Dr. Suwanda H J Sugunasiri will be held on February 11 at 4. 00 p.m. at Punchi theatre in Borella. The author will read extracts from the book at the launch.