Athletics senior starter 'Vyra' dies
The death occurred of Senior Starter (AAA) Navaratnam Vyravanathan yesterday after a brief illness.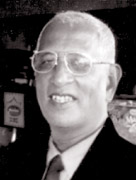 Affectionately known as 'Vyra' by his colleagues and in the athletics fraternity, he was a familiar figure almost at every track and field meet.
Almost all athletes at different levels and different meets, irrespective local or International were under his starting orders at some time or other. He was 72 at the time of his demise.
The late Mr. Vyravanathan was an old boy of Vaddukoddai College, Jaffna and was the Junior National High Jump Champion and won the Best Performers Award in 1958. He was selected as a technical officer at the year 2000 Olympics in Sydney Australia, and a member of the Athletic Selection Committee and the Examination Panel.
His mortal remains will lie at the Jayaratne Funeral Parlour from 8 a.m. today, and the cremation will take place on Monday (February 7) at 4 p.m. at the General Cemetery, Kanatte.