China gifts performing arts centre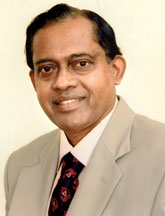 Wimal Rubasingha
The first International Performing Arts Centre (IPAC) which is a donation from China worth over Rs. 3,200 million will be opened soon. The construction work of this centre which is situated next to the Visual and Performing Arts University of Sri Lanka at Albert Crescent, Colombo 7 will be completed shortly.
The Sunday Observer had an interview with Culture and Arts Ministry Secretary Wimal Rubasingha on the IPAC.
Excerpts of the interview:
Q: What is meant by 'Performing Arts'?
A: Performing Arts could be defined as the joint and live presentation of dance, music and drama on stage.
Sri Lanka is endowed with an advanced civilisation and a culture of over 3,000 years.
We have a written record of history in the great chorinicle "Mahawamsa" going back 2,600 years.
Dance, music and drama have been Sri Lanka's pride for centuries. Legend has it that Prince Wijaya, the first king of Sri Lanka heard music when he met Kuveni who was spinning yarn.
Sri Lankans are a highly cultured people largely nourished by Buddhism for over 2,600 years. Buddhism acknowledges the aesthetic values of man.
Q: Why do you say that this is the first international Performing Arts Centre in Sri Lanka.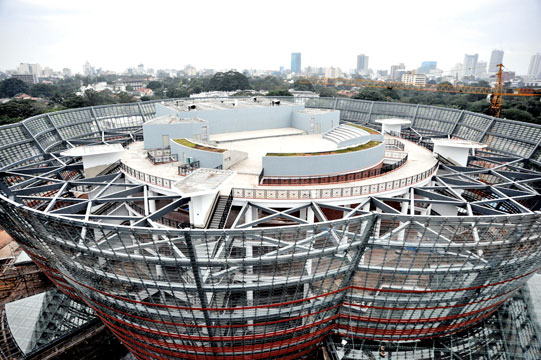 Theatre on the 5th floor
A: A fully fledged performing Arts Centre was a long-felt need of the Sri Lankan artistes. Although they used the BMICH Theatre, Royal College New Arts Theatre, Elphinstone or Tower Hall they were not perfect performing arts stages.
Q: Can you elaborate?
A: Asian countries such as Japan, China, South Korea have performing arts theatres that have facilities such as moving stages, dressing rooms, rooms for relaxing for artistes and car parks under one roof. The recently refurbished. Tower Hall has only 300 seats. Other centres cannot accommodate more than 500 persons. This was a long-felt need for Sri Lanka.
Q: What made China to donate such a state-of-the-art theatre to Sri Lanka?
A: China and Sri Lanka have had cordial relations throughout history. Famous Chinese Bhikkhus Fa-Hien and Hiyun San visited Sri Lanka in the sixth century.
Archaeological evidence bears testimony to China-Sri Lanka Social, Cultural and Economic relations which go back thousands of years.
Although China was willing to fund a part of the construction cost of the project at the beginning later they expressed wiliness to fund the entire project of Rs. 3,200 million.
Construction materials were imported from China for the project.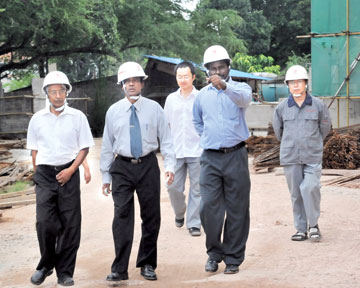 Projet manager Vithanage secretary Cultural and Arts Ministry Rubasingha and Chinese engineers inspect the project
The Project Manager IPAC - former Secretary of the Smallholder Development Ministry S. Vithanage said that IPAC has all the facilities of a modern performing art centre.
It consists of an ultra modern moving stage on the ground floor, open arts theatre on fifth floor, 17 dressing rooms, office rooms, canteen and parking facilities for over 300 cars.
The Municipal grounds which has an extent of 2.17 hectares was taken over by the Cultural Ministry to set up the Centre for Performing Arts. The centre is 29 metres high and covers 14,000 square metres, he said.
Construction work of the IPAC is handled by China's Xanjian Group.
Its Deputy Chief Engineer and the Acting Head of the Chinese Staff Han Chunlei said that more than 100 Chinese engineers, technicians and labourers worked up to last month.
At present there are only 37 engineers and technicians tasked with the responsibility of completing the project on target.
Han said that the interior is expected to be completed before the end of this month.Chinese staff will work in Sri Lanka for a couple of months to train their Sri Lankan counterparts in the maintenance and operations work of the centre.
Sri Lankan engineers Gamunu Silva and Nimal Silva are the engineering consultant and architectural consultant for the project.