Arabian Nights the perfect model for story telling
Arabian Nights is probably the most influential treasure of tales ever to have recast the art of story telling. This collection of tales compiled in the mould of Hithopadesha, or Panchathantra attracts a young readership that is gripped by the dramatic movement of the events. Generally these stories are characterised by fantasy and whimsical arrangement of plots. The highly readable tales with an abundance of improbabilities and twists of plot keep the reader on the guess to the last. This is where the true appeal of Arabian Nights lies. Arabian Nights with its origin and background set in Arabia, Persia and India transports the reader to a fantasy world of romances with supernatural beings.
Writer
The authorship and the precise time period in which the book has been written fall beyond absolute certainty. However, this collection of tales it guessed to be a product by an Arabic writer with a razor-sharp imagination and creativity. Arabian nights, an important work in Arabian literature bear all the marks of having been written before the city of Baghdad fell into the hands of Moghuls in 1258 AD. Some scholars argue against the single authorship and claim that it has been authored by a few writers who presumably borrowed certain stories from Persian, Egyptian and Syrian literatures. Some tales bear remarkable resemblance to those in Panchathantra, Hithopadesha or Katha Sarith Sagaraya.
In whatever way, these stories totally represent the quintessence of Muslim life, luxuries of Muslim kings and the limitlessly wealthy tradesmen who were relishing a highly comfortable lifestyle. The Arabic world pushed these stories to a popularity explosion among readers in Eastern and Western countries during the first half of eighteenth century. Shortly after Antoin Gallain translated Arabian Nights into French and published it in 12 volumes, the stories were brought into wide publicity which virtually pushed them in to translations in many European languages including English.
King's strange decision
The total story of Arabian Nights operates on central figure of Shahryar the king of India and Shahrazad, the daughter of his Wazir. Predictably enraged by the bitter experience of being betrayed by his queen, who has displayed waywardness and faithlessness in his own palace, King Shahryar puts her to death.
The same tragedy strikes the queen of his younger brother Shah Zaman who has just seen the infidelity of his wife in action. Here, King Shahryar feels a surge of revenge fullness and is bent on letting loose a wave of destruction on all the ladies and girls of his kingdom.
Now he begins the practice of having one girl for the night and killing her the following morning. This indiscriminate killing continues till the remaining women free from the kingdom for life and even men with their girl children run for a safe haven.
At last, Shahrazad, the daughter of the king's Wazir, the chief minister, is seen to be the only girl left in the Kingdom. Strangely enough, Shahrazad expresses her willingness to go to king Shahryar in spite of serious remonstrations by Wazir who is well aware of the terrifying ordeal waiting for her in the king's palace.
Wazir remains with no choice but to sacrifice his daughter to the king's brutal mood.
Climax kept withheld
Shahrazad is a learned beauty who is by birth, shrewd and diplomatic in situations which need careful thinking. She comes to know that king Shahryar is highly responsive to captivating tales and maps out her plans accordingly.
This way, she unfolds a bizarre chain of stories before the king who postpones her death to each morning to come.
Shahrazad takes particular care to keep the climax of each part of story withheld. Pricked by the needle of curiosity to know the climax, the king avoids killing her everyday and Shahrazad capitalizes on the king's "weakness of curiosity" to prolong her story of stories.
Eventually, three children are born to Shahrazad by the king by the time he realises that he has been listening to her tales for thousand and one nights.
Shahrazad's luck
On the trail of the end of this long story of stories we encounter the time - hit classic tales such as Sindbad the Sailor, Ali baba and the forty thieves, Caliph Harum Al Rashid and others that add peculiar enchantment to this collections of tales.
Finally Shahrazad says" My lord! I'm your servant and I have pleased you with my stories of people of by-gone age. May I ask you a boon for all this?". King Shahryar says "Ask! and it will be granted to you!". Then Shahrazad replies" These are your three boy children. I request you to release me from the punishment of death. If you kill me, they will be motherless and will find none among women to bring them up as they should be".
To this king Shahryar exclaims "By Allah! I have Pardoned you Shahrazad, even before these children were born. I found you honest, pure and intelligent, incomplete contrast to my earlier wife."
In a stately ceremony, Shahryar celebrates his marriage with Shahrazad and his brother Shah Zamam's marriage with Shahrazad's sister Dunyasad who "continue in the love of Allah Almighty and thanksgiving to Him...."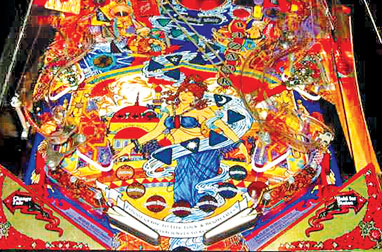 "In due time, King Shahryar summoned chroniclers and copyists and bade them write all that had betided him with his wife, first and last; so they wrote and named it "The stories of the Thousand Nights and A Night." The book came to thirty volumes and these the king laid up in his treasury." (from Sir Richard Burton's English translation)
Impact on Sinhala fiction
Arabian Nights was translated into Sinhala for the first time by Bentota Albert de Silva. His translation was based on the English translations by Richard Burton and John Paine and he even borrowed the illustrations from the English versions. Nothing inspired the early works of modern fiction more heavily than the tales of Arabian Nights. It marked out a new borderline for the readers' taste and the creativity of early writers in Sinhala literature at the outset of 20th century. Before that the readers and writers were somewhat controlled by the didactic tradition in literature which lacked gripping drama. The early Sinhala novels inevitably mirrored the revolutionary impact of the tales of Arabian Nights.
Some newspapers like "Sinhala Samaya" (edited by the novelist M.C.F. Perera) featured enchanting time -hit classics from Arabian Nights to upgrade enthusiasm for reading. It has not escaped our notice that W. A. Silva was the novelist most inspired by Arabian Nights. His novel "Lakshmi" is influenced by the supernatural in the fast moving narratives in Arabian Nights though the novel sharply reminds us of the plot of Rider Haggard's "She", says Prof. Ediriweera Sarachchandra.
"Arabian Nights laid the foundation for the origin of the modern Sinhala novel. Arabian Nights was highly inspirational for the early Sinhala novelists such as M.C.F. Perera, A. Simon de Silva, Piyadasa Sirisena and others. Arabian Nights created a wonderful world of fantasy and was expressive of a strange quality which the traditional Sinhala prose aimed at moral teaching, noticeably lacked. It obviously reminded modern Sinhala reader that there was a type of literature which catered for entertainment rather than leaving common moral lessons.
Moreover, the tales of Arabian Nights are a perfect archetype for fiction writing. This influence made ideas of novel writing creep into the consciousness of early Sinhala writers ("Sinhala Nawakatha Itihasaya ha Vicharaya").
Finally it can be explicitly stated that Arabian Nights is not a mere collection of tales of supernatural and fantasy but is a powerful vehicle of ideas for a writer to enrich his imagination and creativity. It is the perfect model for story writing which is lamentably being degraded today.