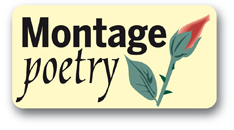 The cock
About fifty of us were waiting
In a big power embassy?s consular section
For our visas
It was quiet,
Only mispronounced names
And rattle of toilet lock
Interrupted the quiet
But that never idle busybody
The mind
Whizzed me to room in Nigerland
A friend and I wait
In a well-appointed room,
Of Nigerian airways
A few more there were, and among them sat
A chic young woman fashionably attired,
Headgear neatly in place
the wrap carefully tossed to seem careless
the cloth and jacket of costly yarn
her lips, nails vermillion, the latter sharp and long
Suddenly from a bag erupted
A cock colourful
In a flash it fluttered across the room
and the young woman gets up in a bustle
captures the colourful
errant cock forthwith
swiftly and angrily
Sita Kulatunga
The poet was waiting in a consular section with fifty other for visas. Except the rattle of the toilet lock, the atmosphere was quiet. But her mind roams freely recalling an incident that took place in Nigeria in a ?well-appointed room? of Nigerian Airways. There was a ?fashionable young woman?.
All of a sudden, a cock as colourful as the lady was, erupted from her hand bag and fluttered across the room. The fashionable young woman angrily caught the cock. Though it is a passing incident, it reflects on Nigerian society where some archaic practices are still alive even among fashionable middle class women. The poet has used a down-to-earth language and apt metaphor to relate the incident.
---
Deluge
The floodgates of Hell itself
Seemed to have opened up
When the swollen river
Disgorged its muddy waters
After days of relentless rain
Had filled it to overflowing
The turbulent flood
Inundated an entire village
Drowning every being in its wake
Once throbbing with life
It had turned overnight
Into a graveyard
The few wretched survivors
Moved about like zombies
Searching for their loved ones
Among the rotten corpses
This grimy aftermath
Compelled me to reflect on
The fragile nature of life
And inevitability of death
My avid pursuit of pleasure
Now seemed utterly pointless
Chithra Premaratne-Stuiver
The poet describes that flood that wiped out the entire community in a village while a couple of survivors walked out of the mud like zombies. The incident prompts the poet to think about the fragile nature of life and futility of never ending pursuit of happiness.
---
Loving wind
When I was on my bed
By looking at the grey roof
Sunshine came to my room
Through the half opened window
By saying ?wish you a lucky day?
But ????????????.
That sun shine didn?t know
My thoughts are shaking and helpless
Due to heavy wing blowing through my life
But??????????..
When light fall on my face
I felt that many drop of tears, waiting end of my little eyes
I failed????????..
Unable to stop that flow, so I let it dissolve my pain
Then ????????..
I felt loneliness but nothing in mind
At the moment, I heard a little voice
?Hi, tiny lass stand up! You can do many things?
I looked here and there, but no one
I understood that, my mind called me
I smile with sun shine, As no one to care for me
I stood up. Kept a little step
But I felt pain of that wind, at each and every step I kept
But????????????.
What can I do? I can?t change the wind
However, I can wait until that wind understand
?No meaning of blowing here and there, I want my life?
Sanju (S. Samaraveera)
The poem reflects a mindset of a girl longing for love. The poet has skilfully used the wind as a potent metaphor which represents the changing moods of the girl. The girl cries on the bed feeling intense loneliness. It seems that she is caught up in a ?loving wind?.
Her mind tells her that she is capable of many things in life.
---
In your smile
I see a paradise
In your heart a world more divine
In your love, you, me and myself

Nisansala Dharmasena
The poem is about a partner in love. When in love, they are oblivious to the reality. The narrator, the girl tells that she observes a paradise in the smile of her lover and a divine world in the heart and at last, she herself in him. The short poem is a manifestation of deep love. The poem is noted for its economy of expression.
---
Lion Lander in Kiwi land
After a grueling nine hour flight
The sky bird taxied to land at midnight
With my body wires going haywire screwed up was I
Outside the terminal a howling Antarctic wind blast
Hit me on the face like Haka the challenging a
Maori was cry
I was rescued by the encapsulating warmth of my loved ones
Hibernating twenty four hours in the borrow of heated bed rolls
I was awakened by a songbird crying to the bleak cold dawn
With midday mellow sun shine I surveyed the new terrain
Vehicles were moving on clear broad roads abutted by mown green paths
Unlike our Hulftsdorp hill no canine hordes desecrate the roads
Only manicured dames displaying their lithe shapely frames
With their pedigree dogs like their filigree ornaments
Promenade the side walks carrying dog toilets in their bags
People are busy no time to be fussy
For their cosy life style bedecked with gadgets
Dream boats flashy limousines to drive
They mortgage their sweat to the end of their tether
This is their faith, one and only faith
Evenings were enlivened by Vibhavi stylised play
Staged by our expat?s I found myself teleported
To Lumbini and John de Silva theatres with campus Maname silhouetting the back
Ground and lilting melodies soothing my ears
To live throb of the Kandyan drums pulsated my heart beat
To defreeze my native rhythm to its original tempo
Encore! To artist for their daunting endeavour
Encore! To fiesta of manifold delight
As the prelude:
With both Lion and Kiwi fluttering flags
National anthems namo namo matha
Kiwi maori Eihoa atua
God of nations at thy feet
With solemn dignity resonated the hall with equal flourish
In the finale: with tears in their eyes they gasped
And glimpsed the receding native sun
But with hopes in their hearts and firm on their feet
They are marching on to the glimmering new horizons
G. H. A. Suraweera
The poet eloquently captures the change of skies from Sri Lanka to New Zealand (Kiwi land) as nine hour flight landed at midnight. The narrator compares the cityscape of Colombo with highly developed New Zealand where the roads are wide and clean. The people are busy and work hard to the end of their lives. However, Sri Lankan expatriate community?s play reminds the narrator of Lumbini and John de Silva theatres in Colombo and Maname he watched during his university days. The poem ends as Sri Lankan national anthem and New Zealand national anthems filled the air with a positive note that hybride nation would march towards greater prosperity. The poem is noted for encapsulating diasporic reality and loss of motherland.
---
My only face
I am like the smiling flower
Never decorating myself
For anyone.
I will be lying bloomed
Even in the graveyard
With my face
With my only face.
PON . .GANESH
Although the poem is confined to a couple of lines, the poet tells us a profound truth. The poet has ?only one face? and not Janus-faced. The poet compares himself to a smiling flower which would smile even in a graveyard. The poet would never beautify his face. What the poet conveys is that one should be honest to oneself and to society. The poem is noted for its brevity.
---
Dead-souls
I looked on nonplussed
And defiant
At the dead body of a relative
Laid to rest in a grand coffin
Majestically enhanced in stature
In the middle of
The imposing parlour
Eye-lids closed
Quite resignedly
Though still wafting the aroma
Of haughty exclusiveness
Vainly suppressed
For the grand occasion
Understandably, there were hardly any mourners
Instead a few privileged
Were having a gala time
Stylishly sipping purportedly cool drinks
To quench their insatiable thirst
Docilely served
By the natty servants
And the guests
Enterprising discussed
Dreary subjects such as
Tragic fall of share market
Rising tide of labour unrest
While the menacing heat
Smothered my soul
Till I departed
Very much relieved
Only to be embroiled
Once again
In heart-numbing
And tantalising passions
Admittedly,
Quite a harmless device
To prolong the final farewell
Forecasting a prophesy of doom
And oblivion

Ranjan Amarasinghe
The poem is about a funeral without mourners. Though it is lased with sarcasm, funerals have become part and parcel of daily routine where the relatives and friends have to put up faces. The poet finds that there are no mourners in a funeral and visitors are busy with discussing business, fall of share prices. The poet has captured the contemporary reality and changing ethos of the milieu.
---
Slow:
Elephant Corridor
The screech of tyres on the coarse tar
Becomes a mere hum,
From 160 to 40
The speedometer swings nearer home.
Beware!
Keep an eye out
For the massive intruders,
On a road that is not meant for them
Be ready to stop and let them pass,
The intruders we dare not disturb.
On a road claimed from them
We travel
We, who speak of
?Live and Let Live?
Nillasi Liyanage
The poet describes the passing an Elephant?s corridor (Elephant past). The speed of the vehicle was suddenly brought down from 160 to 40 as the elephants would cross the read at any moment. However, they should not be disturbed and be allowed to pass as they (elephants) also have a right to live. Though in simple diction, the poem conveys the profound philosophy of ? live and let live? .
---
The child beggar
In an early morning, one day,
I was fighting on my way
Through a traffic jam.
My car crept in calm
Like a lazy snail.
The glass was knocked by a child.
A little beggar he was,
With shaggy and baggy clothes.
To seek for a coin, he peeped
Into the car and smiled.
To have a richer breakfast
I gave him a note
Expecting him to go away
With utmost happy and gay.
Yet, he put the note in his pocket
And turned to the next car to knock it!
Kasun Deeptha Handun Pathirana
The poem is about an incident where a child beggar seeks money in the middle of a traffic jam. The poet who gave money thought that the child would be happy and would walk away from the traffic. But the child knocked at the glass of the next vehicle. The poet faces the grim reality that begging is a social blight.
---
Y?
I'm feeling alone
among a crowd
I'm living alone
in a family
at the moment my body aches
as if sitting
on a pile of nails
but I'm sitting
on a comfortable cushioned chair
I'm spending a hard life
surrounded by
material comforts
surrounded by
latest electronic gadgets
but my life is tough
I'm alone
among so called loved ones
why
why
WHY?
where is the mistake?
whose is the mistake?
No one knows........
Sha Rat
The poem is about loneliness that one would encounter in modern day busy life which revolves around one?s routines. This loneliness is an urban reality caused by lack of community engagements and the individualisation of life. Though surrounded by ?so called loved one?, the narrator suffers from loneliness and fatigue despite being surrounded by material comforts with the latest gadgetry.