Bob Marley's mission through reggae
Bob Marley's music is resonant with the true Jamaican Spirit and many people will remember him for providing them with their first taste of Reggae music. He used a type of West Indian popular music with a very strong beat to voice concern that his people (blacks) were helplessly silent about the oppression by Americans.
His undisguised but emphatic declaration that he descended from the African slaves who were brought to America, imbued the people with admiration for his music and the message it conveyed. In brief, he promoted a populist approach to Reggae music and through his music he succeeded in re-kindling tension in black people to struggle for their rights. Through his music he urged the black Africans in Jamaica and America to mount a major struggle for their existence, rights and self-respect.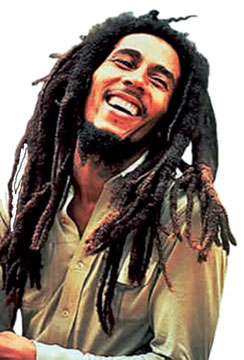 Bob Marley was a passionate believer in the idealized notion that an artist is born to serve his people and he correctly identified his responsibilities for the black Africans still being forced into varied types of salve labour throughout the world. Therefore he was a populist musician in the literal sense of the world. Notably, Bob Marley and Victor Hara were two massive figures of international fame who endeavoured to protect the rights of the people they represented through the universal art of music.
His vision
Bob Marley was exposed to the first glimpses of class and colour discrimination at Kingston where he managed to recognise the higher social classes and the sufferings of people in slums. He was suddenly confronted with the big question as to how he should fight for the rights of the black people who were not sufficiently aware of their economy lifestyle, or their rights.
They were at their lowest ebb and were almost illiterate. However, Bob Marley effectively used his popular style of Reggae music to make the underprivileged black people aware of the essential struggle to regain their independence and the rightful position in society.
His songs at the sametime made feelings of love reincarnate in the minds of downtrodden people who were experiencing remorselessly rising oppression. It appears fair to say that sometimes Marley's tone carried a strong current of malice against the black people's reluctance to admit that they descended from African slaves. The black Africans, though they were frequently discriminated against seemed to consider that any sign of their association to the African slaves (their ancestors) would reflect badly on their reputation.
Early life of the reggae hero
The rather unusual rhythm and style of Reggae music flew to a popularity explosion throughout the world and succeeded in eclipsing many music styles then in use. Robert Nesta Marley was born on Feb 6. 1945 at Nine Mile of the city of St. Ann in South Jamaica. He badly missed the love and care of his father (Noel Marley - a white naval officer) because his parents lived mostly in separation as his parents' marriage had taken place amidst the protests of his mother's parents. His father had a rigid control over him when he was at home and this further widened the gap between a father and a son. Later on, his father entered him to a popular school in Kingston and that was the last Marley saw of his father.
The short spell of twelve months he spent in Kingston proved to be the most inspiring and unforgettable experience for Marley. It was a significant turn around in his life. It was here that his boundless enthusiasm for music found expression and his fundamental need to save the black people crept into his consciousness. Young Marley frenziedly involved in music, subsequently emerged to be the saviour of the suffering blacks. His mother was truly concerned about him and she was distressed to learn that Bob Marley was living with a couple of elderly in Kingston instead of engaging in studies. She immediately brought Marley from Kingston to St. Ann.
Mismatched education
There was a dawning realisation for young Bob Marley that the prevalent education in Jamaica as prescribed by English speaking Americans did nothing to salvage the nation. Material taken from obsolete books was taught to Jamaican children. The whole content of the education system claimed that British people were the saviours of Jamaica and they brought salvation and prosperity to the slave descendants of Jamaica.
Wearing shoes was made compulsory for poor Jamaican students who had parents with the lowest income. The pressure of this injustice underpinned Marley's ideology and he fearlessly registered his protest through his Reggae music. Meanwhile, people of St. Ann believed that Marley had the rare ability of making palmistry predictions based on his surprising mental capacity. Once a relative of his asked him to prove his mental power and Marley hysterically cried out "I'm a singer now".
Dreadlock Rasta
"Buffalo Soldier" and "Could you be loved" are two songs written by Bob Marley. These songs, together with the song "Get up stand up" analyse the plight of the black people and act as a powerful vehicle of communication to encourage black people to fight collectively for their rights.
"Buffalo Soldier, Dreadlock Rasta
There was a Buffalo Soldier in the heart of America
Stolen from Africa, brought to America
Fighting on arrival, fighting for survival....
If you know your history
Then you would know where you're coming from..."
Here the word "Buffalo Soldier" signifies a strong black slave brought from Africa. The most moving tragedy is that these slaves were brought from Africa by Americans to drive off the native Red Indians from their lands.
The Red Indians called them buffalo solders because of the nature of their hair and hairstyle (Dreadlock Rasta). Therefore these are Bob Marley's own lyrics in Reggae music for the Africans (Dreadlock Rasta) who directly descend from slaves employed by Americans to hunt down Red Indians.
The words of these songs have powerful political connotations much more than their literal sense. Marley reminds the black Africans that they cannot cancel out the injustice they are exposed to unless they get to know about them selves, their past, and what is going to become of them. For Americans, power means money and they have reached the pinnacle of economic power by means of slave labour from underprivileged Africans. The song "Buffalo Soldier" sharply reminds the Africans of who they are, where they came from and why they were brought to America.
Road of life is rocky
"Don't let them fool ya,
or even try to school ya! no!
We've got a mind of our own
so go to hell if what you're thinking is not right!
Love would never leave us alone
In the darkness there must come out to light...."
This song "Could you be loved" expresses the unifying nature of love in Reggae music. The message is that love will never forsake us and it binds us together for a common journey forward. Bob Marley finds his voice in this song - "Many will try to trample you and oppress you. Never let them do it because we have our own dignity as an ethnic group. We have fought for centuries and do fight for your rights until we all have a fresh life"
During his short lifespan of 36 years, Bob Marley managed to a certain extent, to promote the living condition of black people by means of the constant battle he fought through his novel music genre.
Yet black people in America and elsewhere in the world are trapped in a lower social condition and abject poverty. There is none to sing for the rights of a people who shouldered the responsibility of building America and still remain neglected and despised Still, the legacy of slavery influences the minds of people of modern Jamaica and they are constantly battered by the memory of the dark ages of history.
Bob Marley's powerful populist mission through reggae music proved that music is a powerful medium of communication even for people who are adversely affected by illiteracy and poverty.