Rubber prices on a historic high
Natural rubber prices are on a historic high and increasing in the global markets due to surging demand in Asia, and short supply due to heavy rain in the main producing countries. Market sources said that speculation too is a reason for the high price.
Recently, Colombo auction prices escalated to a record high of TPC1X Rs. 700/Kg, Sole Crepe Rs.800/Kg and RSS close to Rs.600.
On February 22, auction prices slightly dropped due to some credit restriction for importers in China, the main natural rubber importer, market sources said. China has become the world's largest rubber consumer surpassing the US.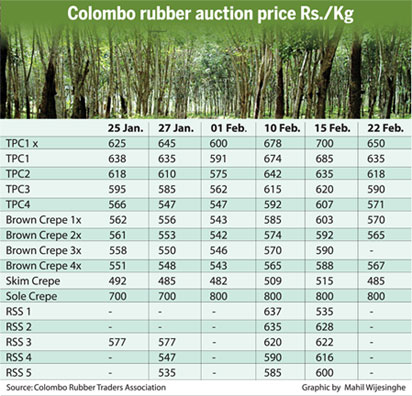 The global rubber price increase is fuelled by high demand for tyres. Recovery in the global economy with a large number of cars produced in China, Korea and India, has sharply increased the demand for tyres but supply has not increased to meet demand, market analysts said. However, analysts said that increase of crepe rubber prices to this level is not healthy in the long run. Now crepe rubber is over 100 percent more expensive than synthetic rubber and this will lead to manufacturers moving to synthetic rubber they said.
Analysts said that this trend will continue for a long time and this is a great opportunity for Sri Lanka, if the country can extend rubber cultivation and increase production.
Growing political instability in the Middle East will lead to high oil prices and as a result the price of synthetic rubber too will increase. The International Rubber Study Group (IRSG) has projected that by 2020 there will be a three million tonne shortfall of natural rubber in the world. Projected demand and supply by 2020 is 13.5 million tonnes and 10.5 million tonnes.
Most of the traditional rubber growing countries are not in a position to increase their capacity by a large amount. Vietnam and Ivory Coast are the only countries that have plans to increase supply.High prices for rubber has prevailed for several years and has been an incentive to growers as well as tappers.
The industry faced a crisis due to shortage of tappers but today the situation has changed, growers said. High rubber prices will help boost the rural economy and already small scale growers and tappers are earning a significantly higher income.
R. Samarasena, a rubber tapper in Kegalle who gets 50 percent of the latex for his labour said now he can earn over Rs. 1000 a day if his share is two kg of rubber.
A rubber smallholder said that the cost of production of rubber is around Rs. 150/Kg and the industry has become lucrative.
To derive benefits from the opportunity, Sri Lanka should extend its rubber plantations immediately and there is potential in the country, a planter said.
The government's focus is on the Dry Zone, specially in the Moneragala district and the Eastern province.
RRI has developed new clones to suit the dry zone and they are successful. Harvesting of 250 acres in the Eastern province started this year.
The yield from the existing plantations have increased significantly due to new clones and technology introduced by the RRI. In 2005, the total rubber production increased by six percent and production increased by 32 percent due to use of rain guarding. Tapping in abandoned lands have also commenced as a result of higher prices.
Ten years ago the average production per hectare per year was 800-900 Kg and today the average production has increased to 1050 Kg/Ha/year.
Yield of new clones introduced by RRI is higher as 2500Kg/He/year.
The latest clones such as RRISLC 205,203 and 1200 are high yield and suitable for the dry zone.