ADB provides $3m flood relief
The Asian Development Bank (ADB) is providing $3 million to support emergency relief work in Sri Lanka after devastating floods earlier in the year left at least 64 people dead, forced over a million from their homes, and badly affected the country's rice crop.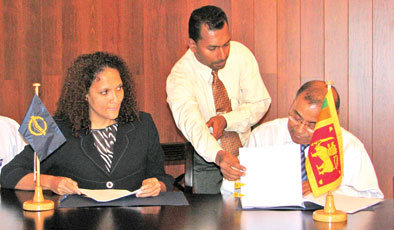 "We are saddened by the extent of damage of the serious floods and ADB will do it all it can to assist Sri Lanka in dealing with the emergency," said ADB President Haruhiko Kuroda.
The grant from ADB's Asia Pacific Disaster Response Fund will finance the essential needs of those affected by the disaster, as well as helping to restore livelihoods.
The fund, established in 2009, provides rapid grants to ADB member countries affected by natural disasters.
"While working closely with the Government of Sri Lanka and our development partners to offer timely and coordinated emergency assistance to those affected, we are also assessing the longer term needs for rehabilitation and reconstruction of infrastructure," said ADB's Country Director for Sri Lanka Richard Vokes.
The floods in January and February, which followed a prolonged period of torrential rains, affected almost 5 percent of the population of 20 million.
The worst affected areas were the Eastern, Northern and North Central provinces where many displaced people have returned to rebuild their lives.
The ADB, based in Manila, is dedicated to alleviate poverty in Asia and the Pacific through inclusive economic growth, environmentally sustainable growth, and regional integration. Established in 1966, it is owned by 67 members - 48 from the region.