In brief
Dr. Abeyakoon on Ceylinco Healthcare Services Board
Ceylinco Healthcare Services Limited (CHSL) has appointed Senior Consultant Oncologist Dr. Sarath Abeyakoon to the company's Board of Directors.
Dr. Abeyakoon MBBS, MD has served as Senior Oncologist and Medical Director of the Ceylinco Radiation Treatment Centre since 2007. The Centre, which introduced state-of-the-art Linear Accelerator technology to the country for the treatment of cancer, is one of three facilities owned and managed by CHSL, a wholly-owned subsidiary of Ceylinco Life. The other two facilities are the Ceylinco Healthcare Centre and the Ceylinco Diabetes Centre.
---
Laugfs introduces 5kg gas cylinder
The 5kg Laugfs cylinder is the latest to join the 12.5kg and 2kg gas cylinders, already in the market. This little cylinder was introduced especially for the benefit of small families.
Laugfs believes that the 5kg will be popular with consumers because of its size and easy portability.
---
Siddhalepa recognises sales excellence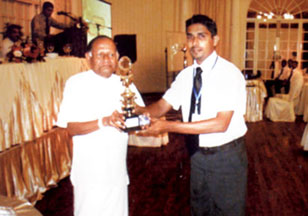 Siddhalepa's annual sales conference was held at the Mt. Lavinia Hotel recently with Senior Lecturer PIM Dr. Ajantha Dharmasiri, as guest speaker. Here Siddhalepa Group Chairman Dr. Victor Hettigoda awarding a trophy to a sales representative.
---
JF Packaging wins A-Rated Quality Supplier Award
Unilever Sri Lanka acknowledged the contribution of their local suppliers in a special Supply Chain Business Partner Award Ceremony held recently, for the first time in the company's over 125 year history.
The Best A-Rate for Quality Supplier 2010 was awarded to JF Packaging (Pvt) Ltd, who in a relatively short span of time had established itself as Unilever's regular supplier for flexible packaging. In their annual supplier audits, Unilever has given the maximum of 100% to JF Packaging and also the rejection and damages percentage of their goods had always been far below the AGM.
JF Packaging was also found to be a forward-thinking company. Unilever plans to ensure that all its suppliers are ISO 22000:2005 certified by the end of 2011. JF Packaging was certified as such in 2008.
---
Winners at Soora Govi Peramuna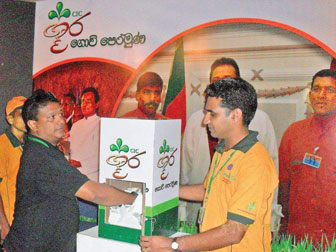 Soora Govi Peramuna, the stall organised by CIC Manussakama Project was a crowd-puller at the Deyata Kirula Exhibition, Buttala.
Thirty five farmers selected for the final round of the Soora Goviya competition shared their knowledge and experience with visitors to the stall. Twenty-one persons selected during the exhibition will get an opportunity to visit the CIC seed farm.
Winners were selected by Managing Director CIC Agribusiness, Dr. Keerthi Kotagama and other officials.
---
Flood relief from Muslim Helfen Germany