CORPORATE
NDB's core banking profits increase by 34%
NDB Group's sustainable core banking profits increased by 34 percent during 2010, recording a Group Profit Attributable to Shareholders (PAS) of Rs 2 bn, an increase of 28 percent, with a Group ROE of 13.67 percent, excluding exceptions.
With its roots in cashflow based project and infrastructure financing and having positioned itself as a licensed commercial bank just a decade ago, NDB Group is now ready to move to greater heights through its competitive advantage knowledge based banking.
The portfolio growth of 27 percent, with loan delinquencies maintained at an all time low of 1.9 percent, one of the lowest in the industry, healthy and well structured balance sheet, and an affirmed rating of AA (lka) by Fitch Ratings provides its stakeholders the security of their investment and future growth potential.
The loans to total assets ratio which increased by 10 percent to 68 percent, makes it evident that the loans created with liquid funds will reap higher returns.
The Group is positioned as a knowledge hub, with its presence in Banking, Capital Markets and Insurance. Backed by a well trained team of professionals, the Group was able to leverage its core competencies to take advantage of emerging opportunities in lending as well as capital markets and insurance that witnessed a bounce back during 2010.
CEO, NDB Bank Russell de Mel said that "The performance of the Bank as well as the Group during the previous year was highlighted by significant capital gains made from trading in Treasury Bills and Bonds which was influenced by falling interest rates and also by one off equity gains.
Our philosophy is that whilst we seize these opportunities, thus maximising gains and returns, what is important is to sustain core banking profits.
Therefore, in 2010 the Bank attempted to create a strong business model by improving its core banking income that is sustainable in the long run".
---
PAT Rs. 3.94 b:
SLT records Rs. 50 b revenue
Sri Lanka Telecom's (SLT) revenue for the Financial Year ending December 2010 was Rs. 50.25 b with a Profit Before Tax (PBT) of Rs. 5.96 bn, and a growth of 327 percent, while the Group's Profit After Tax (PAT) was Rs. 3.94 b, an increase of 407 percent.
The impressive financial results were mainly driven by the improved performance of the parent company of the Group and exceptional performance by Mobitel.
Group free cash flow showed an increase from a negative Rs. 2.0 bn in 2009 to Rs. 8.8 bn in 2010. Comparatively low capital expenditure and better performance overall, saw an improvement in cash flows.
The company experienced a marginal drop in revenue to Rs. 33.31 bn in 2010 from Rs. 34.09 bn in 2009, mainly due to price pressures and alternative solutions available in the market.
However, SLT was able to improve its NPAT margin from 4 percent in 2009 to 7 percent in 2010, while maintaining an EBITDA margin of 30 percent. During 2010, SLT achieved Rs. 2.48 bn NPAT compared to Rs. 1.23 bn in the prior year, an impressive 101 percent increase.
"We have already laid the foundation to transform our traditional network to a Next Generation Network, investing considerably in infrastructure, technology, training and development," said SLT Chairman, Welgama.
"Our Optical Fibre Connectivity Project with over 8,000 kms of optical fibre connects most of the country. We passed the 200,000 fixed line broadband customer mark achieving a growth of 36 percent and a customer increase of 57,000 and have 1.4 million fixed lines and over 4.0 million mobile customers."
Fixed wired line customers showed a growth of 24,000 standing slightly below 900,000, while the fixed wireless (CDMA) customer base declined by 12,000 to reach 550,000 subscribers, a trend that strongly underpins customer preference for fixed broadband ADSL services.
The SLT Group which comprises SLT and seven subsidiaries has created a unique business model that has the ability to leverage on each other's synergies which leads to astute cost management and optimal utilisation of technology and resources, prompting highly innovative state of the art telecommunication solutions.
Mobitel recovered from a dip in profits in 2009, with PBT of Rs. 1.94 bn and a PAT of Rs. 1.51 bn, compared to Rs. 219 m and Rs.395 mn losses in 2009.
PAT was achieved from a combined 30 percent growth in revenue, which was Rs. 20bn, and the instigation of astute cost management initiatives.
This growth in profit was posted despite having to provide a corporate tax of Rs. 431 mn for 2010, while in comparison, in 2009 the provision was Rs. 176 mn, a liability that was due only from July 1, 2009 due to the expiry of the tax holiday granted to Mobitel.
Key drivers in revenue growth are attributed to a continued increase in prepaid services and mobile broadband gaining momentum, while a carefully executed strategy for value innovation and brand building through service excellence added further impetus to this drive.
Mobitel crossed the four million customer mark this year despite an intensely competitive market. EBITDA for 2010 reached Rs. 6.66 bn with a growth rate of 62 percent.
Sky Network unveiled Sri Lanka's first ever WiMax 16e high speed fixed broadband network in November 2010, while Sri Lanka Telecom Mobitel is in the process of expanding its 3.5G network, which are two considerable expansion projects supported by SLT.
With the launch of WiMax and SLT and Mobitel's prowess in fixed and mobile broadband services, the SLT Group reiterates its status as an integrated total telecommunications solutions provider.
SLT's fully owned subsidiary SLT Publications posted a profit of Rs. 109 mn, while Sri Lanka VisionCom, the subsidiary that launched PEOTV recorded a 91 percent customer growth.
---
Turnaround for Talawakelle Tea Estates
Talawakelle Tea Estates PLC, the Hayleys Group's plantation subsidiary, has made a noteworthy return to profitability in 2010.
Ranked number one at the Colombo Tea Auction for prices among the regional plantation companies in the high and low grown elevations during the year, the Company and its subsidiaries improved turnover by 8.3 percent to Rs. 3 billion and converted a post-tax loss of Rs. 30.4 million in 2009 to a net profit of Rs. 164.5 million in 2010.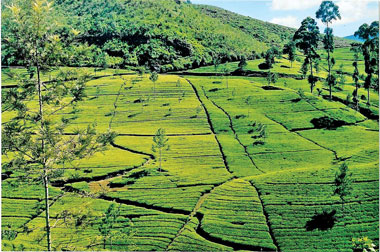 Profit attributable to equity holders of the Company amounted to Rs. 147.4 million from an attributable loss of Rs. 22 million in the previous year. Earnings per share for the 12 months amounted to Rs. 6.21 from a negative 0.94 cents for 2009.
The Board of Directors have proposed payment of a final dividend of Rs. 2.50 per share to shareholders.
Hayleys Group and Talawakelle Tea Estates Chairman, Mohan Pandithage attributed the return to profitability to "resilience, consistency and unwavering focus on strategy."
An increase in tea production to 6.8 million kg, and a significant reduction in borrowings and finance cost also positively impacted the year's results.
Pandithage said that the total capital expenditure incurred by the Company during the year on field and non-field activities as Rs. 198.4 million, taking the cumulative investment since privatisation to Rs. 3,031.5 million.
He expressed concern however, about the impending revision of the workers' wage agreement.
"These negotiations unless dealt with caution can again push us back to the red in 2011," he said. "We expect the wage expectations to be lower in this instance, with the Government successfully containing inflation to single digit from double digit levels of the past".