Navy foils emigration attempt
Constant patrolling and vigilance maintained by the SL Navy has foiled an attempt of human trafficking in the seas off Hambantota.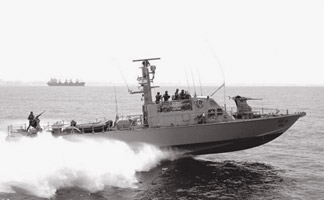 On February 19 2011, in a routine patrol carried out by three Dovra craft of the Navy deployed in the Southern seas, (17) persons onboard a multi-day fishing trawler heading towards Australia in an illegal emigration attempt were taken into Naval custody 20 nautical miles off Hambantota.
The apprehended group of persons and the trawler were brought to the Galle harbour and the preliminary inquiries were conducted at the Galle Naval Base.
During the preliminary investigations, it was revealed that the multi-day fishing trawler was from Trincomalee and had taken onboard the illegal emigrants in small groups off the Southern coast. The arrested persons and the multi-day fishing trawler were handed over to Police for further investigations.
In 2009 a well-coordinated maritime operation conducted by the Sri Lanka Navy, (04) human smuggling multi-day fishing trawlers, which were heading for South Eastern deep waters carrying over (100) occupants, were taken into Naval custody in the high seas of Southern Sri Lanka.
Sri Lanka Navy, being the first line of defence, is committed to prevent any violation of the country's territorial waters and Naval personnel stay vigilant to foil all criminal activities there. Constant coordination is maintained with law enforcement authorities to nab masterminds behind undercover human smuggling networks that prey on innocent civilians who easily fall victims to false promises of lucrative jobs overseas, according to Navy spokesperson Commander Kosala Warnakulasuriya.