Sailing into an uncertain future:
Police step up efforts to combat human smugglers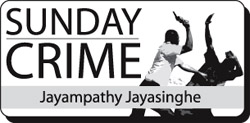 Human smuggling has once more shed more light on the nature and scope of the sordid operation conducted by racketeers who fleece ignorant people, especially those in the North and the East by promising them, a Shangrila in Western countries.
Lured by what they hear from human smugglers, about prospects of re-building their lives in twice countries most people fall victim to ploys adopted by human smugglers. Exorbitant sums of money are charged from them to smuggle them across to the west and in the pacific coast.
Incidentally, the beaches of the North Western Province (NWP) has become a focal point for human smuggling operations due to its vast uninhabited beaches. Relentless efforts made by law enforcement authorities to thwart human smuggling activity have proved futile in the past.
The overwhelming desire to get across to the west has outweighed the risks of undertaking such perilous voyages.
The NWP beaches are notorious not only for human smuggling but also for heroin smuggling from neighbouring countries.
Even during the period when the Security Forces were battling terrorists in the North and the East, the beaches became a dumping ground for military hardware, smuggled by terrorists from pirate ships. The beaches from Puttalam to Chilaw became a haven for smugglers.
Police Media Spokesman, Superintendent of Police Prishantha Jayakody told the Sunday Observer that 40 men, 12 women and six children all from the North East provinces were arrested by the police when they made an attempt to flee the country in a boat bound for Australia.
Criminal Investigation Department (CID) sleuths on a tip off arrested the suspects. The Spokesman said that it was an offence for anyone to flee the country from an authorised port with or without valid documentation.
The group had attempted to sail in a fishing trawler to Australia recently. The trawler in which they were to sail was found abandoned at Ambakandawila in the Chilaw area with 6,000 litres of fuel and a consignment of food stuff such as noodles and other food stuff.
The spokesman said the group of persons from the North-East had arrived in the Western Province sometime back and had taken refuge in hotels and homes in and around Negombo and in Wellawatte.
"They were people from Jaffna, Kilinochchi, Mullaitivu, Batticaloa and from other areas. Each person had paid a sum of Rs. 100,000 as an advance to smugglers and had agreed to pay a further sum of Rs. 300,000 after completing the journey," the spokesman said.
Meanwhile, human smugglers are being investigated as to whether they were linked to terrorist activity in the past. The seven suspects produced before the Colombo Magistrate were issued with a detention order to be questioned further.
Incidentally thirty-two persons who attempted to sail to New Zealand illegally two years ago from a coastal town were arrested by the Negombo police. Police learnt that 14 persons were from Vavuniya, 10 were from Mannar and eight from the Ampara district. However, the boatman who organised the voyage fled with his boat before the police party arrived.
The 32 suspects were produced before the Negombo Courts and a detention order was issued on them to be questioned further.
The suspects told police that each one had paid a sum of Rs 300,000 to a smuggler from the Vavuniya area.
However, the man disappeared after collecting the cash from the people. Police then launched an investigation to ascertain whether he was involved in terrorist activity.
A couple of years ago a millionaire businessman was taken into custody in connection with human trafficking to European countries. According to Police, several persons had paid large sums of money to the racketeer. Among them were Sri Lankans, Bangladeshis, Pakistanis and Indians.
The smuggler had promised to take them to western Europe and Australia. In 2003, 254 Pakistani men and five Sri Lankans who attempted to flee the country were taken into custody by police. The suspects boarded a ship anchored in mid-sea at Tangalle.
Last year a vessel named MV Sun Sea carrying over 490 Sri Lankans illegally entered British Colombia Islands in Canada.
Many of them had sought asylum in Canada. The cargo ship was used earlier by the LTTE to smuggle arms, ammunition and explosives from a South Eastern country.
The ship was first sighted at the Bay of Thailand and intelligence agencies alerted the Australian government. But later the ship diverted its course and sailed towards the British Colombia Islands in Canada.
When the ship arrived in Canadian territorial waters, the Canadian authorities intercepted the ship and took its passengers in for questioning. While several passengers were granted asylum in Canada those with links to the former LTTE and those who had committed crimes are being investigated, sources said.
A few years back experts from law enforcement agencies from several countries met in Sri Lanka to discuss matters relating to human trafficking and other transnational crimes.
The then interior minister addressing the conference said human trafficking was an organised racket perpetrated by criminal networks involved in smuggling of drugs, armaments, money laundering, who had links with other terrorist groups.
He said priority had been given to human trafficking and that they were working in close co-operation with other states.
The loopholes relating to laws connected to human trafficking have been tightened. Fifty-two persons engaged in human smuggling have been arrested and prosecuted.
Attempts by gangs to smuggle people out of Sri Lanka have been thwarted in high seas due to vigilance shown by the Navy, he said.
The minister highlighted the tragedy of 400 people who drowned along with the vessel in 2002. Representatives from countries such as Afghanistan, Australia, Austria, Bangladesh, Bhutan, Cambodia, China, Fiji, France, India, Indonesia, Iran, Japan, South Korea, Malaysia, Mongolia, Myanmar, Nauru, Nepal, New Caledonia, New Zealand, Pakistan, Papua New Guinea, Philippines, Samoa, Singapore, Solomon Island, Switzerland, Syria, Thailand, Timer, Turkey, Vanity, Vietnam, Carbide took part in the discussions.