M. D. Mahindapala:
A creative visionary behind the camera
M. D. Mahindapala, one of the finest cinematographers Sri Lanka has ever produced entered into feature films rather late having a career with the Government Film Unit where he worked on documentaries. His induction to the feature films as a cinematographer took place in 1992 with Sudath Devapriya film Tharanaya.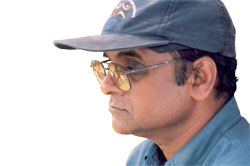 His collaboration with eminent film director Prasanna Vithanage on Anantha Rathriya (Dark Night of the Soul) in 1993 and widely acclaimed, Purahanda Kaluwara (Death on a Full Moon Day), Ira Madiyama (August Sun) and Akasa Kusum has proved beyond doubts that Mahindapala is one of the best cinematographers in Sri Lanka. Here is an exclusive interview he gave to Montage recently.
Question : When you joined the Government Film Unit after finishing your high school, have you ever thought of becoming a cinematographer doing feature films?

Answer : I joined the Government's Film Unit (GFU) in 1973. I was one of the 15 apprentices recruited by the GFU. Since my school days, I was interested in photography and I was an active member my school's photographic society. After I joined the GFU, Paul Zils, a German, who worked as a consultant taught us the art of film making. Zils was a documentary filmmaker and had worked in India for over 17 years.
The apprentices were divided into diverse sections of the GFU and I opted to work in the Camera Unit. Lal Wickramarachchi, Chandra Dissanayake who later became a Deputy Director of Sri Lanka Rupavahini Corporation (SLRC).
Exposure
When I was at GFU, I worked under several directors including Tissa Abeysekara, Tissa Liyanasuriya, Paul Zils, P. Hettiarachchi, Sugathapala Senarath Yapa and Ranjith Lal. So we had the exposure not only to the field of cinema but also to the vast experience of talented pool of film directors and producers.
At the GFU, I did documentaries and semi-documentaries which were known as feature documentaries where actors and actresses were used to enact some scenes. Tissa Abeysekara, Tissa Liyanasuriya and Sugathapala Senarath Yapa who were used to make feature films introduced their own identities from their experiences of making feature films into documentary making.
They used a well-developed storylines to convey a message. Ranvan Karal, a feature documentary by Siri Gunasinghe to propagate farmer brigade (Govi Hamudava) is one good example.
I worked at the GFU until 1981. By that time ITN had commenced its test transmission. The Government had plans to commence a national television station and they wanted to train TV personnel to run the station.
A batch of 15 personnel from GFI and SLBC were sent to Japan to be trained at NHK. I was one of those who were trained at NHK. Following the training, I joined the National Television Corporation in 1982.
As I had been working at Rupavahini Corporation, and didn't get any opportunities to enter into feature film industry earlier.
Q: Can you explain the path of your progression from documentaries to feature films?
A: In 1990, I joined Sri Lanka Television Training Institute on secondment as a training coordinator, and by the time I retired in 2006, I worked my way through as the Manager, Training. During that period I took leave to get involved in making feature films as a cinematographer.
Maiden film
Q: Your maiden effort into feature films began somewhat later in your career, didn't it? How did you become the cinematographer in Sudath Devapriya's film Tharanaya in 1992?
A: I knew Sudath Devapriya as I had worked with him at Rupavahini Corporation. After he resigned from the SLRC, Sudath invited me be the cinematographer of Tharunaya.
Q: Was it an accident?
A: No, it was not.
Q: Your debut work as a cinematographer in Udu Gan Yamaya (Againts the Tide) in 2003 dealt with a controversial theme. Did you face any obstacles of capturing a historical situation into the celluloid?
A: There were no such obstacles in shooting the film. For example, there are issues to be considered when a filmmaker wants to shoot scenes in a police station or shooting with the army or in a court of law.
If permission for shooting of such scenes is not granted, then the filmmakers have to make sets for such scenes. Permission was granted for shooting some scenes for Ira madiyama and Pura Handa Kaluvara.
The authorities also asked for the scripts. Permission was not granted for the script for Pura handa Kaluvara and as a result, Prasanna Vithanage had to alter the storyline. We had to do a lot of improvisation.
According to the original script, the shooting was scheduled to take place at Ranaviru Sevana. Permission was not granted to shoot at Ranaviru Sevana for obvious security reasons prevailing at that time.
Q: How did you get involve with Prasanna Vithanage's film Anantha Rathriya" (Dark Night of the Soul) in 1993?
A: I had only met Prasanna Vithanage at film festivals held in Colombo or at German Cultural Centre and at USIS. One day he invited me to work with him on a film. At that time, I was not aware that Prasanna had watched my creations; particularly he had watched the documentary Symphony of Steel which I did together with Ranjith Lal. Prasanna showed me a couple of old films and pictures, paintings and posters. He showed me Italian film director Bernardo Bertolucci's Last Tango in Paris and The Last Emperor.
Colour textures
A significant feature of Bertolucci's films was the use of different colour textures for different periods. For instance, in The Last Emperor, Chinese king's childhood is depicted in yellowish colour and his adulthood was filmed using a greenish colour scheme. Prasanna requested me to use different colour schemes.
It was a challenging task as we had very old cameras and using filters would have further weakened the images. I used filters for lights. Though we had never tried them before, it became a successful experiment.
Q: After you became a cinematographer, you have won two major national awards? You won the Sarasavi Award for filming Ira Mediya (August Sun) in 2006 and the following year you also won the same award for Udu Gan Yamaya? It is very likely that your work as the cinematographer in Akasa Kusima will be recognised both locally and internationally?
A: Given the budgetary constrains in Sri Lankan film industry, I am satisfied with the creations I have accomplished.
Q: What are your views and ideas on cinematography?
A: In my opinion, cinematography is not shooting beautiful sceneries. Italian cinematographer Vittorio Storaro once said: Good cinematography is not beautiful picture. What he meant by good cinematography was to capturing emotions and feelings on celluloid; feelings and emotions of the atmosphere, characters and situations. For instance, you should be able to feel Anuradhapura while watching Pura Handa Kaluvara.
When you visit Nuwara Eliya you must feel the place through five senses. Recreating that sense of place within a frame is difficult, but my aim as a cinematographer is just to do that. I don't know whether I have been successful in my attempts.
I got this idea after meeting with the Indian documentary film maker Mani Kaul. Indian tourist board has asked Mani Kaul to make a documentary on Kashmir. He wrote a script and gave it to the Indian Tourist Board.
After he received the approval, he had crumpled the script and put it into a wastepaper basket and travelled to Kashmir to shoot the film. Kaul asked himself, how he could capture the unique features of Kashmir in the documentary Before My Eyes . When you watch Before my eyes, you could feel that you are in Kashmir.
Chilly morning
In the documentary Before My Eyes, there is a scene where two persons are sleeping in a hotel in a chilly morning. Then the scene shift onto a floating balloon in the sky through the hotel window. Then it cuts into a scene where a woman plays a cello. The sense of place in Kashmir is recreated through a series of such images under the low key lighting.
The world through the camera is a different world. On the one hand, it can capture time and on the other hand, feelings and emotions; Andrei Bazin, the renowned and influential French film critic and film theorist, once said that when you focused a camera on a person's face that person's emotions will be revealed as if in an interrogation. Vittorio Storaro says that camera is sensitive to even the minor worker's sentiments!
Normally, what I attempt to do is to capture the emotions and feelings of the atmosphere whenever a film director gives me a script.
Q: Our research into your past suggests that during your school days at Issipathana Vidyalaya that you were a very good student of art. Did your interest and insights into art by capturing both landscapes and portrays later helped you to be a good cinematographer?
A: Yes, it is true! I still like art and painting very much, but there are other factors. Jayantha Ranawaka was an extremely talented student in my school and he later became a makeup artist without which you can't make good films! We were the favourites of the art teacher.
I think my interests in art had helped me a lot in my career. First, I followed a Diploma in Photography at Haywood. veteran senior photographers including Wilson Hagoda and B.P Weerawardena have taught me. I like Western classical music, drama and literature and these media have given me insights into my work as a cinematographer.
I still believe that art students should be given a chance when new people are recruited to institutions such as SLRC and GFU. The SLRC normally asked for A/L four subjects with Mathematics in the science stream to be considered for SLRC. This shouldn't be the case as there are exceptions. For instance, one of the best Sri Lankan cinematographers Donald Karunaratne was an art student.
I think painting is important for a cinematographer. For example, the training given at BBC, painting appreciation is taught for three months. I tried to make some changes at the Television Training Institute.
Influence
Q: Can you name the local and international personalities who have influenced you and your career as a cinematographer?
A: There are a lot of cinematographers I like. One of them is Bengali cinematographer Subatra Mithra who did films with Satyajit Ray. He was the cinematographer for most of Raya's films such as Pather Panchali, Apu Sansar, Charulatha and Maha Nagar. American cinematographer, Gordon Willis (God Father) is another and Willmus Sigmond and Vittorio Storaro (Sheltering Sky) have also influenced me.
Of the local personalities, I was influenced by Sumitta Amerasinghe, Willie Blake, D. B. Nihalsinghe and Andrew Jayamanne. Channa Deshapriya, Palitha Perera, Ruwan Kosta and Suminda Weerasinghe are some of the Sri Lankan filmmakers I like.
I was greatly influenced by the work of director, Dr. Lester James Peries and particularly his Gamperaliya and Delovak Athara are two films I like very much. Those days the films produced at the GFU were shown at cinemas.
I watched a film entitled Makers, Motives and Material, a colour film by P. Hettiarachchi. Winston Perera was the cinematographer of that film. Paul Zills Bhavana, P. Hettiarachchi's Rhythms of People are some works that have influenced me. I was also influenced by Freddie Young's work. He was cinematographer of films such as Ryan's Daughter, Lawrence of Arabia and Doctor Zhivago.
I like directors such as Ingmar Bergman, Andrei Tarkovsky and Iranian director Abbas Kiarostami (Taste of Cherry). I like Kiarostami's films very much because it seems that he does not go for staged situations. For instance, in his film Ten, there were two cameras fixed on to a dashboard of the car. Such innovative plans become very difficult tasks when filming.
Q: In your opinion what are the major issues that we have to address as a nation to make an impact on the international cinema?
A: Now most of the Sri Lankan film makers are trying to make films similar to Hindi and Hollywood movies. We do not have a culture of singing and dancing and we cannot afford to make films similar to Hollywood movies. But, we can indeeded make good films. In my view, what is need is to make truly a Sri Lankan film culture. We have to come out with our own style of comedies and feature films and so on.
For instance, in Tamil films, there are fights and a lot of dialogues. It is a separate film culture which is neither good nor bad. Therefore, we must aim at building our own commercial cinema.
In artistic cinema, we must aspire to build a Sri Lankan cinema tradition with inspiration from filmmakers such as Satyajit Ray and Abbas Kiarostami. The other important factor is their cinema is not costly but is very rich in content. Both the director and the cinematographer must work hard to give their personalities to their creations.