Short Story:
The wedding ring
Shermila was transferred from Colombo to a school in Jaffna. She was travelling with her septuagenarian mother by the intercity express bus which left the terminal at 10.30 in the night.
It was a tedious journey of about seven to eight hours. Save for a few vehicles, the street was desolate as by that time most of the city folks were abed. The bus trundled on; the night was dark and silent; in an hour's time most of the passengers including Shermila's aged mother dozed off. Shermila's mind ran through the corridor of memory.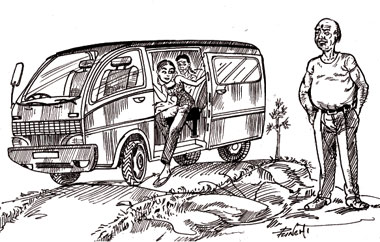 Thirty years ago Shermila was a petite, slim lass of twenty years, following a three-year English language course at the University in Kandy. She had an affair in the university with a Jaffna Tamil boy Selvarajah, who was two year's senior.
She first met him at the university canteen; a casual meeting blossomed into a love affair and would have culminated in their marriage were it not for an untoward incident during that period.
Shermila's father died in a train bomb blast. Thereafter, her mother prevailed upon her to sever all connections with her boy friend.
"You see Shermila, these people are killers, so why do you want to marry a boy from that community?"
"All the Tamils are not killers, amma. For the crime of the few you can't blame all". "Shermila, I don't want any reason. You stop your affair with him."
Shermila was adamant. Despite objections from her quarters, she steadfastly continued the affair with Selvarajah. The following day Shermila met him in the university library and expressed her fear that their relationship would snap.
"Selva, is there any point in our meeting?"
"Why are you asking that?" Selvarajah was surprised.
"You have still not decided to marry me?"
"My mother is objecting to our relationship". Shermila mumbled out.
"Even my relations are opposing".
"Don't worry about them. I'm with you. "Selvarajah consoled her.
After graduation both were posted to two different schools in Colombo. This provided an opportunity for them to meet regularly in the evening.
"What're your parents telling?" Shermila queried.
"I'm not worried about my parents' opinion. I'll marry you." "I want to know their opinion." Shermila persisted.
"Like your parents telling our people are bad, my parents are telling your people are bad." "So we should stop our affair."
"No, why should we? Whatever obstacles come I'll marry you."
"But that will be a problem to me; I won't be able to visit Jaffna because your parents don't like me."
"But I like you and I want you." So saying he planted a kiss on Shermila's face.
With the afflux of time, the couple planned to get married. Selvarajah presented an expensive diamond ring to Shermila as a token of true love to her. Riots broke out in 1983, ravaging the country. The couple was waiting for the riot to abate to fix a date for their marriage registration. In the meantime, Selvarajah received a bomb shell news from his home in Jaffna. "Shermila, I must go home tonight" Selvarajah told with tears streaming down his cheeks.
"How to go, the situation is so bad here?"
"No darling, I must anyhow go to see my mother's condition."
"Selva, it's dangerous to travel. Don't leave me." Shermila begged.
"Cheer up Shermila, I'll come back to marry you. Wear that diamond ring."
In four hours the bus stopped at Killinochchi where there was a restaurant. The passengers debussed and relieved themselves of the wearisomeness. Shermila was swallowed in thought. She came out of her reverie when her mother's voice pierced her fantasy. "Shermila, let's get down and relax ourselves." "This is a hip breaking journey. How many hours it will take, amma?"
"May be in another three hours, we'll be in Jaffna." In an half an hour the journey resumed. Both mother and Shermila began to chat.
"Thank God, today we're able to travel peacefully because terrorism is vanquished." "Thanks to the government", Shermila remarked. "Those days the LTTE waylaid buses, killed passengers, abducted the youth to be trained as soldiers."
When the mother said that, Shermila thought that some misfortune would have happened to her lover Selvarajah who left her to Jaffna twenty-seven years ago. He never returned. The bus reached Jaffna at six in the morning. They washed themselves, relaxed and had breakfast in a small kiosk which was full of people.
Thereafter, they killed time till 7 a.m. when they taxied to trace the school. Having travelled for more than ten minutes, they could not locate the school. They saw a middle aged man. bald headed, bulky built and protruding stomach, walking along by the side of the road. The cab stopped near him. "Excuse me, we're looking for Jaffna Central College."
"You have to go another kilometre or so. I'm also going there, can I get in?" The man sat next to the driver and began a conversation.
"I think you must be visiting your relation?" "No, my daughter has been transferred to this school. You're from Jaffna?"
"Yes, I'm born and bred here."
"You're working here?" Shermila asked.
"Yes, I'm teaching at Jaffna Central College."
"Oh! I see, that's fine. Since when?" "Since the year 2009, after LTTE terrorism was eradicated."
"Where were you before?"
"That's a long story", he paused for sometime," I was an LTTE captive." "LTTE captive? For how long?" Shermila questioned surprisingly.
"I came to Jaffna in 1983 to see my mother who died of cancer. A week later I was going to town to take bus to Colombo, when I was abducted by LTTE rebels.
My father heard of this and died of a heart attack. So until the government defeated the LTTE rebellion, I was in their captivity and served them for over a quarter century."
Shermila thought very deeply and began to put two and two together whether this man was her former lover. "So why did you want to go to Colombo?" "Because I was teaching in Colombo."
The cab reached the school. The man got down first and opened the rear door and clutching the handle of the door, Shermila got down.
At that moment his eyes fell on the ring that Shermila had on her left hand. "Are you married?" He asked. "No, why do you ask that?" "Because you're wearing a ring I thought you're married."
"I have also a long story to tell you. This is the ring given by my boy friend. He told me he would come to marry me but he never came. He told me to wear this ring. So many proposals were brought for me but I rejected all. I had faith on that boy.
"What's his name?" "Selvarajah" The man's eyes goggled in surprise. "Se-Sel-Selv-Selva-rajah?" I-I-a-m Sel-Selvarajah. Sher-Sher-mila y-you have changed a lot."
"My Gosh! you're Selvarajah? She was in a dream world. She hugged him. "I couldn't make you out."
A flood of tears rushed to her eyes. "Now, I'll marry you." Selvarajah sobbed.