Cultural Diary
L'homme du train at Alliance Francaise de Kotte
The film L'homme du train will be screened at Alliance Francaise de Kotte on March 25 at 6.30 p.m.
A mysterious stranger, Milan steps off a train in a place he has never been before. Looking for a pharmacy to buy some aspirin, he comes across a retired teacher. The two men are complete opposites. Or at least seem to be.
But each man realises that what he really wanted is the life of the other man. This "emotional relationship between two heterosexual men is such a difficult and unusual thing to dramatise – but Leconte brings it off with delicacy and persuasive charm.
Directed by Patrice Leconte this 86 mins 2002 film stars Johnny Hallyday, Jean Rochefort …
The screening is free of charge and open to the public at the AF de Kotte at 139 Jawatte Road, Colombo 5.
---
British Book Fair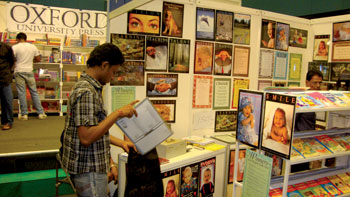 Book buffs browsing books at the stalls at the British Book Fair which was recently held for the 10th successful year at the British Council. Participants of the book fair included Sarasavi Book Shop (Pvt) Ltd, Makeen Bookshop, C G Associates, Pioneer House, World Link Publications Bookshop, Pitraban Bookshop, Oxford University Press and Milk Books.
---
Shadows of Life enthrals audience in Canada
Performing art or drama is a beautiful combination of verse, music and dance. It is not only a form of entertainment, but also a powerful medium to communicate ideas, attitudes, opinions, champion causes, and make radical social changes, in society. There is a tremendous amount of interest in the fine arts, but the time factor has given all arts a new dimension.
King Yama (Nilantha Jayasinghe) and Queen Yama (Samanthi Ganegoda) in a scene from Shadows of Life produced by Irangani Kalutanthri.
---
Narthana Rekha to mark Down Syndrome day
Nearly 50 artistically enriched students of Diri Daru Piyasa - Miranda Hemalatha Kala Ashramaya will take centre stage to present Narthana Rekha to mark the World Down Syndrome Day.
The aptly titled dance concert will be held at the Tower Hall Theatre, Colombo 10 on March 23 at 6 pm.
The institute has also organised a sales exhibition on March 26 at the MJF centre Katubedda which will feature handcrafts and other artistic creations of children to coincide with the concert.
In a world where the able bodied complain of one thing or the other, these performers will showcase their dancing talents before their sponsors, well wishers and the public in true spirit and joy.
"This is not merely another concert, but a therapeutic presentation that will help students build their confidence and enhance their personality," Chairperson of Diri Daru Piyasa Miranda Hemalatha told the Sunday Observer.
"Some of these performers have been with us for the past 6-7 years and some since last month, but we have ensured that every child is given an opportunity to participate," she said.
"It is sad that most of the children affected by Down Syndrome are not treated with respect and dignity by the wider community, I hope this concert will give those who are unaware of these children's ability an opportunity to visualise that they deserve the right to be treated with compassion and respect".
Established in 2004, Diri Daru Piyasa has organised many concerts in the past and this year's event will also be a fund raiser to support the institutes' future development.
---
'Celeb Chat' tribute to Gamini Fonseka on his 75th birth anniversary
CSN/Prime TV's "Celeb Chat" pays tribute to screen legend the late Gamini Fonseka on his 75th birth anniversary which falls on March 21.
Long-standing collaborators in the Sinhala film industry Tony Ranasinghe and Veena Jayakody take you back to those good old days with unforgettable incidents and anecdotes, on-screen and off-screen, with Gamini Fonseka, while daughter Dr. Thanuja Fonseka Abeynayake recalls fond memories of her beloved father.
Doyen of Sri Lankan cinema Dr. Lester James Peries breaks a long silence and faces the television camera at his residence to pay tribute to one of his greatest pupils.
Incidentally, it was Dr. Peries who technically "launched" Gamini Fonseka's acting career with a (seconds-long) minor role in 'Rekawa' (1956). It was also under Dr. Peries that Gamini Fonseka learnt the ropes of film making which parallely launched him as a successful film director.
---
Romaya Ginigani
Bandula Vithanage's Romaya Ginigani (Second Part) will go on the boards at the Elphistone Theatre in Maradana on March 23 and 24 at 6.30 p.m.
---
Sajantge Nandamma
Sando Harris' comedy Sajantge Nandamma will be staged at four places.
March 25 at 3.30 p.m. and 6.30 p.m. - Auditorium at Meegallewa.
March 26 at 3.30 p.m. and 6.30 p.m. YMBA Hall, Hatton.
March 27 at 3.30 p.m. and 6.30 p.m. Auditorium at Maradagahamula. April 3 at 3.30 p.m. and 6.30 p.m. Town Hall Auditorium, Awissawella.